This post may contain affiliate links which means that if you click through to a product or service and then buy it, I receive a small commission. There is no additional charge to you.
I love the buzz of International Women's Day each year. When I wrote my open letter to my daughter's last year, never could I have imagined what this International Women's Day one year later would bring.
I am sat here now a co-author of an inspirational book! And my daughters are so proud of me.
This is the story of how it came about and how YOU can be involved with this wonderful project. Plus at the end of this post is a giveaway; I want you to have a copy of this incredible book.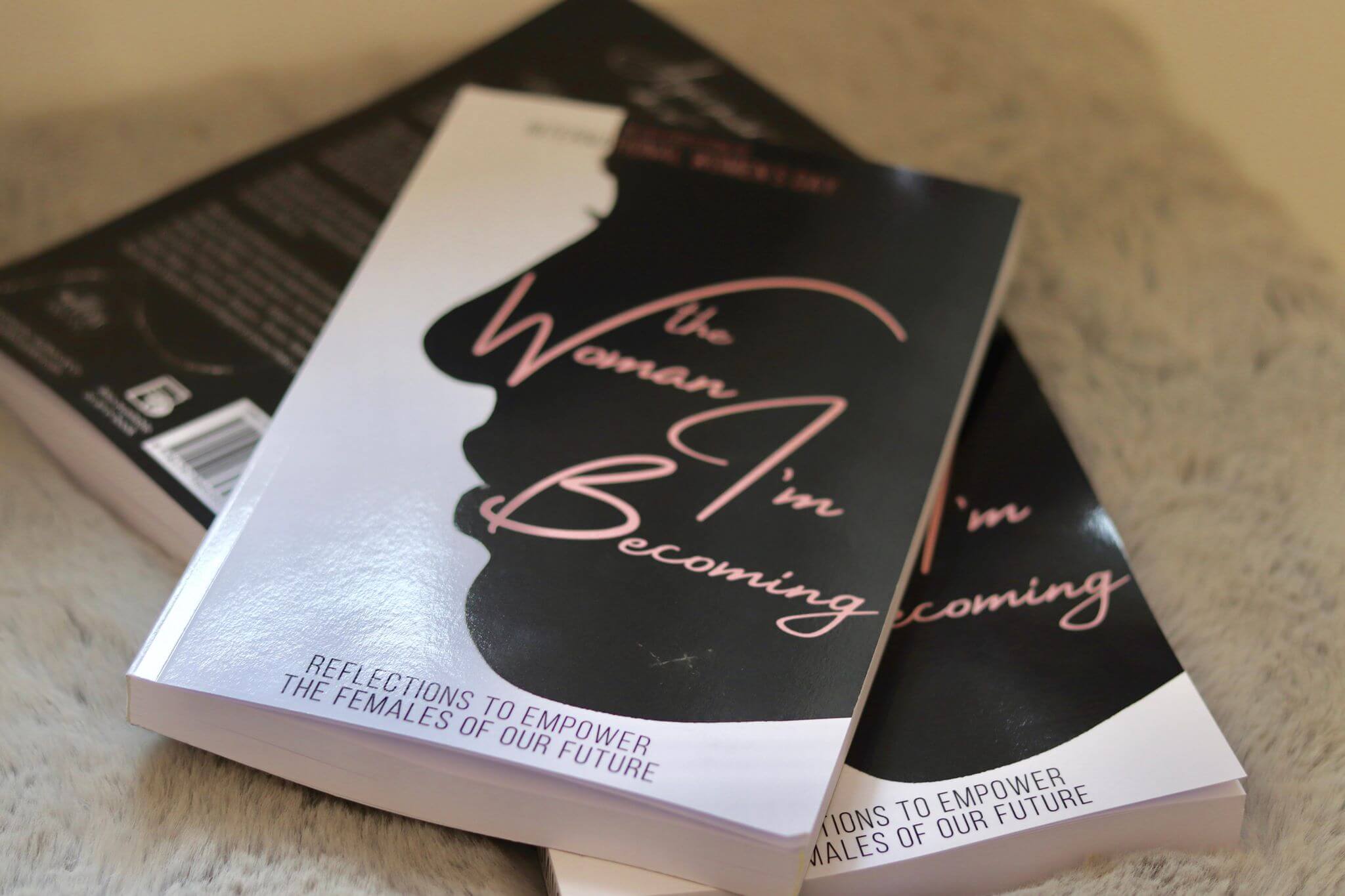 ---
No-one could call me a feminist but I do believe that empowering women is something that benefits society at large. We are a powerful force and the world is a better place for all the strong women making a difference.
As a mother of two girls, I think it is important that they know they can do ANYTHING. I want them to never feel inferior, to never doubt themselves and to always know that they are unstoppable.
Mumma bear will be championing them their whole lives.
The Woman I'm Becoming
Towards the end of last year, I heard about a project and knew immediately I wanted to be a part of it…
Abigail Horne, founder of Authors&Co, had a vision to create a book on life's lessons for young women.
And so was born a collaboration book 'The Woman I'm Becoming' – bringing together female entrepreneurs from across the globe, all of whom are experts in their field, to share their stories, reflections, advice and guidance on a huge range of subjects relevant to young women.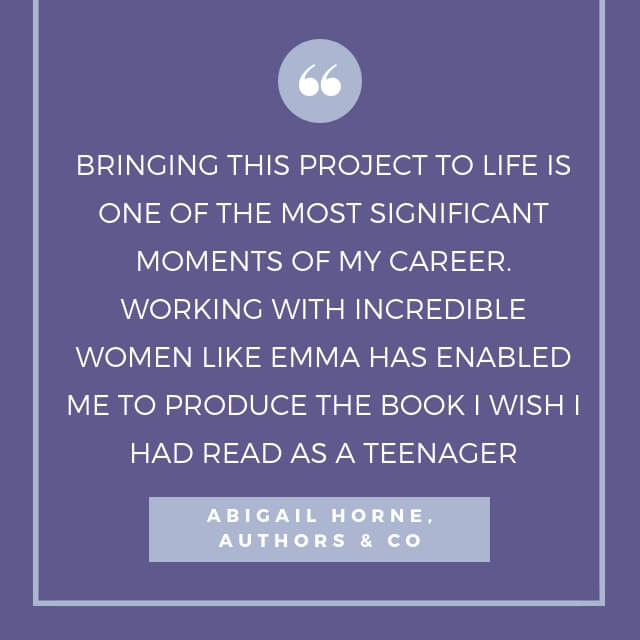 As you know, I am super passionate about financial literacy for young people and jumped at the chance to be part of this.
We are a group of 20 women from different walks of life with different stories to tell and words of wisdom to impart. What we have created is a friendly, reassuring and positive guide for teenage girls as they approach life's challenges and crossroads.
Covering everything from hormones and body image to self-identity and self-worth, our book reassures readers and boosts their confidence, encouraging them to feel positive about the different chapters they will experience as they become women.
Filled with facts and thoughtful advice, this book includes advice on topics like nutrition, relationships, personal finances, and how to embrace exactly who you are. Told in each woman's own style, this book transcends genres and categories: part guidebook & part memoir.
With an aim of empowering these young women in a world where they are bombarded with messages about how they should look, behave & succeed, this book is an indispensable companion to growing up, because knowledge is power, after all.
Who We Are Supporting
Money raised from the sale of the books will be donated to
Your Future Self Academy
to fund scholarship places for young adults to attend self-development retreats.
Our retreats are pioneering, guaranteed to be fun, are transformative and will help young adults authentically connect with their peers. The retreats are an opportunity for young people to feel empowered when making career choices; this will be achieved by helping them explore extracurricular activities in a stimulating learning environment. We help young adults with: Mindset, Team Building, Sports, Employability Skills, Leadership, Goals and Money Management

~ Alison Goodwin (Founder)
Good Money Habits For Life
When I spoke to Abi about the book, she was thrilled to have a personal finance expert on board.
She told me the story of how, after her Grandad died, she had had to take her Nan in to every bank in town  – to find out where her money was.
Her Nan had never had any dealings with the family money, never spoken with her husband about their finances and his death left her out on a limb, with no knowledge of where their money was and no skills to manage it herself. Times are changing and I want our young women to be empowered to be an equal when it comes to money matters.
International Women's Day Launch Party
This year's theme for International Women's Day 2019 is #BalanceForBetter, with the aim of building a gender-balanced world through collaboration – and that is exactly what Authors&Co publishers have done: collaborated to try and achieve balance.
The Kindle version of The Woman I'm Becoming has been launched at 99p TODAY in celebration of both World Book Day and International Women's Day.
We would LOVE you to support this project – head over and GRAB A COPY HERE
Please share this post on Facebook, Tweet the post out (using the share buttons above) or just tell people about it and help us reach as many young women as possible.
THANK YOU, THANK YOU.
The paperback version will be launched on 23rd March. I can't wait to get a copy. And for anyone on the fence, this is the foreword:
I sometimes wish that the woman I am today could step back in linear time and meet the woman I was becoming as a teenager.
I would put my arms around her and let her know how safe, loved and supported she is in becoming exactly who she is destined to be.
I would be that gentle guidance in situations of confusion, and that voice of reason when things just seem too challenging.
I would tell her that in her moments of insecurities, to remember that she will go on to achieve greatness.
I would fill her with confidence and ensure she knows that the world is hers to change, to impact and to explore.
I would whisper in her ears that anyone who makes her feel bad about who she is and what she looks like – hasn't yet seen the powerful
woman she is destined to be. One who is so sure of herself, and sure of what really matters.
I would hold her tightly and tell her that I love her, that she is deserving of self-love and that she radiates love.
I would wipe those tears and reassure her that as difficult and confusing things seem today, that one day she will look back with
gratitude for the strength and wisdom it has blessed her with.
I would insist she knows that I will ALWAYS have her back…
I would look her straight in the eyes, and ask her… "Have you found comfort in having me by your side?" And when she answers "Yes" I will remind her that I am the woman that she is becoming.
Giveaway time
When the paperback version is out, I will be thrusting one in to the hands of as many young women as I can.
Plus I'll be giving away 5 copies here. To be in a chance to win one of these copies, enter below.
'The Woman I'm Becoming' : Book Giveaway

---
Authors&Co has already changed the lives of many women and female entrepreneurs from around the world, having helped over forty women globally to become best-selling authors whilst reaching millions of readers worldwide.  To find out more about how to support the book visit https://authorsandco.com/.