This post may contain affiliate links which means that if you click through to a product or service and then buy it, I receive a small commission. There is no additional charge to you.
This is a paid collaboration with Zapper.
In an age where 37% of people in the UK don't feel that their salary is enough to support them, it's fair to say that we're on the brink of change. Unsurprisingly, this has led 25% of people to turn to a side hustle that allows them to make money from home, and many more look set to follow suit, with 55% of those so-called side-hustles starting in the last two years.
Yes, we're in the age of taking back control where making money is concerned. And, if you're thinking of joining the ranks, then we've got a few ideas that could well help you. 
# 1 – Become a virtual assistant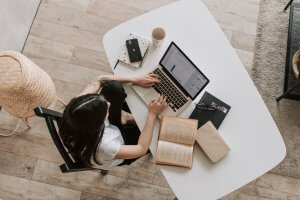 It's possible to earn as much as £27 an hour working as a virtual assistant. That's not bad going, especially as the vast majority of those working in this field thrive working within a home environment. 
Many companies post advertisements for virtual assistants on sites like Upwork and Remote.co and, once you've got those first clients in the bag, you should soon find that word of mouth soon helps you to grow. And, you can do it all from the comfort of your home office. 
# 2 – Start a blog
Blogging is the trend of the century, and with the highest-earning blogger raking in an astounding $44.9 million a year, it's also a fantastic way to make money. Even better, all you need to get started is a good grasp on grammar, a template from sites like WordPress or Blogger, and an understanding of how bloggers actually earn. 
First, of course, you need an audience, but most of your earnings will come from advertising. There are a myriad of different ways you can earn money from blogging, for example from Google Adsense or affiliate marketing. 
# 3 – Sell your unwanted books, DVDs, and games
Sometimes making money from home is as simple as looking at what you have. These days, everything can earn you money, so think again before you chuck those old books, or pass on the DVDs that have been collecting dust. 
In reality, there's a huge seller's market right now, and even the stuff you consider to be clutter is guaranteed to be someone else's gold. Sites like eBay are obvious contenders here, but you could make selling even simpler with a trade-in platform like Zapper, where you're able to quickly scan your items' barcodes using their free app, and receive instant cash offers for all of your unwanted books, CDs, DVDs and Games. This means that unlike eBay and Amazon, you don't have to wait around to receive offers on your listings.
# 4 – Tutor students online
Do you have experience teaching or just a whole lot of knowledge to give? If yes, then it's possible online tutoring could hold the key to your home earnings. 
In the UK alone, the online tutoring market is set to be worth an astounding $60 billion by 2023. Maths comes in as the most popular subject, closely followed by English and science. Even better, the rise of platforms like Zoom and Skype have made this an incredibly easy career to break into. Simply choose a subject, develop your lesson plan, and sign up for one of the many fantastic tutoring platforms out there like Tutorful or TutorRoom.
# 5 – Survey sites
Survey sites are the creme de la creme of online earnings, with offerings that range anywhere between 40p and £20 per survey. For diehard surveyors, this pursuit can lead to around £800 a month. 
The main thing to remember here is that not all survey sites offer cash rewards. To make the most of this side hustle, you'll want to seek those that do, such as Swagbucks, Toluna and OnePoll.
# 6 – Sell your crafts
Crafts are coming back into style in a major way, a fact that led one woman to make headlines for earning an astounding $1 million a month with her wares.   
Whether you knit, paint, make jewellery or anything between, there's guaranteed to be an audience for it. All you need to do is get set up with a simple storefront on a site like Etsy. Then, you'll start making money, instead!
# 7 – Start a podcast
Podcasts are big news right now. In fact, they're such big news that the highest-earning podcast 'The Joe Rogan Experience' earned a whopping $50 million in 2019 alone!
Much like blogging, podcasts hold real earning potential through advertisements. Unlike blogging, you don't need to wait on readers to click links. Rather, podcasts with high download rates will often appeal to sponsors who pay big for a chance to reach a decent audience. Simply get recording and upload to popular podcast platforms like Spotify and Stitcher.