This post may contain affiliate links which means that if you click through to a product or service and then buy it, I receive a small commission. There is no additional charge to you.
This article is inspired by a trip to Pizza Express last week with my youngest. We had two meals for £10, using the Pizza Express deal on my o2 Priority app. She ended up with an adult pizza for £5 when a much smaller children's one would have been £3.99 anyway.
So, where can you find the some good freebies, perks or discounts from products and services which you already pay for? Are you leaving money on the table by not checking your apps? Are you paying for things like travel insurance when you could get them free with certain products that you currently buy?
I'm sharing the ones that I use personally, and have also asked some of my money blogger friends where they get great value with freebies and discounts from products or services they use.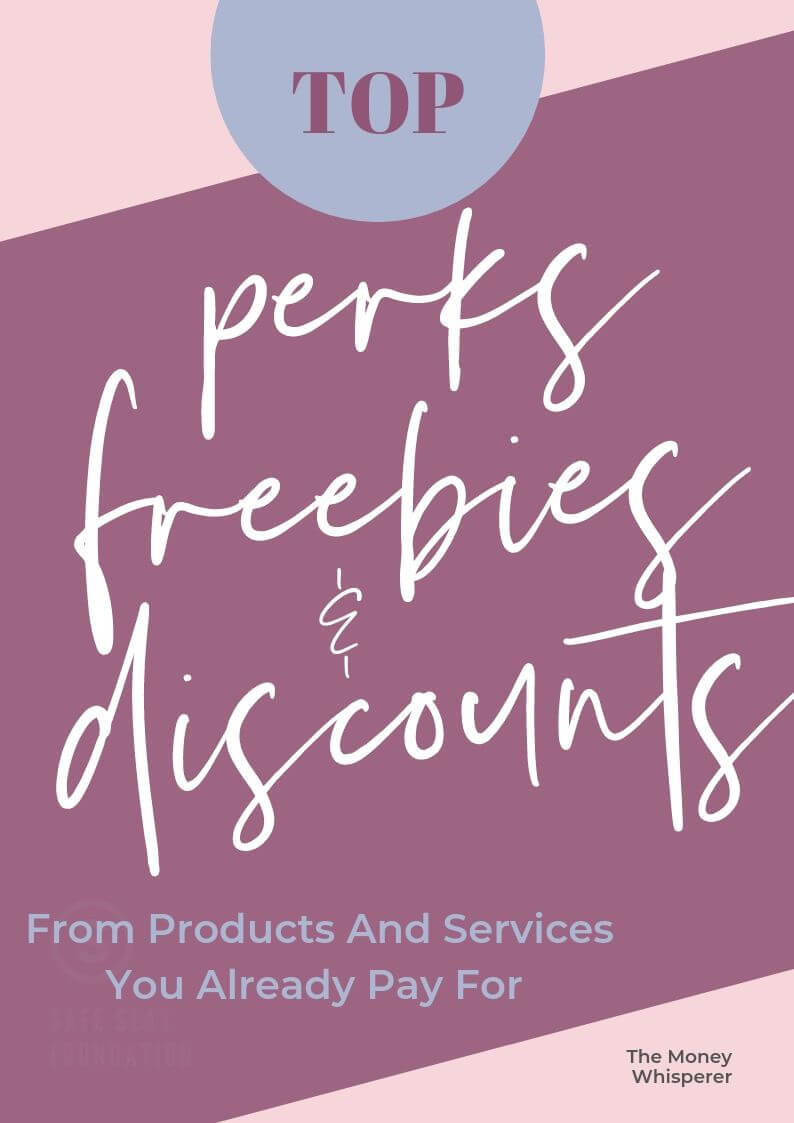 Mobile phone perks
o2 Priority
I use the o2 Priority app a lot and have had free Easter eggs from Thorntons, free stationery from WhSmith and free coffees from Cafe Nero.
There are priority tickets available for events and concerts, experience days and also free to enter prize draws.
As a long time o2 customer, the perks are very welcome but wouldn't stop me changing network provider if a better deal came along.
Wantu from Three
Lotty from LottyEarns uses Three's Wuntu. She says 'It's a lot like o2 Priority. The best bits are the competitions, discounts, free gym passes and the odd freebie. You can do the same trick as o2 too and get it on your phone even if you don't have Three.'
Top hack right there!
Penny from Penny Blogs says 'Via Wuntu and Three, I've had great things like free coffees, free pizzas, free film downloads, free ice cream, free chocolates and also main courses for a fiver at various places. I was with Three before this came along, but it's a nice little extra. I get notifications from the app and as my husband and I are both with them we will sometimes both use our codes and treat ourselves to something from it'.
Making use of the perks from your mobile provider's loyalty scheme is easy; you can set alerts on your app to notify you if you are near to a retailer with an offer.
Click To Tweet
---
Financial products
Santander 123 current account
We pay £5 a month to have a Santander 123 account which gives us cashback on our utility bills and travel costs (so it actually doesn't cost us anything as we get more cashback each month than the £5 fee).
Retailer Offers is a free service variable through online or mobile banking. When we use our debit or credit cards, we get up to 15% cashback at various retailers which are tailored to us based on our historical spending.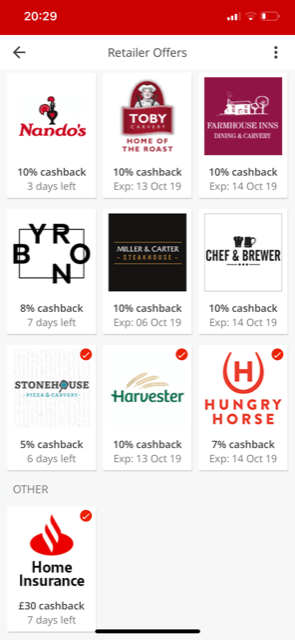 We eat out as a family regularly so we get a good deal of value from these.
The great thing here is you can double up with other discount offers.
As the cashback comes from Santander when you use your card, if you have another discount voucher, present it to the retailer at the point of service and you'll get both. We often use AA Member benefits at the Harvester to get 20% off, plus we can get the cashback if we pay with our Santander card too.
HSBC Premier current account
Our HSBC Premier account includes free worldwide travel insurance from Aviva for our family, which saves us a huge amount each year.
This is not just a great perk to have as we are always covered wherever in the world we travel, but it's one less bit of admin for me when it comes to renewals each year as this is something I never have to think about!
Lloyds current account
Nicola from Mum on a budget has a Lloyds current account. With Club Lloyds, she gets to choose one lifestyle benefit per year. She opts for 6 free cinema tickets each year (which can be either Vue or Cineworld) but you can also choose from other perks including Gourmet Society membership (for cheal food) or a magazine subscription with a range of popular titles.
Scottish Friendly ISA
Andy from Be Clever With Your Cash has written a whole post about the perks you can get when you open a Scottish Friendly ISA. They include a welcome reward gift card, discounted gift cards, cheap cinema tickets and money off in restaurants.
As a side note, if you are thinking about starting to invest using an ISA, do check out the cashback deals on Quidco as some of them can offer you some pretty hefty sign up cashback bonuses. 
---
Insurance
Vitality
Kirsty from The Money Saving Mum uses Vitality for her life cover. With the cover, as long as she keeps up a minimum exercise requirement, she gets free cinema tickets every week, an Apple Watch, discounted gym membership, Amazon Prime membership and more. She was encouraged to take out her cover with Vitality because of the benefits; amazingly she doesn't feel like she actually pays for the cover itself because she gets so much more which is of value to her over and above the cover itself.
Catherine from The Money Panel says the best benefit for her from her Vitality membership is the two heavily discounted Champneys spa trips you get per year and the BA flight deals.
Insurance bought through Compare The Market
Naomi from Skint Chef  has a great hack to get cheap food for a year with Meerkat Meals. They bought a single days travel insurance with Compare the Market for about £1 and now have 2 for 1 on starters, mains and deserts and 2 for 1 cinema tickets.
It paid for itself the first time they used it and they are now in their second year of membership.
---
Other
AA Breakdown Cover
Faith from Much More With Less got a discount when booking ferry tickets to the Isle of Wight this summer, thanks to her AA breakdown cover membership. There are also other great travel related discounts with companies such as P&O Ferries, Brittany Ferries and various car hire and airport parking companies.
Sky VIP
Jennifer from My Mummy's Pennies uses Sky VIP for her broadband. The Sky VIP app has lots of freebies and competitions. She says that whilst the app didn't factor in her decision to move to Sky in the first instance, it's something she has taken into account when I've considered switching providers.
She gets a freebie from it once a month at least; free DVDs, free movie streaming rentals and free books but the best perk has to be the free tickets to events and cinema screenings.
---
So, are you making full use of the perks which come with things you already pay for. I'd love to hear from you if you use perks and discounts from other products which I haven't included here.