This post may contain affiliate links which means that if you click through to a product or service and then buy it, I receive a small commission. There is no additional charge to you.
A month in to the holidays. Those rainy days of typical school holidays which seem to last forever have been replaced by sunny days of outdoor play where the kids flop in to bed exhausted. This is what summers should be like!
After a fabulous week last week with all four of us at Kelling Heath, I've spent this week at home sorting out school uniform, shoes, lunchboxes, ironing on labels, and sorting birthday and Christening gifts for lots of family members. Plus catching up with the girls' friends.
My littlest lady has a birthday party coming up too so I've been busy sorting presents and party supplies! I want to be all prepared as the girls and I are heading back to Norfolk with my parents next week and I don't want to come home to a big panic about the party.
Here is my round up of frugal things for the week:
One of little lady's birthday presents is a mosaic jewellery box which I ordered from Amazon. I'm an Amazon Prime Member and would get one day delivery free as standard. However, I selected No-Rush Delivery which means I get a £1 'reward'. It's basically a kind of cashback for not getting super quick delivery. If I don't need whatever I am ordering in a rush, I always select this and use my rewards for Kindle Books. I've paid for a new 99p read with my reward voucher for next week in Norfolk – there's no WiFi and terrible phone signal so my Kindle is my best friend.
B&M is where I usually head for sweets for party bags or Halloween. I was picking up some Haribos this week for the party bags and saw some Shopkins birthday supplies for 29p each. Packs of 8 plates and cups, packs of 16 napkins and table cloths. So now we are all sorted with bits for the party food for under £2! B&M are always worth a look for party bits and pieces over Poundland as they are often a lot cheaper than £1. (As an aside, she has requested a Greatest Showman cake if anyone has any suggestions or inspiration!)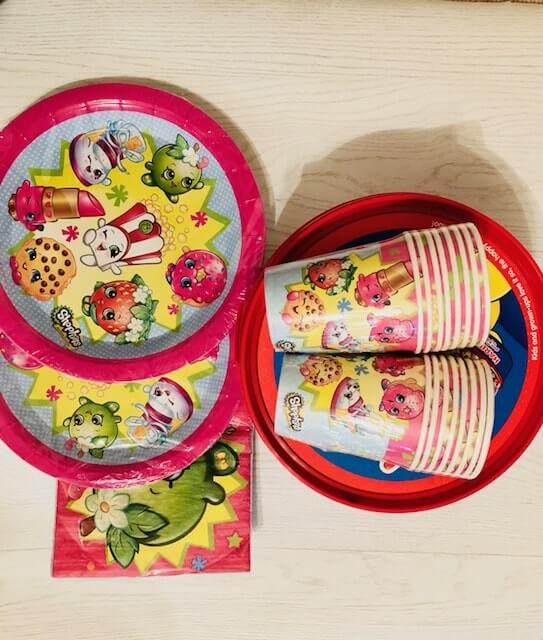 Our protective wipe clean table cloth on the dining table needs replacing as it's been drawn on a few too many times by the kids. We've got a pretty wooden table and I need something on it to keep it from harm! I was walking through the market today and saw a perfect roll of exactly the right material on the fabric stall. At £3.99 per metre it's cost a lot less than a new table cloth from Next where I was going to head to replace the old one.
I bagged a free glass of wine at Brewers Fayre in their big summer giveaway. It's always worth scratching off those tickets when they give them to you at restaurants!
I've swapped to getting guinea pig pellets from Pets At Home to Tesco on the advice of the lady who looks after our guinea pigs when we are away. They are almost half the price! I always bought from Pets At Home as this is where we got the pigs from and had assumed a pet food shop was the best place to get them. It turns out the supermarket is significantly cheaper – and I can order them with my groceries for delivery. Win win!
I'm linking up with Cass , Emma and Becky in this week's 'Five Fabulously Frugal things I've done this week' linky.