This post may contain affiliate links which means that if you click through to a product or service and then buy it, I receive a small commission. There is no additional charge to you.
We were lucky enough to go to Kidzania last week thanks to Kidzania and Picniq who currently have an exclusive 'kids go half price' offer on tickets. If you've been, you'll know what an absolutely fabulous place it is. If you haven't, we crammed as much as we could in a very busy 4 hours and will tell you all about our visit in this review. It's an incredible place and I would highly recommend a visit.
I'm also sharing my tops tips to get the most out of your day there.
What is Kidzania?
Kidzania is a mini city where children – the target audience is 4 to 14 year olds – can independently explore and take part in various activities and jobs. They earn kidZos (the currency of Kidzania) for performing jobs, and spend kidZos for taking part in leisure activities. The activities on offer are changed regularly; for the current list of activities, take a look here.
Capitalism rules here – the more you work, the more you earn and the more you can spend!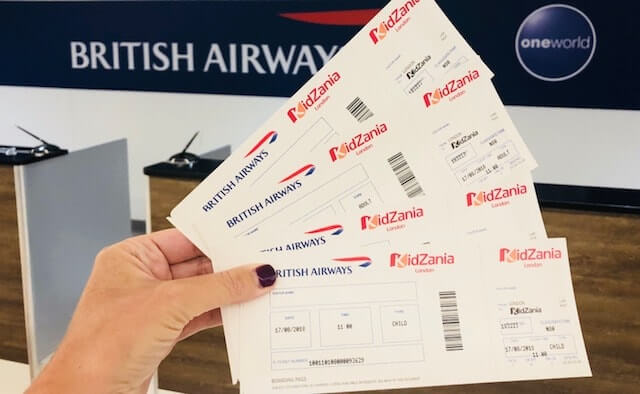 From the moment we arrived at Kidzania, we were all seriously impressed. Sponsored by British Airways, entry is via a check in desk with your very own boarding passes.
RFID security bracelets for everyone in the party – adults included – mean children can only check out with the adult that they checked in with. Impressive security, especially reassuring as it is a big place (75,000 sq ft) with a LOT of children running around. These bracelets also tell you when your time is up as the children use them to check in to each activity. Everyone gets 4 hours from the time the RFID bracelet is put on. Once your time is up, you can't do any further activities.
Each child gets 50 kidZos at check in to start them off. From this pot, they can build it up, spend it and anything left at the end can be spent in the gift shop on the way out.
Cheap Kidzania tickets with Picniq
We love Picniq for attraction tickets as they always have great deals and discounts on family attractions. Kidzania is no different and at the moment Picniq have an exclusive 'kids go half price' deal on Kidzania tickets.
With Picniq, there are 2 child ticket types to choose from depending on what time you would like to visit KidZania:
Kids Go Half Price (After 1pm): available for visits after 1pm
Peak Flexi (before 1pm): if you want to visit during the morning before 1pm
Tickets can be purchased on the Picniq website up until 11.45pm on the day before you want to go.
Who is Kidzania suitable for?
It's aimed at 4 – 14 year olds. My almost 5 and 7 year olds were in their element and absolutely loved it. The littlest had decided beforehand when we looked through all the activities online that she definitely wanted to work in the hotel as a chambermaid making beds, and in the supermarket at the checkout. These were the first two things we did!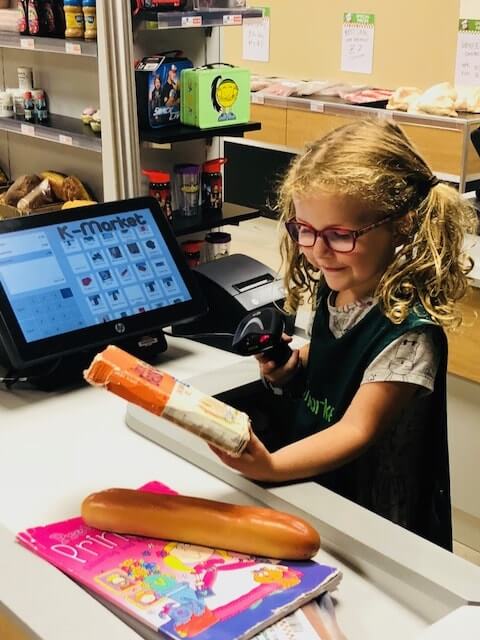 For their age, we accompanied them around the city. The whole ethos of Kidzania is learning independently so the activities themselves are just for the children. No adults are allowed inside; you can watch through big glass screens.
For those over the age of 8, you can drop them and collect at the end of the 4 hour time slot. It's in Westfield so I imagine a fair few parents head off shopping while their children play!
Children under 4yrs are not permitted to take part in the main role play activities. There is a dedicated Early Years area for younger siblings.
How does it work?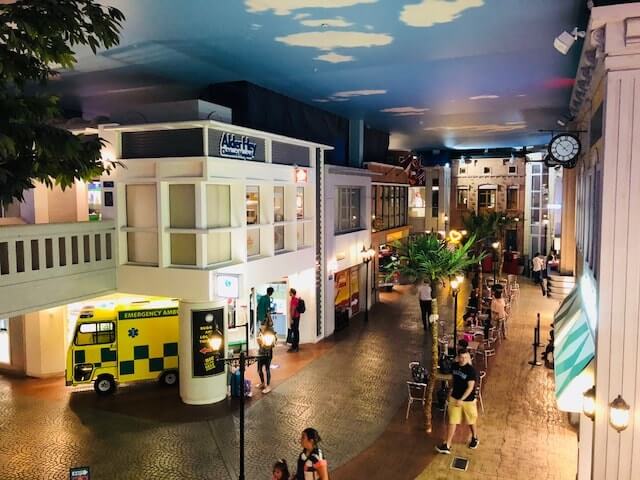 The place is huge and there is no way that you can cover it all in one day.
Kidzania advise that you can expect to do between 4 and 8 activities in your 4 hour time slot. We managed 10 and I think that was because we arrived at 10am; we did the first 3 in the first hour while everywhere was quiet and there were no queues. It got progressively busier as the day went on.
There is a bench outside each activity for the children to queue at. They do need to understand they need to stay in the queue to keep their space!
Each activity has a display sign saying how long the activity lasts, how much you earn or will need to pay, and how many children can do it at one time. They range from 5 minutes to 50 minutes long. Most of the ones we did were 20 minutes long which was a perfect time for their age and attention span.
What we loved about Kidzania
Easy; everything!
The girls really enjoyed the learning that came with the activities. In A&E, they learnt about why a burn is covered to protect it from germs, and how a manual respirator works. They each had a prop when it came time to board the ambulance and go on a drive through the city where someone had been hurt in the road.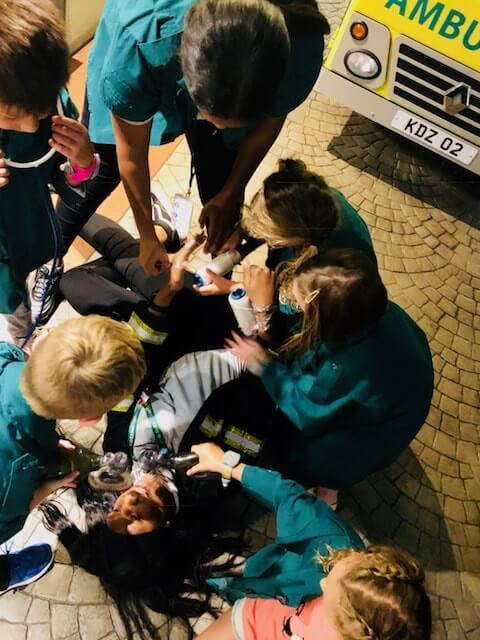 There are a few experiences where they get to travel on the mini vehicles – A&E in the ambulance, the fire station and the Tour bus. For this younger age group, I would really recommend these as they loved them.
Learning to be a dance instructor was another huge hit.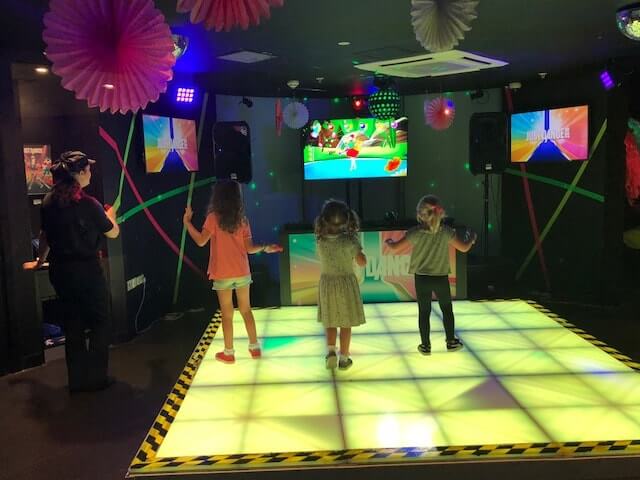 All the staff we encountered were excellent and so full of enthusiasm. Here the girls were in surgery learning about why this patient needed a liver transplant (the older children were whizzing around with medical deliveries to the neo natal unit and the hospital). They haven't stopped talking about why no-one should drink 30 litres of coke as it ruins your liver…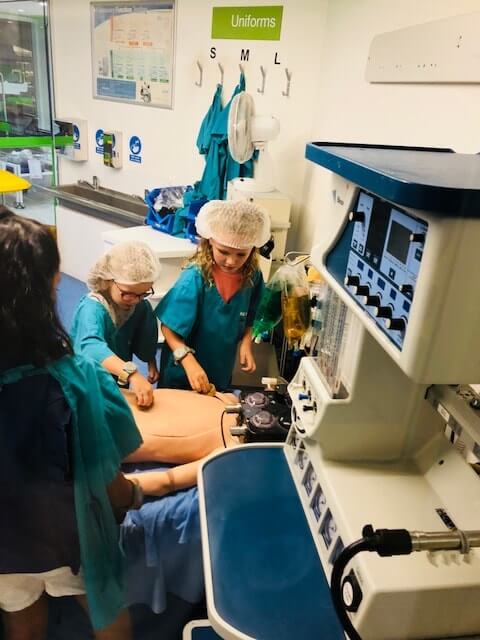 One of our highlights was definitely the police forensic experience. My girls got to be the evidence collector and the lead investigator when they went out in to the city looking for the suspect.
Every experience was so well done; but we all loved the police one. And the fire brigade where they travel on the truck to the hotel to put out the fire. Oh, and the chocolate making experience with Cadburys. To be honest, everything was fabulous. Watching them rock the babies to sleep in the neo-natal ward of the hospital had all the parents outside laughing!
Top Tips To Get The Most Out Of Kidzania
Get there early. Tickets can be bought for specified entry times and Kidzania restrict the numbers so it's never chaotically busy. But the first hour after we arrived at 10am was the quietest of our 4 hours there by far. Only the lower level is open until 11am, but it was quiet and we managed to get 3 experiences done in the first hour. I imagine it gets quieter again towards the end of the day.
Allow plenty of time for parking at Westfield at busy times. You don't want to be late for your slot!
Parking is £8 all day but if you use smart parking ahead of time, you will only pay £6.
Bring a lanyard so your child can keep hold of their money when they are paid. We didn't and had to look after it for them as they needed hands free for the activities. It's much more fun for them if they can look after their hard earned money themselves. Lanyards were £4.99 in the Kidzania shop.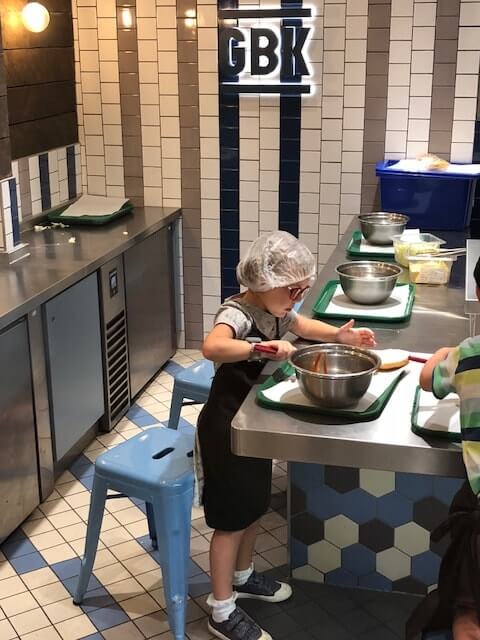 The girls did the Gourmet Burger Kitchen burger making experience at lunchtime. For £2, they went in to the kitchen area and made up their own burger (chicken, beef or veggie options). I thought this was really good value (regular burgers were almost £10 from the same place!). It was quite quiet – its hidden round the back near the cricket experience – but definitely worth it as you get an experience and lunch in one.
Do your research beforehand – activities and map are available on the website – so you have a rough idea where you want to head when you get there.
Picniq email tickets immediately on purchase. Once you have your email confirmation, you do then need to ring Kidzania to book a time slot for entry.
Kidzania is such a great day out. 4 hours whizzed by and I was totally exhausted even though it was the kids who had done all the work! We'll definitely be back again.
Do let me know if you have any top tips of your own to add to mine.
We were gifted tickets to Kidzania in exchange for this review post. Views are entirely my own. Do check out Picniq if you are searching for tickets to family attractions. The website is so easy to use, there are no booking or credit card fees and they frequently have exclusive offers for many attractions.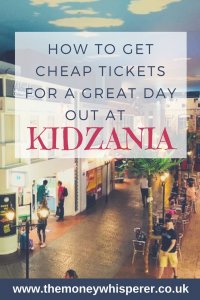 If you are interested in learning more great ways to help children learn about money, see my post on games to teach children about money here.