This post may contain affiliate links which means that if you click through to a product or service and then buy it, I receive a small commission. There is no additional charge to you.
Welcome back to another post in my 'Investing : a woman's perspective' series, where we talk women and investing. This week I am talking with Charlotte Jessop of Looking After Your Pennies.
---
Firstly, tell us about yourself?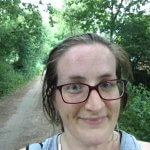 I'm Charlotte. I'm married with two kids aged 3 and nearly 1. We own our home which we have a mortgage on. We overpay on this consistently.
I'm a teacher and I work full time. My husband is part time and we manage our working week so that we don't have to pay childcare.
What investments do you have? What are your goals for your investments?
I have two main investments. I have my pension, which as a teacher, is pretty good. Working full time for the last 8 years, with several promotions and pay rises, means that this has grown well.  To support this I have a stocks and shares ISA with Vanguard. I pay into this monthly. At the moment, with two kids and my husband only part time, we don't pay as much into this as I would like but the aim is to increase the payments as our wages increase. Ultimately I would like this money to allow us to retire comfortably and hopefully retire early if I can throw enough money at it.
My husband and I also like to play with investing and try putting our money in different things. Therefore I currently have some money in crypto currency and am enjoying watching how the market works. It is very volatile and consequently high risk but it is good fun.
In the future I will add property to my investment portfolio by purchasing a property with a BTL mortgage. This will hopefully happen in the next 3-5 years and will further bolster our investments.
How long have you been investing for? What made you start when you did?
I've only really started investing this year. It is something that I always wanted to do but it felt so inaccessible. Many online guides gave vague statements about what to do and how it worked, whereas I wanted it plain and simple. Eventually I realised I would have to work it out for myself and read copious books and blogs until I was fairly confident.
That's when I decided to jump in.
How did you decide what to invest in/research your investment(s)?
Everything I read said that it is less about what you invest in and more about having a well spread out portfolio. It also said index tracker funds were the way to go. With this in mind I signed up to a S&S ISA and read everyone of the options available to me.
Many were not what I wanted at all but the act of reading everything about them armed me with information about the ones that I was interested in. Such as whether they were risky by comparison or if they had good historical rates of return.
Has your attitude to investing always been the same or changed through your life?
No! My parents are very against the idea of investing in stock market. They feel like it is a huge risk and would not put their money anywhere other than the bank or under the bed. Despite being raised like this and agreeing with them for a long time, both my sister and I now have investments.
I think this change came about for me because as a young woman I actually have a good amount of money. I have a good job and have received money through inheritance so I've needed to think carefully about what I do with money in the long term.
If you have children, do you invest for them and if so, in what?
My husband and I have not thought about this seriously yet.  We bought a couple of hundred pounds of some crypto currency half joking that maybe one day it will be worth millions and the kids could have it. However I am aware that this is not a good enough plan. The half formed plan I have in my head is that my husband will open a S&S ISA to and we can use this to save for the kids. This money will go towards any university costs and if there is any left over they can have it as a deposit for a house or a wedding gift or whatever they like really.



What advice would you give to someone who says 'I don't know where to start'….
The turning point for me was reading "I Will Teach You To Be Rich" by Ramit Sethi. That had simple instructions about what to do with my money and that formed the basis for my research. On top of that, I'd just say do it! It's far less scary once you're doing it.
---
Charlotte is a mum of two and maths teacher who blogs at Looking After Your Pennies about ways to make money and save money with an eco-friendly twist.
Previous profiles in the 'Investing : a woman's perspective' series have featured award winning journalist and money blogger Faith Archer , social entrepreneur Jennifer Kempson and a great one from seasoned investor Tuppenny. 
Do check them out if you haven't already.