This post may contain affiliate links which means that if you click through to a product or service and then buy it, I receive a small commission. There is no additional charge to you.
January's over and we are in to February! Not one of my favourite months after the excitement of December and when it's dark and freezing still. But I am loving the afternoons getting longer – I can see Spring in my sights!
I did set myself a challenge in January to better plan our meals and I think this has really helped me get through the worst month of the year better than normal. We are eating really healthily as a result and have decided to have a bit of a family competition to tone up and lose the weight we all put on over Christmas before we go on holiday. So my five frugal things I've done this week start around diet and exercise….
I asked on my Moneywise Mum Facebook group for free or cheap ideas for exercising that would motivate me and get me to stick at it! There were some great suggestions ranging from Joe Wicks on YouTube to using the Couch to 5k app to get out running. I've started going to a circuits bootcamp at our local indoor trampoline park. It's great as I can also take my youngest daughter and she gets to jump for FREE while I exercise! Win win!! The session is £5 and just to take her for a bounce would normally be £6 at the tots session – it's a great hour that we both enjoy so will easily stick to doing this every week.

I also got a voucher on Groupon for our local Sweat Studio where they run hot yoga classes. It's usually £79 a month for unlimited classes but I am doing a trial through the offer for just £24. Starting next week – really looking forward to it!
Reducing our food waste was a big motivator for me to get in to meal planning after my work with the food bank over Christmas. I have been finding a use for everything so made sure my overripe bananas were put to good use this week by making a delicious banana bread in my breadmaker. I don't use a special breadmaker recipe – I just chuck it all in based on this recipe and it works fine.
I fell out of love with it for a while but am totally back in love. Nothing beats the smell of something cooking in the breadmaker. Mine is a Morphy Richards one; it was a present from my Mum and is all singing, all dancing so can make cakes and jam and all sorts in it.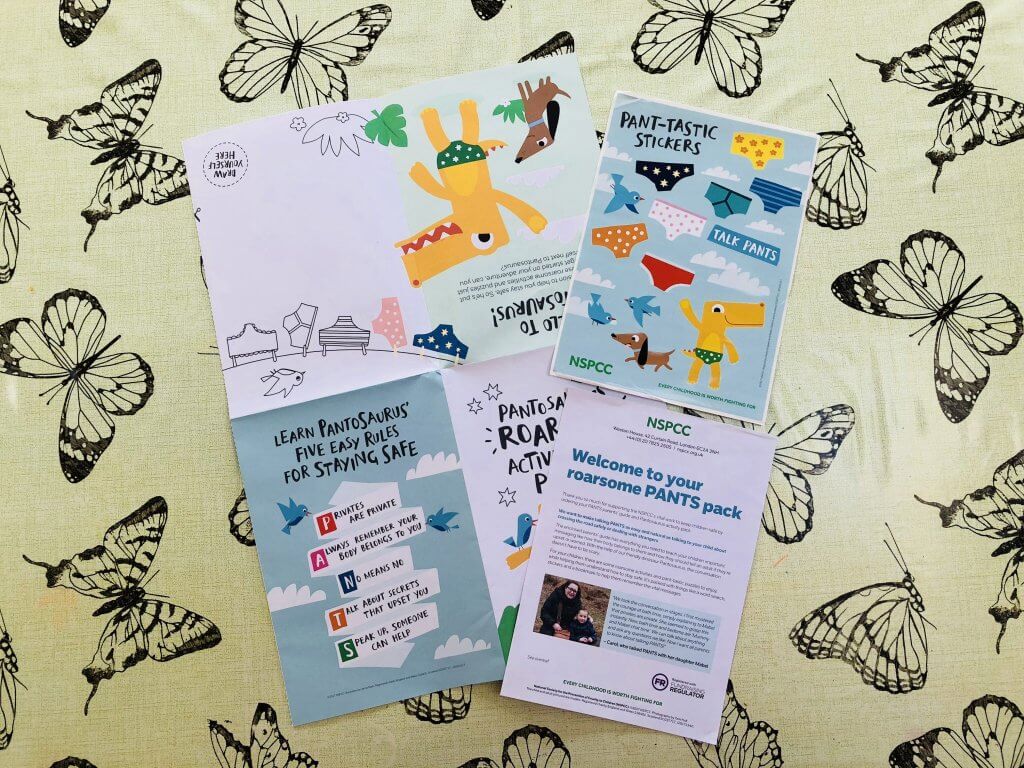 I love the video of the NSPCC PANTS campaign – about how to stay safe from abuse – and my girls love singing the catchy tune with Pantosaurus. I ordered the pack direct from the NSPCC website for a £5 donation and they were really excited to receive it this week. Money well spent for such an important teaching tool.
Finally, whilst we are eating healthy, the shops are doing their best to tempt me at every angle. Tesco has a huge display of Easter eggs as soon as you walk through the door. There are basic Easter eggs on offer for 75p so I bought some Smartie and Rolo ones and have put them away for presents. Must not raid that cupboard!!
I hope you are all having a good week. Do comment to let me know if you've made any good frugal purchases.
I'm linking up with Cass , Emma and Becky in this week's 'Five Fabulously Frugal things I've done this week' linky.