This post may contain affiliate links which means that if you click through to a product or service and then buy it, I receive a small commission. There is no additional charge to you.
When you take out any insurance policy, you get the quote for the basic insurance and then you are offered add-ons as extras. To be on the safe side, most people usually tick them, 'just in case'…. But there is one motor/car insurance add-on which you really don't need to pay for anymore because of an innovative offering on the market which offers free car legal insurance.
Motor legal expenses
In addition to your standard vehicle insurance, motor legal protection or legal expenses policies retail for around £30 per annum, per vehicle you have insured. A household with several cars or motorcycles is often paying for these policies several times over.
These policies are offered to you when you take out a motor insurance policy as an additional layer of protection. Legal expenses insurance covers you for legal fees in the following circumstances after an accident that was not your fault:
Lost earnings
Hospital treatment costs
Car hire charges
Personal injury compensation
Uninsured loss recovery
All sounds pretty useful to have, doesn't it? Well now you can have protection against these things without having to pay the £30 annual premium ever again.
The motor insurance industry rip off
For many years, founder of Free Motor Legal Lee Jones worked for both major insurers and then law firms dealing with road accident claims. He noticed that these motor legal policies were a fantastic way of making money for nothing for large insurance firms and brokers!
The reality is that these polices cost around 50p to write for the insurance companies because the actual underwriters of the policies seldom pay out any legal fees. All of these policies stipulate that the legal expenses insurer can choose the law firm that will act for you. The panel solicitors have often agreed that they will not seek any costs from the legal expenses policy if the claim does not succeed.
So if they don't win your case, the lawyers have to just absorb any fees and expenses incurred.
If they win your case, the lawyer's fees get paid by your opponent's insurers (because you weren't at fault in the first place).
These policies are just being used by motor insurers to push customers in the direction of preferred law firms for the payment of referral/marketing fees back to the insurer. Not only are motor insurers making a 6000% mark up from selling you a £30 legal protection policy in the first place, they make more money from commissions by selling your claim to injury lawyers and hire companies.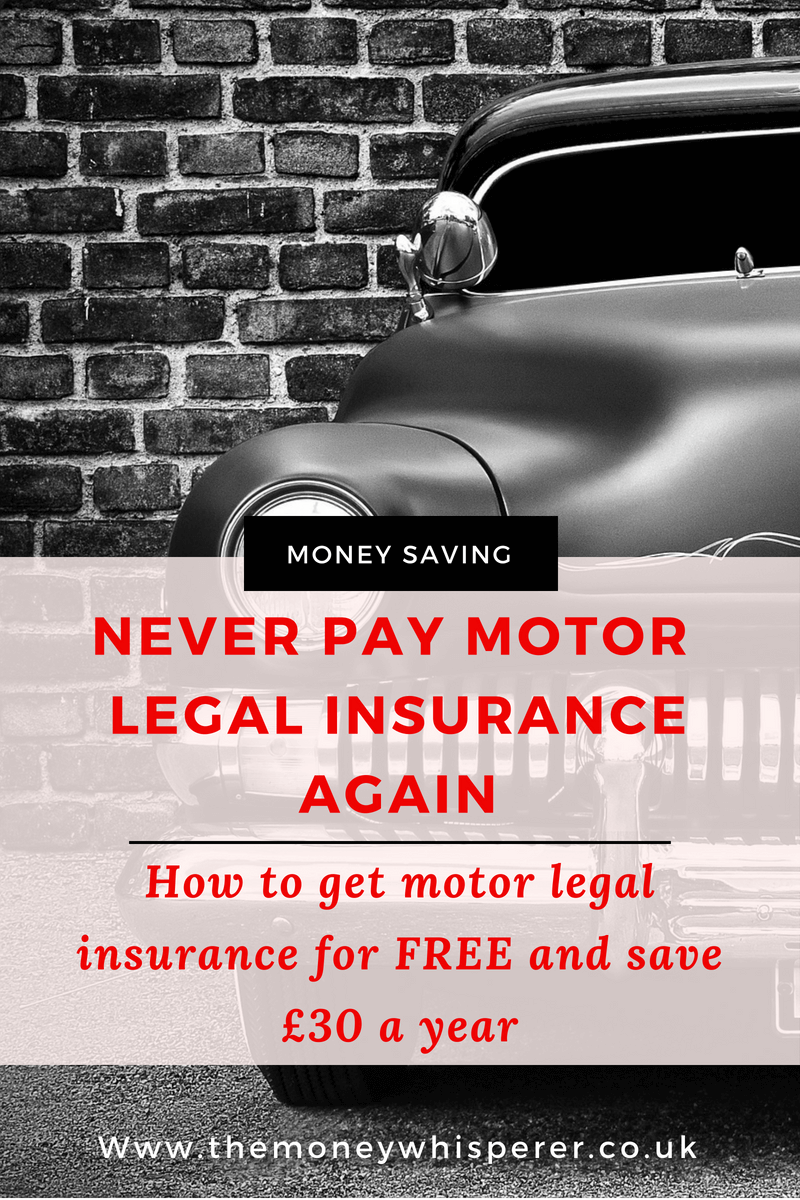 Free Motor Legal
As a motorist, you need motor insurance. But you don't need motor legal protection. Free Motor Legal offers free membership to its service for life; the £30 per vehicle, per year savings are available each year. Members do not need to renew each year once they have joined and it does not matter how many cars or vans or motorcycles they own.
If you are involved in an accident which isn't your fault, they will:
Retain the services of lawyers who could act under a no win no fee agreement and importantly not take any deductions from the client's settlement
Tell you what details to record at the scene of an accident
Get you and your vehicle home
Do damage assessments and repairs
Give you a like-for-like replacement vehicle while yours is fixed
Get you compensation for damage to other personal items or loss of earnings
Get you compensation for personal injury including private treatment of injuries
How can it be free?
With Free Motor Legal you aren't charged an annual premium for them to make these arrangements with lawyers or hire companies if you do have a no-fault accident.
Instead, like the motor legal protection insurance you can buy from your insurer, Free Motor Legal earns some commissions from its business partners when their services are used. For example, if they arrange a replacement hire car for you, the firms they use will pay them a marketing fee. Importantly, this results in no cost to you, the consumer.
Free Motor Legal has no relationship with any motor insurance companies and only use independent service providers to assist its members.
Sign up
When you sign up, you will receive a membership pack in the post that includes vital contact details should you be involved in a motor accident that wasn't your fault.
It also contains a great accident checklist. Keep this pack in your glovebox and add the Free Motor Legal key ring to your car keys so you always have the freephone number on hand.
If at any point you are involved in an accident which isn't your fault, call Free Motor Legal before calling your insurance company (to avoid paying an excess or affecting your no claims discount). They will help you collect the right information from the scene of the accident, arrange for roadside assistance and get you home. And they will tell you what to do next.
For more information on keeping costs associated with car ownership down, take a look here. 
This is a collaborative post written with information provided by Lee Jones, founder and managing director of Free Motor Legal Ltd, the free alternative to motor legal protection.