This post may contain affiliate links which means that if you click through to a product or service and then buy it, I receive a small commission. There is no additional charge to you.
Scams cause a great deal of misery for so many people each year. None of us are immune to potential scam approaches; even though we may think we know the scammer's tricks, they are becoming increasingly more sophisticated and realistic. 
Unfortunately, the scammers have not been reigned in at all by lockdown; they are as prevalent as ever, if not more so. Action Fraud announced in March that coronavirus-related fraud reports had increased by 400%. 
With more people staying at home in line with social distancing and lockdown restrictions, it makes it easy for opportunistic scammers to target pension savers by phone or online. Those looking to access money they have saved in their pension to help them through this time of financial uncertainty are the scammer's prey. 
It's vital we all know what scams to look out for, be vigilant and protect ourselves from these fraudsters. I've collaborated with PensionBee on this article to talk about the latest tool they have just launched in their mission to educate the public on how to avoid scams around pensions – Scam-Man. 

The scale of the scam problem 
Last year, The Financial Conduct Authority (FCA) and The Pensions Regulator (TPR) released research showing that 42% of pension savers could be at risk of falling for a scam. It estimated the average loss to be £82,000 per victim, which equates to around 22 years of pension savings. 
Wowsers. Get your head around losing the pension savings you have worked 22 years for. Ouch. This is some serious stuff to pay attention to. 
The same research also found that the more highly educated a person, the more likely they are to fall for a pension scam, due to overconfidence. I think we probably assume that those who fall prey to scams have a lower level of financial literacy than those who don't, but this simply isn't the case. 
All of us need to know what to look out for and be self-aware enough to re-consider every potential interaction as a possible scam. Better safe than sorry.
But where to even start? How do you stop, take a moment to remove yourself from the situation and consider 'is this a potential scam?'
Well, four of the UK's leading digital pension platforms, including PensionBee, have collaborated to create an engaging new online game that educates people on exactly what scams to look out for, in a fun way. 
Scam Man and Robbin'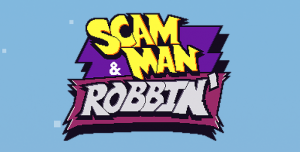 Scam Man and Robbin' is a retro game designed for consumers of all ages, and gamers and non-gamers alike. My girls have tried it and been battling for the highest score, although I am still the champion! (We've been doing lessons on money this week and it was a great opportunity for a lesson on what is a pension!) If you want to challenge me, my current high score is £16,300. 
The game casts the player in the role of 'Scam Man', a vigilante whose main objective is to protect people's pensions from scams. 
His job is to correctly identify six of the most common pension scams by shining his torch on them to destroy them, as well as collecting six corresponding bonuses that can help protect savers' pensions. 
Each level gets progressively harder, challenging some common misconceptions which may initially seem positive about a pension scheme, such as guaranteed high returns or an offer of free advice, but may in fact be the hallmarks of a scam. 
To find out more and to play Scam Man and Robbin', visit scam-man.com. I challenge you to get more than £15,000….
Six of the most common pension scams
The scams that Scam Man is on the lookout for, and which you need to be aware of in real life are:
Cold calls
If you receive a call out of the blue about your pension, be immediately vigilant.
If someone you have never heard from before cold calls you about your pension, the call is illegal and extremely likely to be a scam.
In this instance, hang up and report any details which you have on the caller to the Information Commissioner's Office. 
'Free' advice
Beware anyone offering to provide you with 'free' advice in relation to your pension. 
There are two places you can access free pension-related services:
The

Pensions Advisory Service

offers free and impartial guidance to people with workplace and personal pensions. 

If you are over 50, you can access impartial advice on pensions from

Pension Wise

; they offer pre-booked appointments to talk through your retirement options. 
When it comes to making financial decisions, many of us want the support of an expert and are willing to pay someone for their expertise to help us to make the right decisions based on our personal circumstances. 
As the amount of money invested in a pension is typically substantial, it can be a good idea to speak with a financial adviser prior to making any decisions, and indeed is required in certain circumstances. Financial advisers charge a fee for their expert advice. Anyone who indicates that they are willing to give you financial advice for free is highly likely to be a fraudster, and they certainly won't have your best interests at heart.  
Time pressure
Fraudsters often work to get you to act quickly before you are able to process that the situation is a scam. They will encourage you to make a decision quickly; they are trained in sales and will be good at making you feel you might be missing out on an 'amazing deal' by delaying. 
No finance professional would put any pressure on you to make meaningful financial decisions without proper consideration. 
Ask for more time; don't be rushed into making any decisions or actions, and do all the checks you need to before you take any action. 
Falsely claiming to be someone they are not
A scammer may claim to be from a pension provider, a financial adviser or even the government. 
The easiest way to check if they are who they say they are is to see if they are registered on the Financial Conduct Authority's Financial Services Register. Tell them you are going to check their credentials, and then use the details on the register to call them back, NOT the details that they may have provided you with. 
Be aware that the clever fraudsters design copycat websites which can look extremely convincing at first glance.
They may even offer to send you a link to the FCA website for you to check them out. Always head to an independent website from a search engine, rather than from any link the scammer sends, to ensure you are accessing a genuine website. 
Early access 
If anyone tries to convince you that they have a scheme or a means by which they can extract your money before you turn 55, this is a warning flag. 
They may have convincing testimonials available on a website showcasing others who have invested in overseas schemes, environmentally friendly projects or any number of other appealing ways to reinvest your pension money before you reach 55. 
Refuse to transfer your pension if you have not reached 55.
Unless you meet specific criteria, you could be charged a substantial amount of tax and could risk losing all of your savings. 
The safe haven from market volatility
To help highlight the new risks that face pension savers of all ages, a coronavirus-specific scam has been included within Scam Man and Robbin', warning consumers against moving a pension to a fund that guarantees coronavirus protection and high returns during periods of economic uncertainty. 
Pension assets have declined as a result of the recent downturn in the stock market. This can be disheartening to see on your pension analytics for people of all ages, but especially so for those closer to retirement. 
Those hoping for a quick recovery of their balances can easily fall prey to scammers offering a safe haven and high returns if they move their pension.
Listen up – NO ONE can predict the movements of the stock market in the future.
Anyone who tries to persuade you otherwise is a fraudster. The value of investments can go down as well as up, and you may get back less than you invest. You'll find that caveat everywhere in the investing world front and centre. 
Walk away from anyone who provides guarantees in relation to returns.
In the words of Michelle Cracknell CBE, Non-Executive Director at PensionBee and former CEO of the Pensions Advisory Service:
"Anyone can fall victim to a pension scam, regardless of age or level of education. Scammers are increasingly sophisticated criminals who prey on savers simply seeking to make the most of their money in a confusing pensions world. Scam Man and Robbin' has the potential to go a long way towards raising awareness and educating consumers of the pension scam warning signs." 

Stay Alert. Protect Your Pension. Save Yourself From Scammers
See what I did there?! Check out Scam Man and let me know what you think.