This post may contain affiliate links which means that if you click through to a product or service and then buy it, I receive a small commission. There is no additional charge to you.
Hands up if being a homeschooler was never on your radar? Yes, I think that's most of us! The reality we are all finding ourselves immersed in is something I think we never thought we would ever happen in a million years. Juggling work, adapting to new technology, entertaining our children and keeping things as normal as possible for them, whilst trying to stay sane!
School work is becoming a bit tedious, so I thought I'd share some of the ways I've been teaching my girls about my specialist subject whilst they've been off. They've been really enjoying it.
It's never too soon to introduce children to understanding money and establishing good habits that they can carry with them into later life. 
Money Ready
Launched recently, the girls have been trialing Moneyready which is an online financial education learning platform. 
The website uses a series of interactive games, lessons and quizzes on a range of issues from budgeting to banking, investments to insurance and saving to spending. It is pitched at three levels – seven to 11, 11 to 14 and 14-18-year-olds with each level getting progressively more complex.
We've been exploring the modules aimed at seven to 11 year olds. 
In our first session on 'What is money?', my girls learnt about how money came about and how people used to barter with camels and shells before money was invented. This amused them.
They enjoyed the interactive nature of the sessions, with quizzes to answer and even some drawing on screen.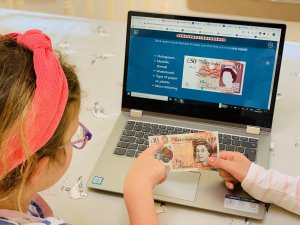 We've completed the sessions on earning and saving money (which is great for tying in with our discussions recently on pocket money too!). Next week we are going to spend some time on the remaining themes of spending, budgeting and giving.  
My youngest is 6 and she has enjoyed the content, although I did go through it all with them to answer any questions about terminology. I think that it is so important that we talk to our children about money so didn't just leave this as a 'set them up and go and do something else' activity. If you are a parent who didn't get great financial education when you were younger, you'll probably learn a lot from going through it with them too!
We spent a lot of time talking through the learning. It's been a great opportunity for them to open their minds to things like the fact that when you earn money, the government takes some away as taxes. 
I love the nature of having the learning on an online platform; it's how the children of today will embrace learning. Isn't this lockdown showing us that? My girls use Timestables Rockstars, Numbots and Purple Mash through school subscriptions for learning. I'd love to see Moneyready readily adopted in schools to teach these foundations of good money knowledge. They have school subscriptions available. 
However, the great news is that you don't need to wait for schools to adopt the platform; parents can set up their own account for just £18 for an annual subscription which provides access to up to 3 children. 
RoosterMoney Money Matters Course
RoosterMoney has launched a Money Matters course; the pdf is free to download. The course is open to all, but it's ideal for 7 to 12 years old. 
The activities start off quite basic and get more complex as you progress. Topics include:
What money is and where it comes from 

How money is used 

Coin recognition 

Ways to earn money 

How banks work 

Financial terms 

What interest is and why it's good
The interest rate activity was a bit tricky for my two but they really enjoyed the rest. All the content on the RoosterMoney website is visually really appealing for children and this is no different – good work Rooster team. 
If you complete the course and send in your score to RoosterMoney, they will send you a Money Matters Certificate! 
Young Money Digital Toolkits
Young Money, who are part of Young Enterprise, have made some great digital toolkits available during this time. 
The Parent Toolkit is designed to give parents access to a range of Young Enterprise and Young Money resources suitable for use with children and young people as part of their home-learning. 
There are some resources suitable for all ages.
We particularly liked the activities around 'Needs versus wants' and 'Keeping our money safe'. 
The second activity starts with asking your child to imagine that their friend Tom has received a card for their birthday and when they open it, it contains £5!  The child is then asked how they think Tom would feel to receive the money. Would he feel happy? Would he be pleased? 
I LOVE these sorts of questions. Money is such an emotional topic and those emotions are embedded in our formative years. Time spent talking to children about the emotions which surround receiving money, spending money and saving it will be time well spent for preparing their brains for how they approach money in the future!

The girls have also been working hard on their Pocket Money Diaries project. The first episode is live here!