This post may contain affiliate links which means that if you click through to a product or service and then buy it, I receive a small commission. There is no additional charge to you.
When it comes to making money, sometimes it's about making the most of what you've got. From assets to skills, there's a lot you can do to earn a living, or enjoy a second income besides your current job.
But in recent years, more and more people have been making money using their own homes. Is it time that you do the same? 
Here are some ideas for making money from your very own doorstep.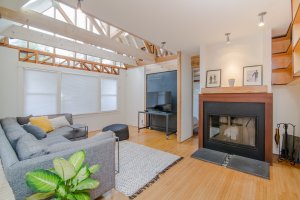 Rent out a room
If you have multiple rooms in your home that are currently unoccupied, you could make some money by renting out a room. There's a lot to think about before you take in a lodger, but it could give you a much-needed income boost. Many people rent out rooms Monday-Friday to appeal to commuters or contractors, which could help you enjoy the boosted rent while still having the house to yourself on weekends. 
Get in on the Airbnb game
If a full-time tenant isn't something that appeals to you, perhaps you could try becoming an Airbnb host instead? Starting a profitable Airbnb business requires some dedication, and somewhere you can disappear to while guests are in your home! You could become an ad-hoc host or even a frequent one depending on how much income you'd like to make. A property in a city centre location is a great choice for Airbnb, so if you've got a property with mass appeal, you could be onto a winner! Why not rent one for yourself to see how it works?
Put your land to good use
If your property has a lot of land, then you could be putting it to good use and make some money from it. From renting out land for wedding marquees to storage, there are different ways you can make the most of your land. If some woodland is part of your property, a forestry management company can help you monetise the woodland. A property and its land has a lot of potential to make money, so it's worth consulting with experts to help you get the most from it.
Invest in solar panels
Solar panels are becoming an increasingly popular feature for modern homes. They can help you save money on your household bills, but they could also help you make some money too. Find out how much you can earn from solar panels to find out if it's worth the investment. 
Become a filming location
Did you know you could turn your home into a filming location? Production companies are always looking for new properties to put on their books. You could easily earn from £500 a day upwards to use your home as a filming location. A quick search for 'film location registration' will lead you to multiple companies you could register with. Tidy up and take some great photos and you could soon see your home on TV or in a film!
Buy a second property
Another way to make money from your home, of course, is to buy a second one. A second property can give you more freedom to make money, as you're not relying on the availability of your own home to make it work. If you've got money to invest, a second property can make an excellent investment, giving you an asset that can grow for the future.
Some things to be aware of
While making money from your home sounds easy, it can be a lot of work. You're also taking a lot of risks with your own property, especially when it comes to people you know using it. You might need to take out some extra insurance to make sure your property is covered against damage, theft, etc., as well as double-check the terms of your mortgage.
Your home is one of the most important assets you own, so if something seems too risky, then it's best to avoid it. There are all sorts of ways you can make money, from blogging to freelancing – these might be more preferable options than taking risks with your home.
Earning a second income can help you get out of debt, help boost your savings, and help you reach many of your other financial goals. By making money from your home, you can make the most of your existing assets and grow them further. Does your home have the potential to make money? Start putting it to good use today.
This is a collaborative post.