This post may contain affiliate links which means that if you click through to a product or service and then buy it, I receive a small commission. There is no additional charge to you.
Important information: Please remember that the value of investments can go down as well as up, and you may get back less than you invest. The information in this article is not a personal recommendation for any particular investment. If you are unsure about the suitability of an investment you should speak to an authorised financial adviser. Tax treatment depends on individual circumstances and all tax rules may change in the future. Investors should note that the views expressed may no longer be current and may have already been acted upon.
This is a paid post in collaboration with Fidelity. 

As you know, I am hugely passionate about getting more people building wealth and was thrilled this month to welcome over 75 founding members into my new community designed to support just this – The Money Lounge. I know that so many of you WANT to invest, but don't necessarily know where to start. So I teamed up recently with Fidelity International on my Instastories to ask for your questions about investing in uncertain times. Those questions have now been answered below by Tom Stevenson, investment expert at Fidelity International. 
How do I start investing? 
The first piece of advice I would give to someone new to investing is to bite the bullet and get started. The investor's greatest friend is time. Even small amounts can potentially grow significantly if the magic of compound growth is allowed to work on your savings. 
My second piece of advice is save regularly – this takes the emotion out of investing and means that you will put money to work when it feels least comfortable to do so (which is when history suggests it is the best time to invest). 
Finally, be diversified. No-one has a crystal ball and no-one knows which market or asset will perform best in future. Make sure you are exposed to the winners by putting your eggs in a variety of baskets.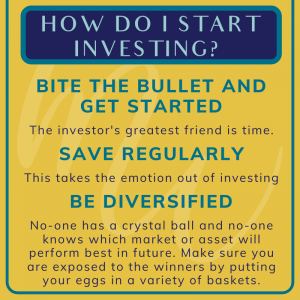 Do I need a minimum amount to start investing?
Different companies will have different minimum investment amounts for their products, so shop around. You may only need a small amount e.g. £50 if you are investing regularly each month. 
A regular savings discipline is good for many reasons. It means you will invest through the ups and downs of the market. If the money is automatically deducted from your bank account, you are also more likely to stick with it when markets are not so smooth.
How much should I start with?
The key question is not how much you need to start because you can start investing with a regular savings plan with as little as £50 a month. The more important question is whether you can tie your money up for long enough to overcome the inevitable ups and downs of the market in the short term. 
Generally, the stock market should only be considered as a home for your longer-term, patient money – cash that you won't need within the next five years or so.
How do I know when is a good time to invest my money? I don't want to lose it. 
The truth is that no-one knows when the right time to invest will be. That is why we always recommend that investors drip-feed their money into the market over time. Doing so means that you will invest some of your money when the market is low and some when it is high. 
Is it possible to lose more money than I put in?
If you buy an investment such as a share or fund then the most you stand to lose is what you have invested. 
How do I research which funds to invest in?
There is so much information available on investments these days that the bigger problem is probably deciding what to focus on. At Fidelity, we try to help investors in a number of different ways. 
First, we set the scene with a quarterly Investment Outlook, which looks at the 12 months ahead from the perspective of the main asset classes and geographical regions. 
Next, we write articles on individual funds and invite fund managers to share their thinking via video interviews and podcasts. 
We also keep our customers up to date with the latest market developments through our daily insight articles. 
All of these are available in the Markets and Insights section of our website where you will also find full fact sheets on every fund on the platform.
How do ETFs work? How do I evaluate them?
An ETF is an exchange traded fund. It is a portfolio of investments, sometimes designed simply to track the performance of an index, which can be bought and sold throughout the trading day, just like a company share. 
The main attraction of an ETF, other than this ability to be traded frequently, is its cost. They can provide exposure to a market or theme more cheaply than a traditional open-ended fund. For an index-tracking ETF the key measures are cost and how closely they mirror the performance of the index they are following. 
Is now a good time for me to start investing if I have not done it before?
Time is the investor's best friend, so I would say that the best time to start investing is always now (or a few years ago if you have the ability to travel through time!). It's important to remember that you do not need to put all your money to work at once. In fact, dripping your cash into the market over time avoids any timing issues if markets are volatile and creates a good savings discipline that you are likely to stick with.
Should I wait until the stock market has gone up again to start investing?
Market volatility is unsettling, especially for new investors. But by definition it is better to invest in the market before it has recovered than after. One of the hardest lessons to learn about investing is that the best time to invest is usually the moment when it feels least comfortable to do so.
I hope that these questions and answers feed that spark of curiosity, and for many of you, you go on to explore further this great topic of investing. Investing in assets which have the potential to either grow in value and/or provide income is a great way to build your wealth over time. Investing in the stock market forms the backbone of my own wealth building strategy. 
Thank you to Tom Stevenson at Fidelity for his insights here. For further information on investing in uncertain times, Fidelity have a whole page on their website dedicated to this topic. 

Wealth is a side effect of financial literacy. If you want to become more financially literate, build your wealth and be supported on that journey, we'd love to see you in
The Money Lounge
.