This post may contain affiliate links which means that if you click through to a product or service and then buy it, I receive a small commission. There is no additional charge to you.
Following on from my article last week on what to do if you find yourself with no income and no savings, I've written the next article in the series on what to be doing with your finances in current times if you do have income coming in.
You might be thinking, if income is still coming in, things are OK, aren't they? But in reality, there might be various ways in which life has changed within your household finances and these may necessitate a different way of thinking and planning:
Your employer may have placed you on furlough so whilst you have an income, it could be lower if you are receiving 80% of your salary and no employer top up

Your income may have declined if you are self employed and have found contracts cancelled

You may previously have had two incomes within the household but now find yourself with only one income
Even if you are in the fortunate position that your income has not changed at all as things stand today, you might feel less certain about things staying that way depending on how long this all lasts.
Just as a reminder and in case you haven't seen the image this mini series is based on, it is here.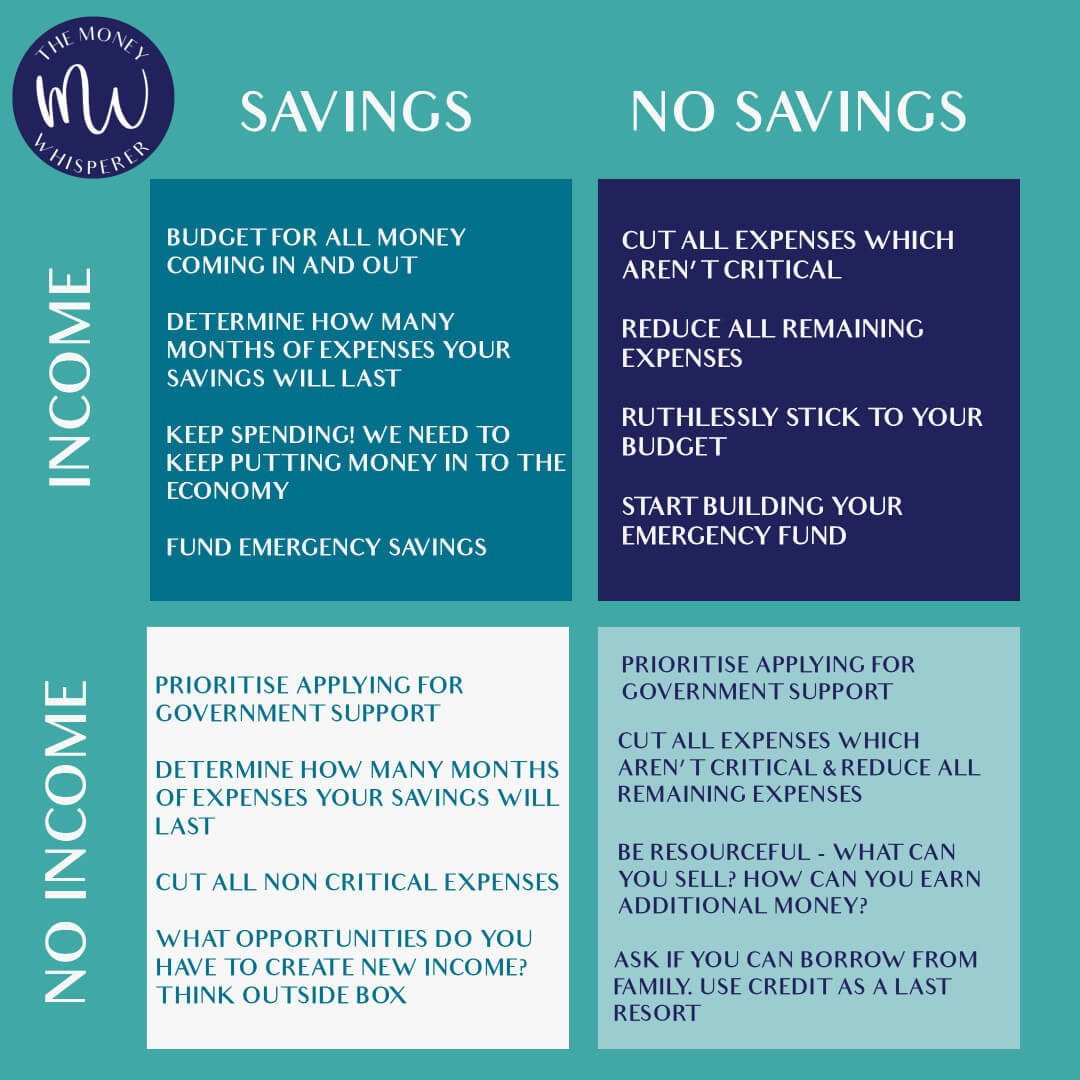 Today's article focuses on the top two boxes:
What to do if you have income and savings, and
What to do if you have income but no savings.
Budgeting
Knowing what money is coming in and what money is going out is essential to staying on top of your finances. 
You will need to reevaluate your budget if your income has changed.
Regardless of any changes in income, your outgoings will also have changed as we spend all of our time at home so make the time to go through your budget from top to bottom with fresh eyes.
Some expenses may have gone up – groceries and utility bills – whilst others will have reduced – travel and eating out.
Think about whether you are going to take advantage of some of the measures available to you which could reduce your outgoings in the short term:
Will you take advantage of a mortgage holiday if you are a homeowner?

If your income reduction means you will struggle to pay your rent in full, speak to your landlord to agree a deferral of rent.

Council tax and utilities deferrals – speak to your provider and see what they are offering in terms of deferring payments

Debt repayments – speak to your provider and ask about payment holidays. My friend Sara at Debt Camel has written a great article on the latest FCA guidance on loan and credit card providers having to offer payment holidays also – read it here. 
Those with savings
How much money do you have in the bank right now?
Once you have revised your budget and know your new costs, work out how long your savings will last. 
Continue to fund your emergency savings, especially if you are finding that your reduced outgoings mean that you have more money than you may normally have for this purpose. 
Remember : if your circumstances change, and you find yourself needing to use this money, this is the rainy day that you've been saving for. Do not resist spending this money – there are no bigger emergencies than we are experiencing right now. 
Those with no savings
Starting to build your emergency savings is crucial now.
If you have reduced your outgoings (and assuming these haven't been offset by any reduction in income), use this money to start your emergency fund savings. 
If you have debt repayments and are tempted to throw any excess money at this rather than a rainy day savings pot, please reconsider. A pot of money for future emergencies brings a huge amount of peace of mind, and also reduces your need to resort to debt in the future to fund unexpected expenses.    
Keep feeding the economy
I wonder what the world is going to be like when all of this is over. It will certainly be a different place, how different remains to be seen.
For those of us who are fortunate to have money coming in, it is important that we keep the economy going. If we want to see those small businesses around us survive this, we need to continue to support them. There are those who would previously have used them who can no longer do so because they have lost their jobs or have no income coming in, and so it becomes doubly important that those of us who can, continue to do so.
Remember this too shall pass
I think many of us are living in the moment more than we probably ever have done in our lives. It is important to remember that there will be life beyond the lockdown.
With this in mind, yesterday, as it is the start of the new tax year, I topped up my Lifetime ISA. I'm also continuing monthly contributions to my pension and ISA savings. If your income allows you to do this, and you have a healthy emergency fund, do not just stop saving for your longer term financial goals. It is more important than ever that you do look to support future you financially.