This post may contain affiliate links which means that if you click through to a product or service and then buy it, I receive a small commission. There is no additional charge to you.
Summer holidays are coming and that means one thing – keeping the children entertained for weeks on end.
Have you ever tallied up how much you spend on all the things you do to provide entertainment for your kids? Trips to soft play centres, theme parks, meals out… It all adds up!
A recent study of 2000 parents commissioned by frozen pizza brand Goodfella's has revealed that parents will spend a staggering £2,602 keeping their children entertained during the course of one year. That's over £50 a week! Of this, £409 will be spent amusing them with trips to soft play centres or play parks, and an incredible £609 a year is spent on meals out.
Not surprisingly, during the summer holidays, the weekly cost rises – to an average of £127 a week.
Tina Weeks, an expert Financial Life Planner, says: "It is fascinating to observe the changes in family spending habits over the last few years, and these observations have been backed up by this research. It is startling to see how much is being spent on things that would previously have been considered luxuries – for example technology, eating out, and TV subscriptions".
I've had a look at the results of the survey and have come up with some easy ways to keep that summer holiday spending under control.
Days out
A day at a theme park was picked as kids' ultimate form of entertainment by 23 per cent of respondents in the survey, followed by TV and movies, a day at the zoo, a park trip and eating out.
We are so lucky to have Gullivers Land on our doorstep. They offer an annual pass for unlimited visits throughout the year. The girls love to visit and because it is only 5 minutes in the car, we can easily visit several times a week.
If you have a local farm, zoo or theme park, look at purchasing an annual pass. Although expensive upfront, they provide unlimited visits during the year which can be great value. With Gullivers, by the 4th visit of the year we would be saving money. When we go about 4 times a week in the summer holidays, this is fabulous.
If we plan on a treat to visit a different theme park, I always:
Check Picniq to get discounted tickets
Save the 2 for 1 vouchers on the Kelloggs cereal boxes
Look at my supermarket loyalty points and see if I can exchange these for tickets. Tesco Clubcard and Nectar are good for this
TV and movie entertainment
Just under two thirds of the population have a TV subscription, with half of those saying they keep it just to make sure their kids have things to watch. According to the Goodfella's research, families will fork out £37 a month on TV and movie entertainment for their children.
We love a trip to the cinema during the holidays. We bought our home insurance through comparethemarket.com earlier this year and get 2 for 1 Meerkat Movies cinema tickets for a whole year.
I always plan a trip on a Tuesday or Wednesday when I can use our Meerkat Movies pass.
If you don't need new home or car insurance yet, I have a nifty hack for you. Get a quote for one night's UK travel insurance using the following criteria:
Single trip
One night
One person
No extra cover
No pre-existing medical conditions
You should be able to buy the insurance for anywhere from £1.30 – and get 2 for 1 cinema tickets with Meerkat Movies for the rest of the year.
Eating out
Eating out, especially when the weather is good on a long summer's evening, is a lovely treat. Have you considered you can have the same experience at home but at a fraction of the cost?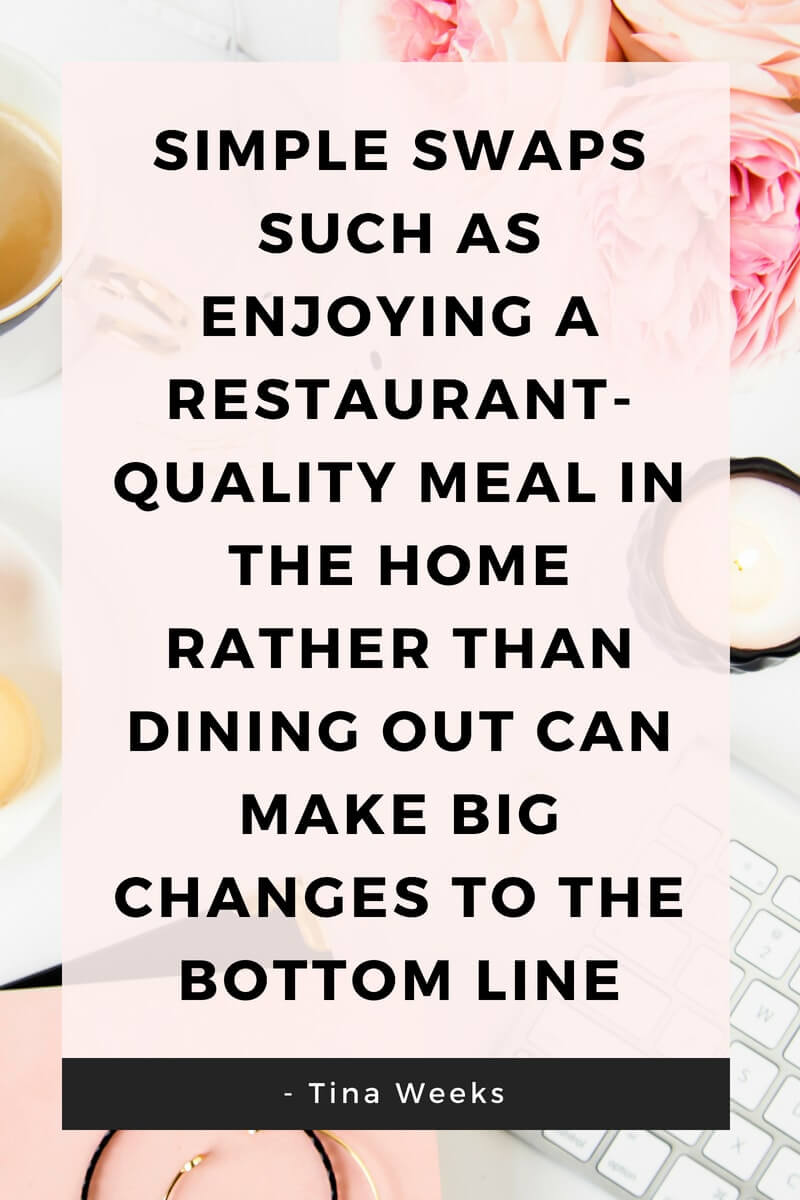 We had an outdoor picnic this week with our whole family, enjoying the end of a beautiful, sunny day in our garden.
Between 11 of us (6 adults and 5 children), I cooked 9 pizzas from the new Romano range of premium frozen pizzas from Goodfella's, with some sides of chips and wedges. They were a good size and 9 pizzas was plenty for all of us.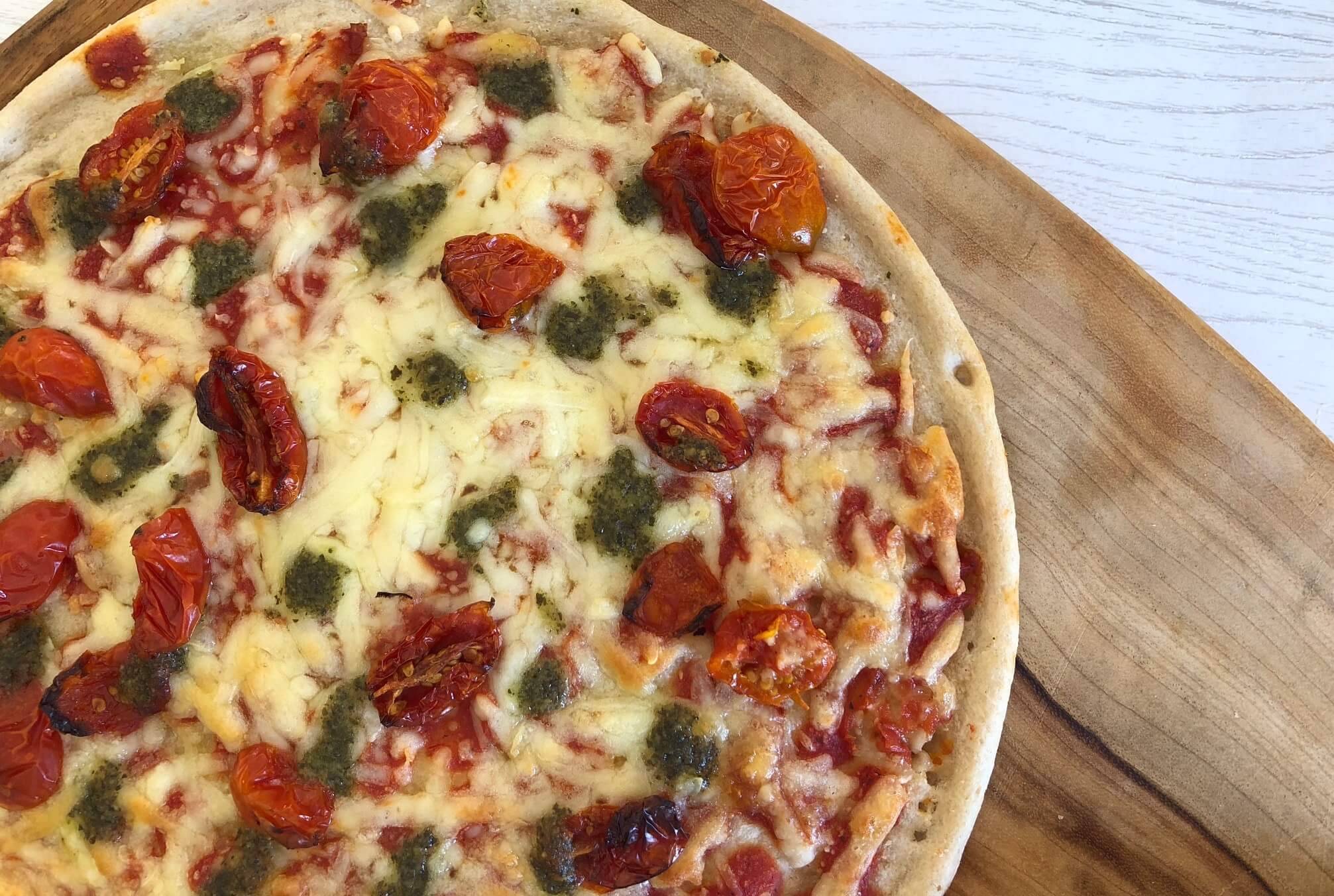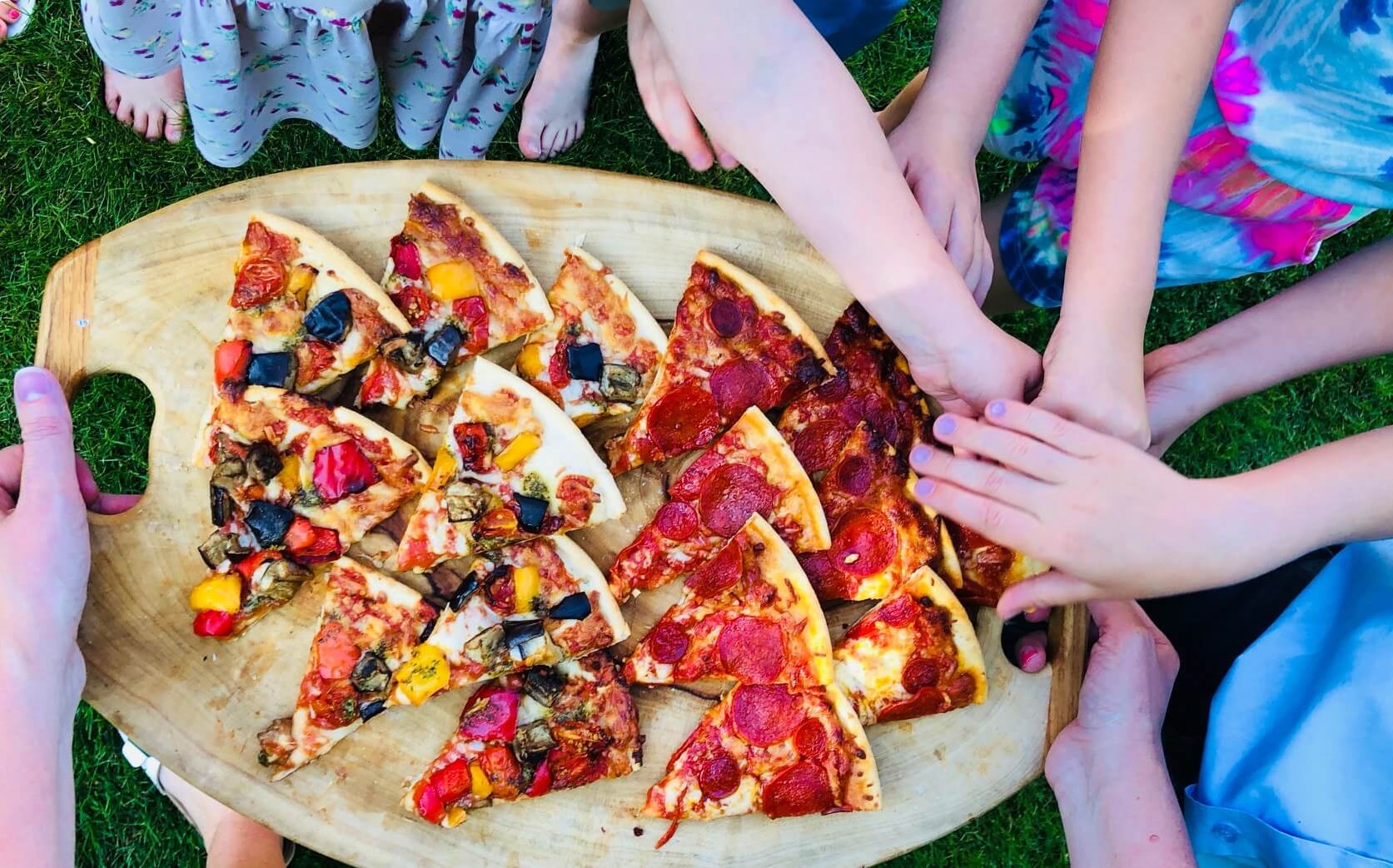 The Four Cheese with Cherry Tomatoes and Basil Pesto was the biggest hit with the children – the adults hardly got a look in! With a generous sprinkling of basil pesto and plenty of cherry tomatoes, the popular classic – the 'cheese and tomato' – is transformed in to something worthy of a boutique pizzeria.
They loved the Pepperoni and Chorizo variety too, followed by the Chargrilled vegetable and pesto.
Look at all those beautiful colourful Mediterranean veggies on vegetable and pesto one – it's easy to get the children to eat a rainbow when they're on pizza.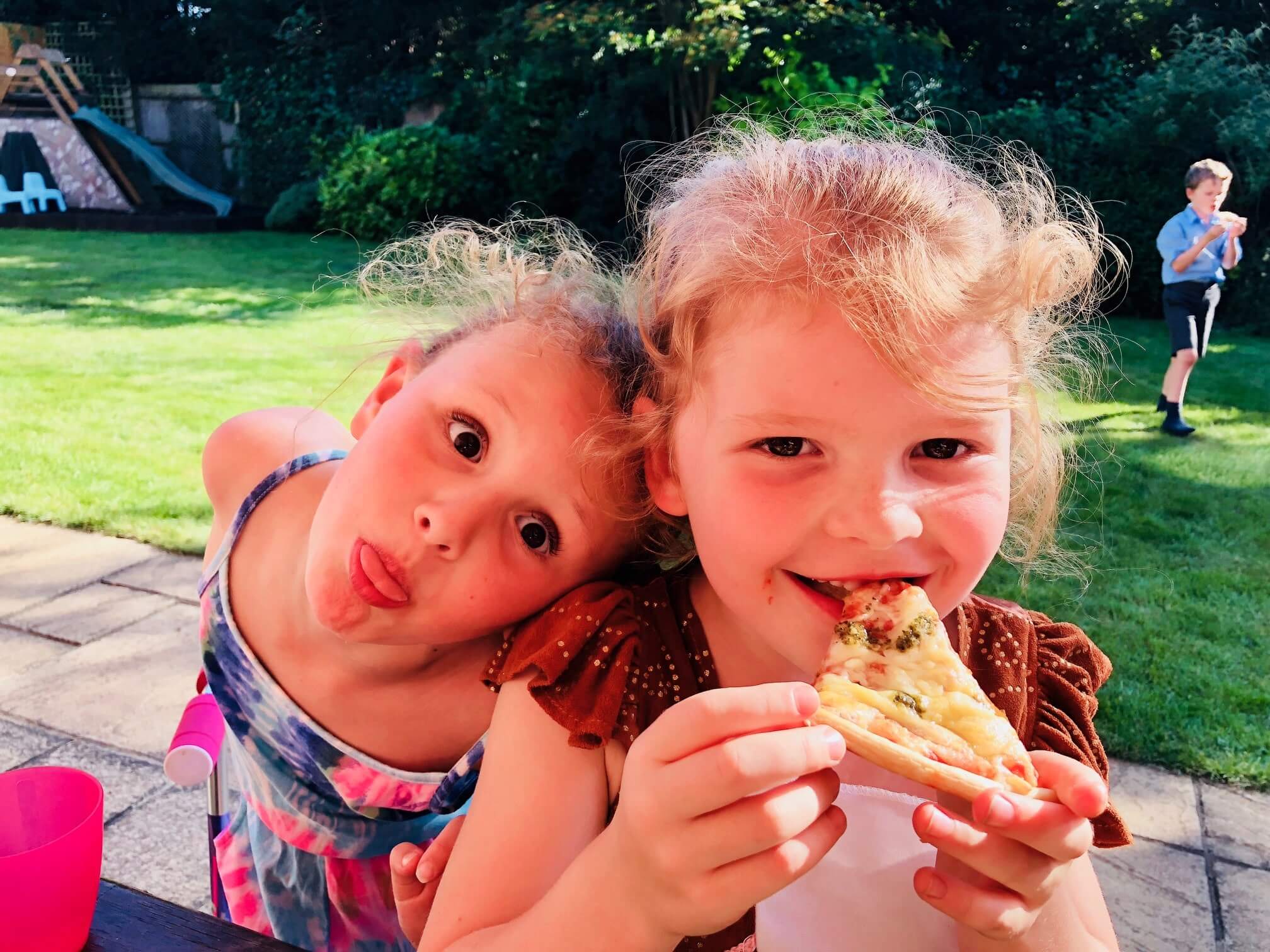 You know how restaurant pizza tastes different to pizza you've cooked yourself at home? Not in this case! The bases tasted just like you would get with a freshly prepared pizza at a restaurant.
With toppings like Calabrese Salami and Spicy 'Nduja Sausage with Chilli and Black Pepper, and Chicken, Roquito Pepper, and Red Onion with Garlic Oil Drizzle, we didn't feel that we were missing out on the restaurant experience at all.
I like a bit of kick to my pizza and both of these varieties were full of flavour, especially the spicy sausage which is definitely 'spicy'!
They were all super tasty, with a generous amount of toppings on each pizza so each slice had plenty. No left overs!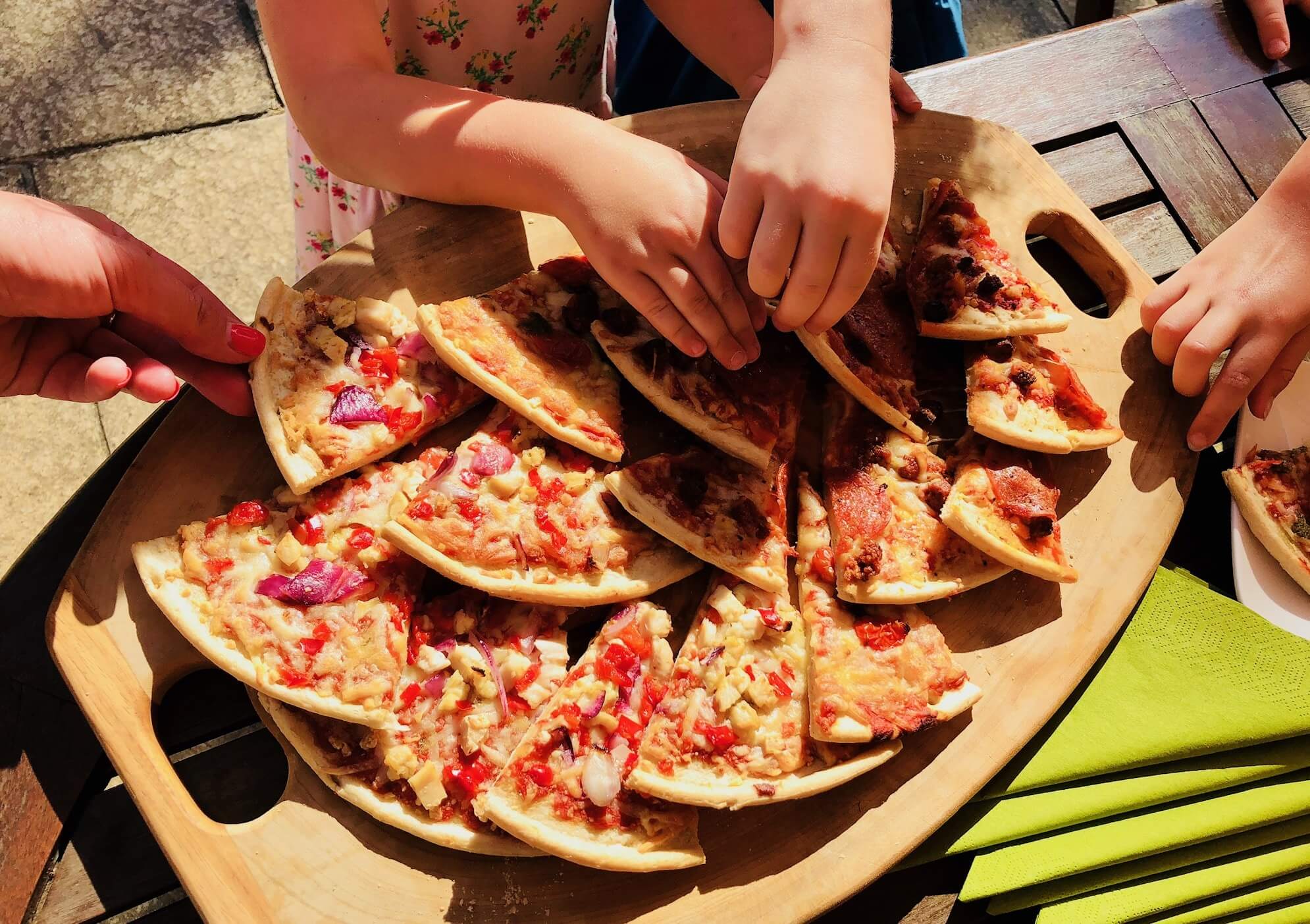 For 11 of us, the cost of the entire meal was just £25.50. We would have spent a LOT more than this if we had gone out and sat in a pub garden for a meal.
It makes perfect sense to keep things cost-effective by bringing the fun of a meal out into the family home wherever you can.  Especially when you are already tired from a day of entertaining the children and can't face the battle that is getting them ready to go out of the house to eat!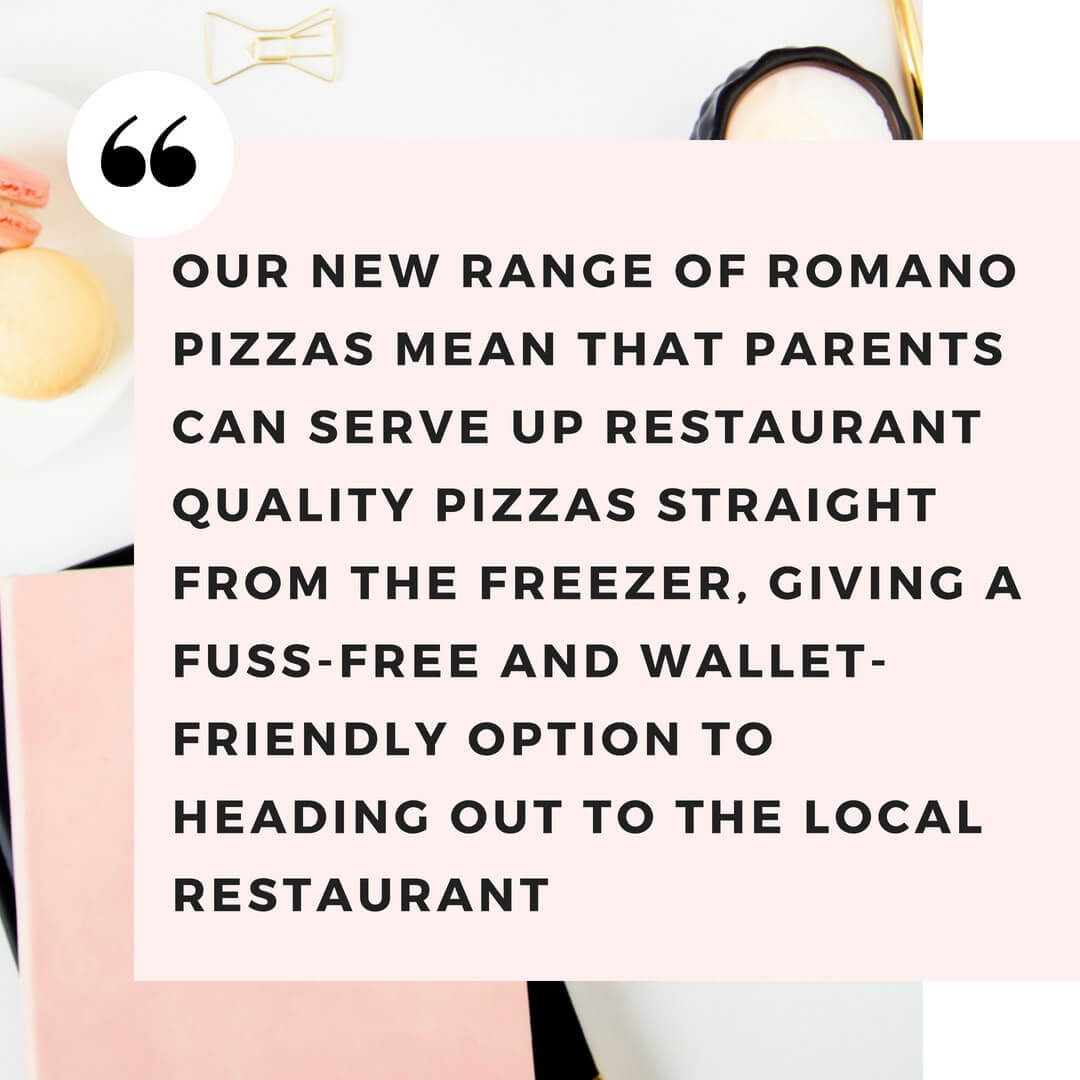 Soft play centres and play parks
Soft play centres are not my favourite places and we only head there when the weather is awful. I imagine the average spend picked up by the research is quite heavily skewed to the colder months as soft play centres are often very quiet during the summer holidays.
This does mean though that there are usually some good offers on to entice you inside during the summer holidays. Make sure you are on the email list or Facebook page of your local centres to get news of deals and offers.
We much prefer to be outside in the summer months. We've got time in North Norfolk and Cornwall planned for the summer holidays. A lot of beach time means building sandcastles and sandy picnics. We have invested in an electric coolbox which plugs in to the car to keep food cool. It means we can take plenty of food with us for a full day out and enjoy as long as we want playing in the fresh air.
Heading to the beach for the day can be a great cheap day out.
If the weather is rubbish and you do need to stop the kids climbing the walls, check out Kidspass for deals on bowling, soft play centres, trampoline parks etc. They also have some great kids eat free deals.  You can get the first 30 days membership for £1.
New range of Goodfellas pizzas
Goodfella's new Romano range boasts a delicious thin stonebaked base generously topped with premium ingredients, from flavour-packed chargrilled vegetables to spicy 'nduja sausage.
Available for just £2.50 in supermarkets nationwide, varieties include:
Calabrese Salami and Spicy 'Nduja Sausage with Chilli and Black Pepper
Four Cheese with Cherry Tomatoes and Basil Pesto
Chicken, Roquito Pepper, and Red Onion with Garlic Oil Drizzle
Pepperoni and Chorizo
Chargrilled Vegetable and Pesto
I'm taking part in the Monday Money linky with Lynn from Mrs Mummy Penny, Faith from Much More With Less and Emma from EmmaDrew.Info
 This is a collaborative post.