This post may contain affiliate links which means that if you click through to a product or service and then buy it, I receive a small commission. There is no additional charge to you.
Skimming money from your current account into a separate account is a great way to build up a pot of cash. Doing it manually means logging in to your online banking, remembering what bills you have coming up so you don't skim too much, and getting into the habit of skimming regularly.
I've talked a lot in the past about my love of the Chip app. I have been using it for a while and now have over £6k saved.
Chip is an innovative app designed to remove all the hassle of manual skimming and stash your cash away in an intelligent way, based on your spending behaviour. And it is free!
Today I am collaborating with the team at Chip to tell you about a great sign up offer they are running right now to get people putting more money aside this year.

How does Chip work?
When you sign up to the app, you grant Chip read-only access to see the transactions data in your online banking.
Chip works using clever artificial intelligence which understands your spending behaviours, based on your past transactions and regular direct debits. Every few days, Chip's algorithm calculates what you can afford to put aside based on your spending habits.
It then automatically transfers small amounts of money from your current account into your Chip account. Your Chip account is a new instant access account, held at Barclays, which is opened for you when you sign up. Chip is fully regulated in exactly the same way as your bank.
The chatbot interface makes it all a bit of fun too!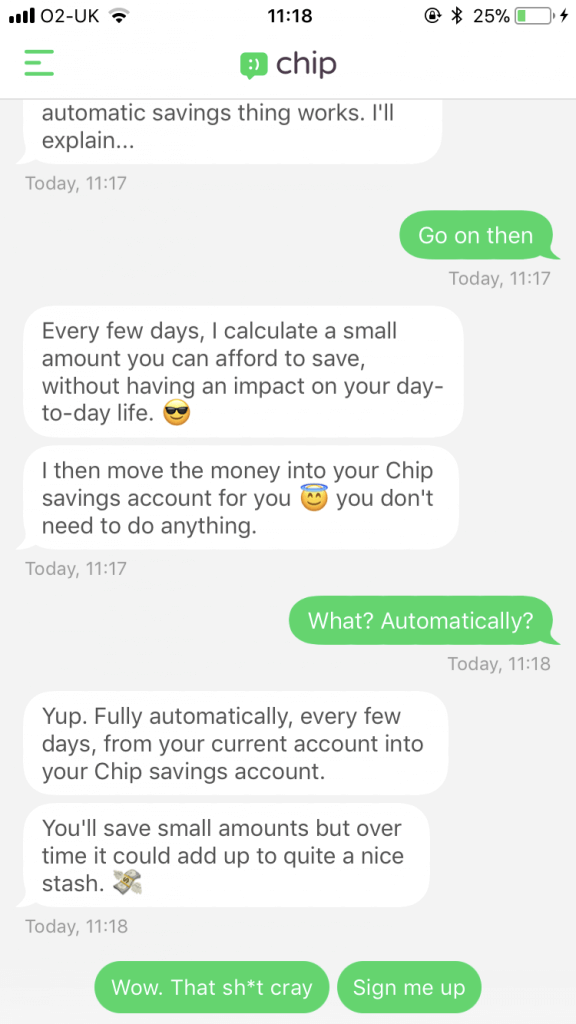 Can anyone use it?
Chip is currently available only in the UK, and fully connects with: Halifax, Lloyds, Nationwide, Barclays, First Direct, Santander, TSB, Metro Bank and Co-operative Bank.
If you bank with Monzo, Starling, Revolut, NatWest, HSBC, RBS and N26 (and very soon any bank in the UK), you can connect using just your bank card.
Do I still have control?
The artificial intelligence which Chip uses is smart enough to move just the right amount out of your current account. Enough to be useful (i.e. not pennies – my average automatic save is typically £20-£30), but not so much that you'll notice your bank balance dropping, or miss any of your direct debits. And it should never push you into your overdraft.
If you are concerned that you lose control here to a faceless AI chat bot, don't fear.
Y

ou receive a notification of a pending transaction and you can cancel any transaction before 3pm.

Auto-saves can be paused any time – just tap 'pause' to stop Chip putting money away for you and tap 'resume' to make it start again.

You can also ask Chip to increase or decrease the amount it saves by tapping 'save more' or 'save less'.

There is no need to wait for Chip to make auto-saves either – you can tell it to move across up to £100 a day, up to six times a month.

You can withdraw your money whenever you want. You just tap the 'withdraw' button in the app before 5pm on a working day and the money will land back in your current account the same day. Tap it on a weekend or after 5pm, and it'll be with you the next working day.
Goal setting
I'm a huge fan of using financial goal setting and then tracking your progress as you move towards that goal. In Chip, you can set a monetary target for anything you like – a holiday, a new coat, a Christmas sinking fund, an emergency fund – and then keep track of your progress in Chip. In fact, you can have up to 3 nominated goals.
You can set an amount you'd like to put aside, what you're trying to achieve and see a target date. It's a great motivator, especially at this time of year when your finances might need a bit of healthy love and attention.
So what's stopping you get a little nudge to put some more more aside this year? I know from the work I do as a money coach that it's our emotions around money which get in the way of sabotaging our best intentions. With Chip, you're removing the emotion around that regular intention to put money aside for the future; by automating that process using Chip's AI, you set yourself up to succeed!
Have a look…. I think you might like it!
---
This is a paid, collaborative post.