This post may contain affiliate links which means that if you click through to a product or service and then buy it, I receive a small commission. There is no additional charge to you.
I am a stationery addict. There will be one very happy mumma here if there is a planner or two under the Christmas tree for me this year.
Aside from the prettiness of beautiful stationery, there is another reason to surround myself with planners and journals. For me, motivation comes from having a plan and clear goals of where I am heading.
I love the concept of changing your habits through daily prompts. I've been doing a lot of reading around this lately and am very determined to make 2019 the year in which I practice this more.
As I have been doing a fair bit of browsing of beautiful planners and journals and stalking beautiful feeds on Instagram, I thought I would share my favourites.
Whether you are looking for gifts for an organised mum, a business owner, a blogger, these gifts are 100% going to make them grin from ear to ear.
Several I have bought before and loved, others were gifted for me to try out for this review and some are on my wishlist…  Hint hint to those who know and love me!
Notes To Self Journal
'This journal is for anyone who is uninspired, stuck in a routine, or just looking to make a change'
Changing habits takes perseverance, and commitment. Daily prompts in the journal make life easier, bring goals into reach and plans into action.  A useful side effect is it improves your well-being by doing the daily rituals.  Win-win.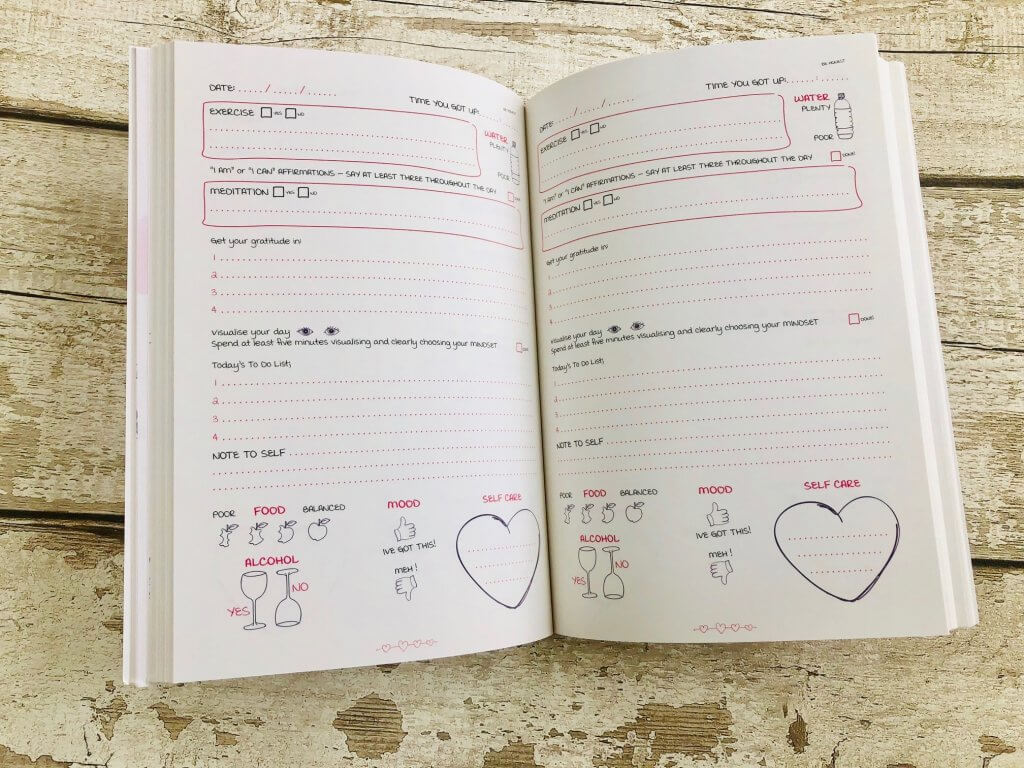 What I like about this journal is that it is undated so you can pick up and start as and when you please. Also, it comes beautifully wrapped in tissue paper as a gift so you can send straight to your recipient if buying as a gift – always useful.
The creator is so genuinely funny as she tells her story of what inspired her to make the journal. I was in fits of laughter!
There is inspiration to eat better, drink more water (and less alcohol!), meditate and show gratitude. 'Having this journal to look back on in six months time is going to make you smile'. I totally get this statement and I can see how with the amount of encouragement this journal gives you, it would be easy to see huge improvements in various areas of your life.
RRP is £14.99 for one journal, with discounts given for buying more than one.
Daily Greatness Journals
'How we start our days determines how we spend our days. How we spend each day determines our future'
The Dailygreatness Journals are for people who want to consciously create their days and better manage their time, their mindset and their daily routine.
The Dailygreatness Journals give you a foundation and a structure to your days that supports you in achieving your goals. It's a simple process that is intended to be fun, creative and engaging.
Choose from the Business Planner (An Actionable Plan For Exploding Your Business), the Dailygreatness Journal (A Practical Guide For Consciously Creating Your Days), the Parents Journal (A Practical Guide for Raising Conscious Kids & Creating a Happy Home), the Training Journal (12 Weeks to a Rocking Fit Body, Mind & Spirit), the Wellness Journal (A Holistic Guide for Health, Wellness & Vitality) and the Yoga Journal (Your Masterplan for a Beautifully Conscious Life).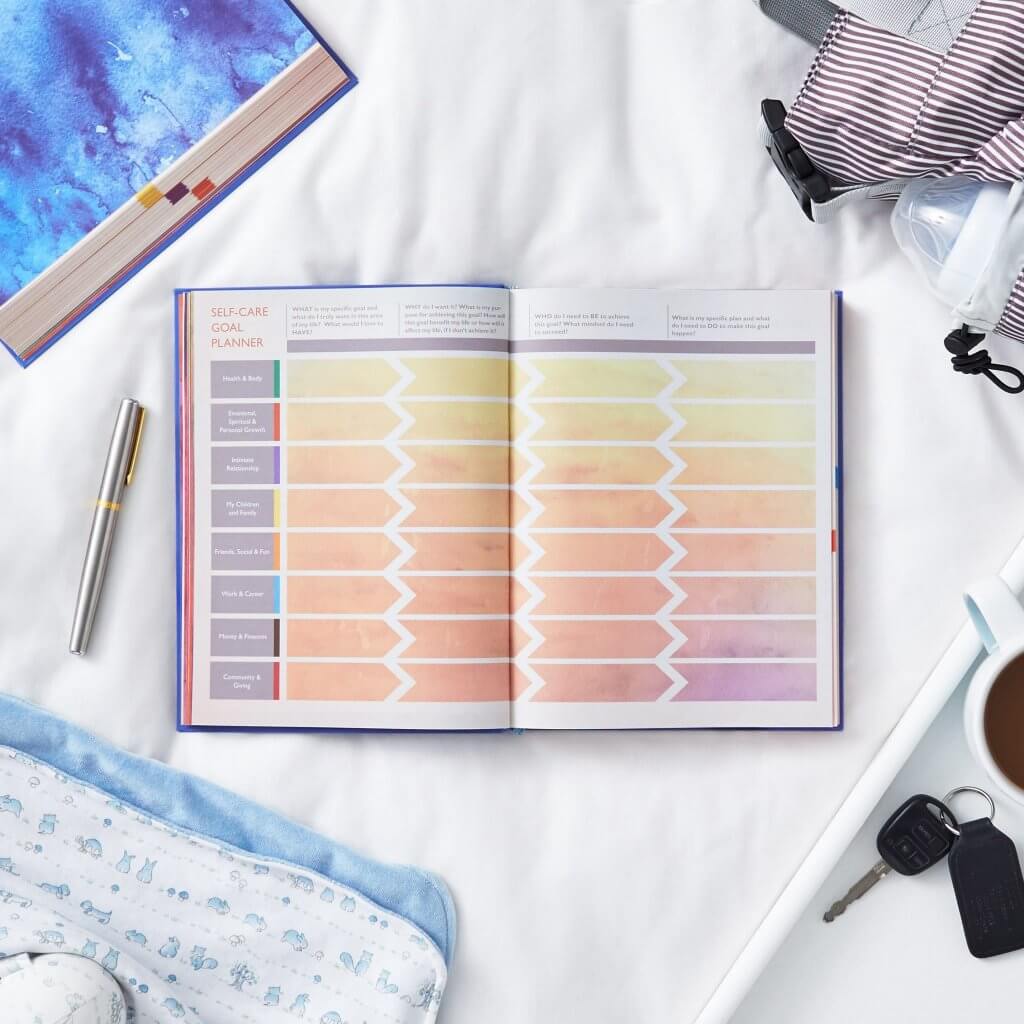 Visually, these hard bound planners are so so pretty. I am really tempted by the Wellness planner to help keep me motivated in achieving my health and vitality 40 things to achieve before 40 goals!
Click here to buy and for a discount code for you to use which gives you 5% off! RRP is £39.95 before the discount.
The 6 Minute Diary
'If you want to feel good, you need to be in charge of your attitude and thought patterns'
I have a feeling this diary is going to be a life changer for me. I was gripped by the positive psychology which takes up the first 50 odd pages of the journal; I couldn't put it down. In fact, it has spurred me on to learn more about the power of positive psychology – it is fascinating.
We are naturally creatures of habit but we can break negative habits and re-frame our subconscious to see the positive around us rather than the negative. In doing so, we grow rather than being stuck in a cycle of being unproductive and negativity.
The idea behind the journal is that by taking 3 minutes every morning to practice being grateful for what we have, focusing on how to make the day great (positive focus) and cementing this with a positive affirmation, we guide our days. New habits can be formed with the repetition of these actions.
Each evening, 3 minutes are spent reflecting on the experiences of the day and making yourself even better the next day.
For me, these 6 minutes a day to take time out and reflect have quickly become one of my favourite parts of my day.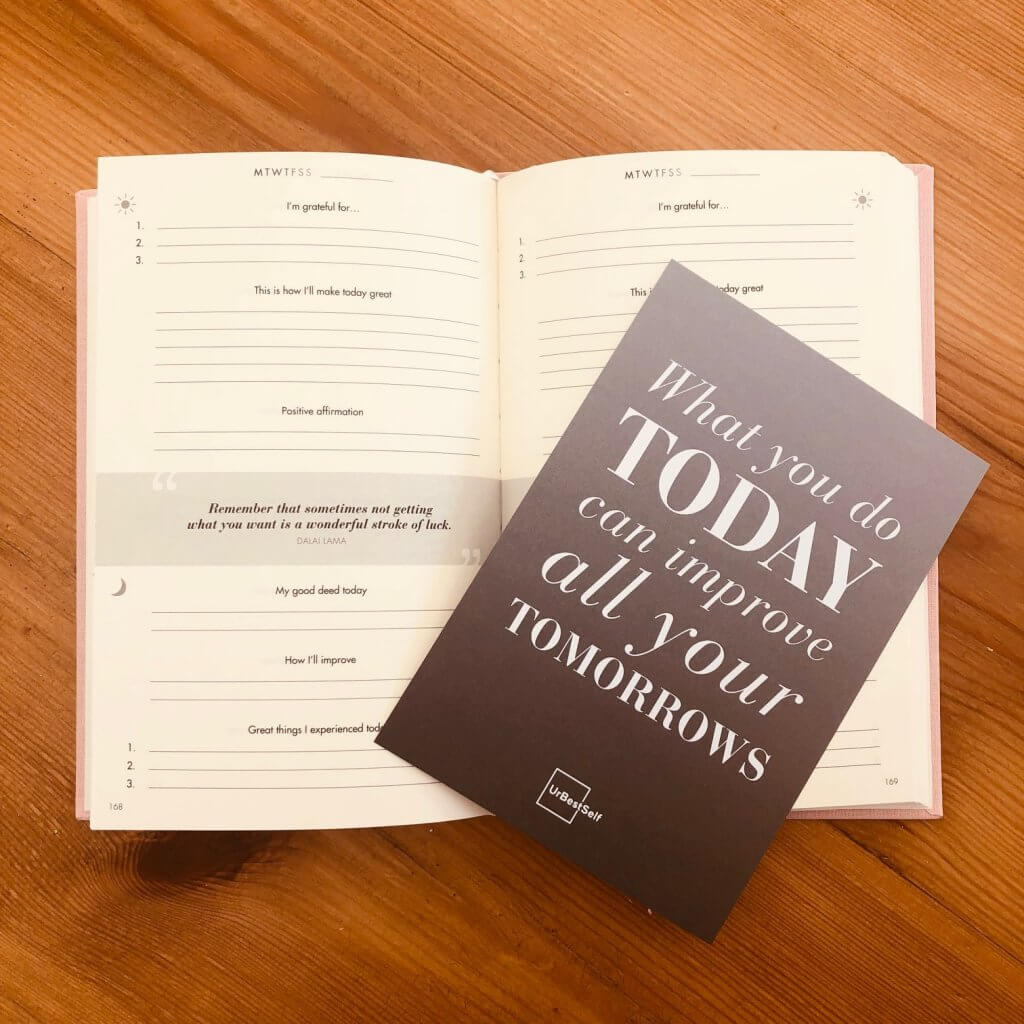 This isn't a planner for tasks. It is called a diary but I see it as a beautiful journal which captures positive moments and encourages great mental attitude.
Buy here on Amazon and get a bonus ebook "The Golden Morning Routine" filled with lots of inspirations for building your own morning routine. RRP is £22.90.
The same company also make a 10 Minute Planner which I have definitely got my eye on now I know how much I love the 6 Minute Diary.
The Ban.do Planner
LA-based lifestyle brand ban.do makes the day-to-day a little more fun with its colourful planners and accessories
I've had a Ban.do Planner for my work diary for 2018 and I love it.
I AM VERY BUSY says the front cover. What better motivation to kick butt every day than that!
It is jam packed full of awareness days which help me plan my content. I'm a big fan of planning month by month and the two page monthly spreads are my most used, and rubbed out, pages!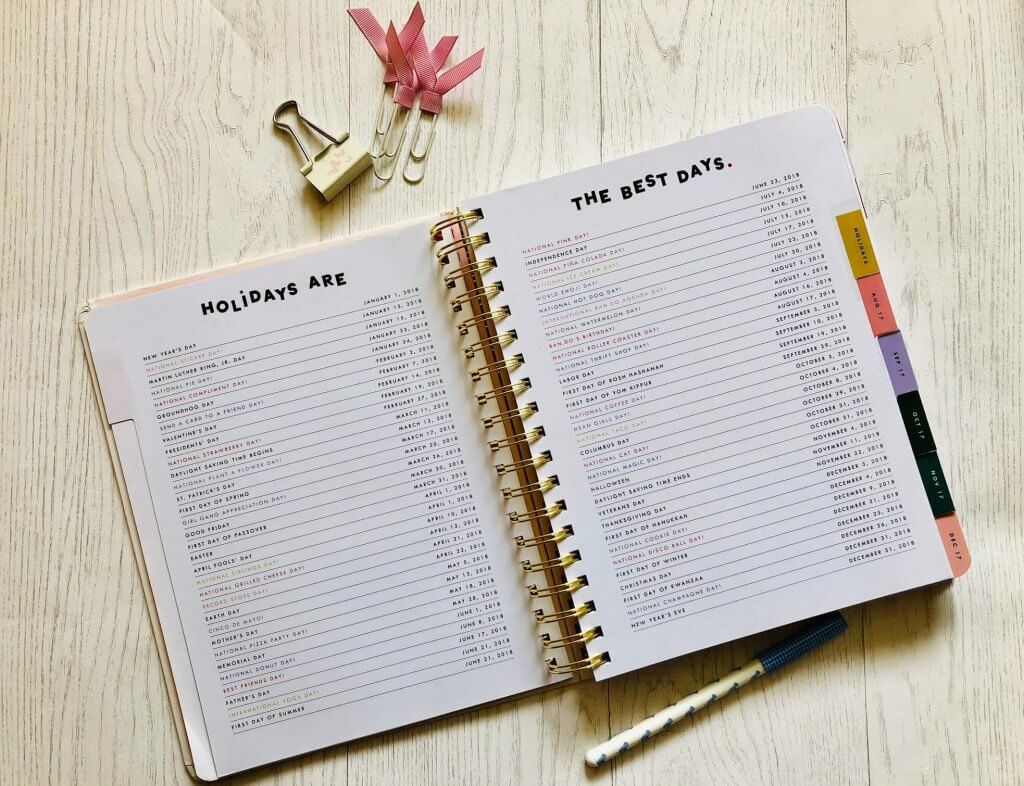 Buy here from ban.do direct or find them in John Lewis and at Amazon. RRP is £26.00.
Peachy Packages
I want to include something slightly off the wall here but totally amazing.
How nice is it to have time to just sit down with a beautiful bit of stationery and spend some time planning? How often do you get that quality time?
Peachy Packages was created by a mum who realised how difficult it is trying to remember everything that needs to be done whilst juggling a busy career, home and family, with so many things always vying for attention. The packages are sold on a subscription basis – with a choice of monthly, 3 monthly, or 6 monthly subscriptions – as well as a one-off Peachy Package (while stocks last).
Each month is a new collection, with useful items that will help you to take that much needed 5 minutes to plan and organise your time while enjoying a few treats.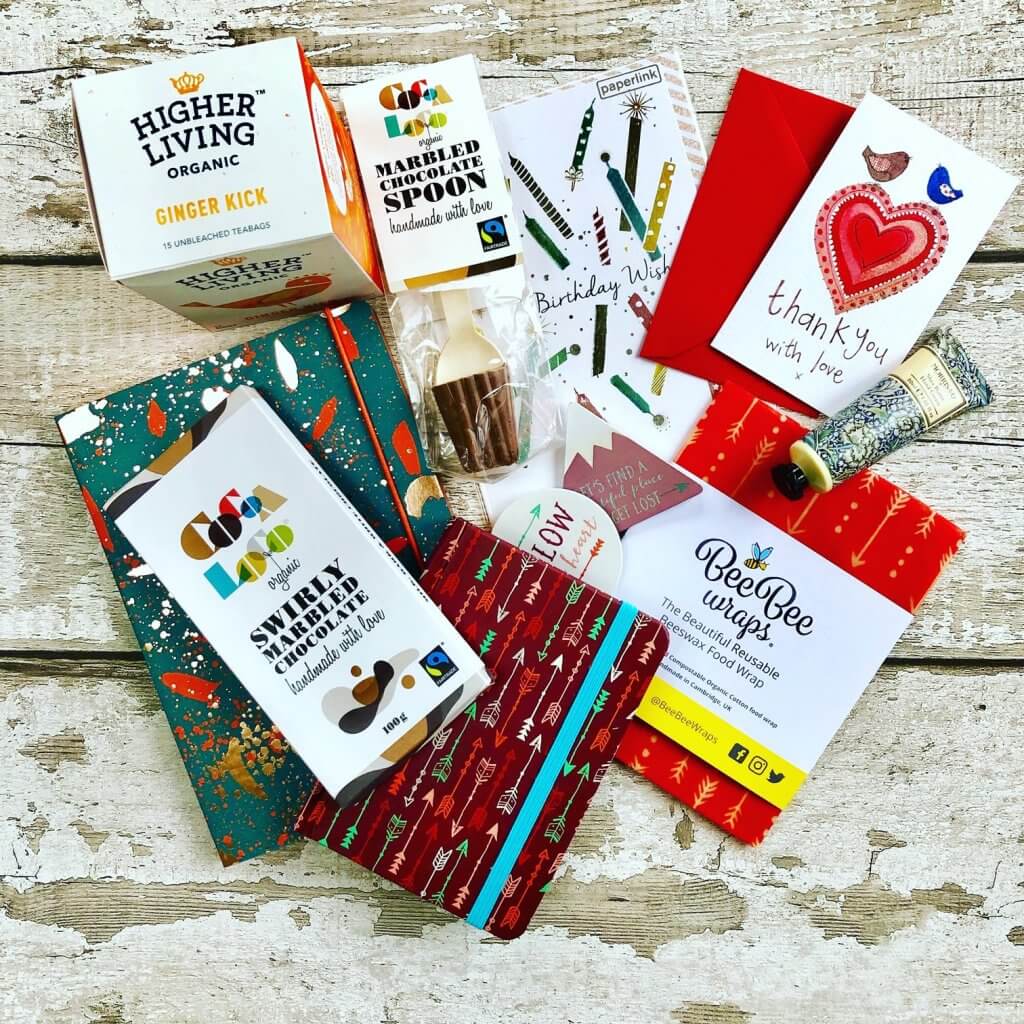 The September subscription that I tried out included two beautiful jotters, a bar of handmade chocolate, a marbled chocolate spoon (hot chocolate – mmmm), a packet of tea, delicious shea butter hand cream, two pretty magnets, a reusable beeswax food wrap, and two high quality greetings card – one thank you and one birthday card. I had a giant grin on my face when I opened it up and saw what was in there! Chocolate and stationery are a winning combination in any busy person's life!
Single purchases are £35, and the price per box goes down if you sign up for a subscription.
---
If you have any stationery that you absolutely LOVE, do share with me. At the very least, I will admire their beautiful Instagram feed 🙂