This post may contain affiliate links which means that if you click through to a product or service and then buy it, I receive a small commission. There is no additional charge to you.
Christmas is 6 weeks today, woo hoo! How much Christmas shopping have you done already?
I know some keen beans will have done all their shopping already but for the rest of us who are still getting on top of things, there is plenty of time. I like to pop things in to my Amazon basket ready for the Black Friday sales, which often last for over a week, and jump on them when the price is good. Idealo is also a great site for checking the price of a specific item which you are after.
I have two very girly girls. We have an absolute mountain of dolls, Build a Bears, LOLs – you name it, we have it. They do love building things though and have always been adventurous when it comes to crafting. Last month, our big girl received a Golden Pupil award at school for her work in designing and building a working fire engine. The headteacher said to her that maybe she will be an engineer when she is older which has planted a seed for her.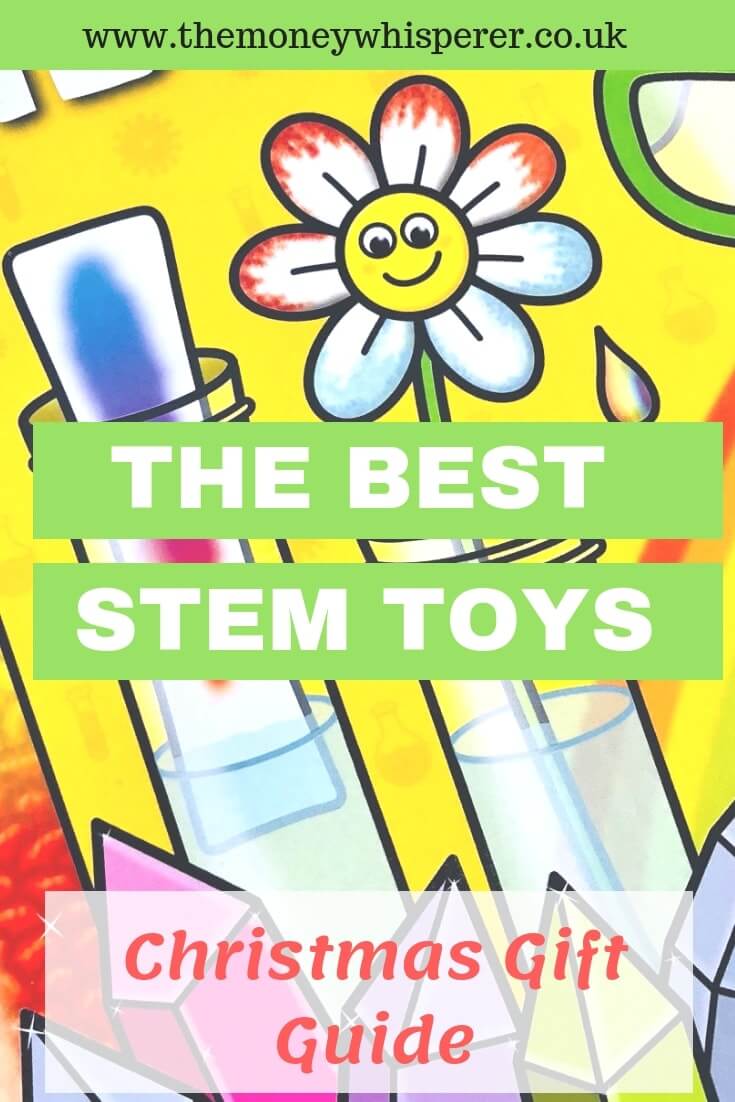 I'm keen to allow them to develop all their interests and have been looking at the toys and games on the market which aim to engage children in STEM (science, technology, engineering and maths) activities. If you're looking for Christmas gift inspiration for the inquisitive child, hopefully this gives you some ideas. Here are my Top STEM Toys recommendations.
---
Science4you is a brand dedicated to the development of scientific and educational toys, helping kids to gain knowledge over the STEM fields. There are a couple of their products which particularly appealed to us.
Science 4 You Slime Factory 'Glow in the dark' Slime Kit
The Science 4 You Slime Factory 'Glow in the dark' Slime Kit (RRP: £21.34) is a guaranteed winner for any Christmas gift list. I don't know many parents who haven't sat with contact lens solution and glue patiently trying to make slime for their eager children….. without success!
We have watched so many YouTube videos and bought some many different types of glue and contact lens solution but we always seem to end up with a concoction which is never quite the right consistency.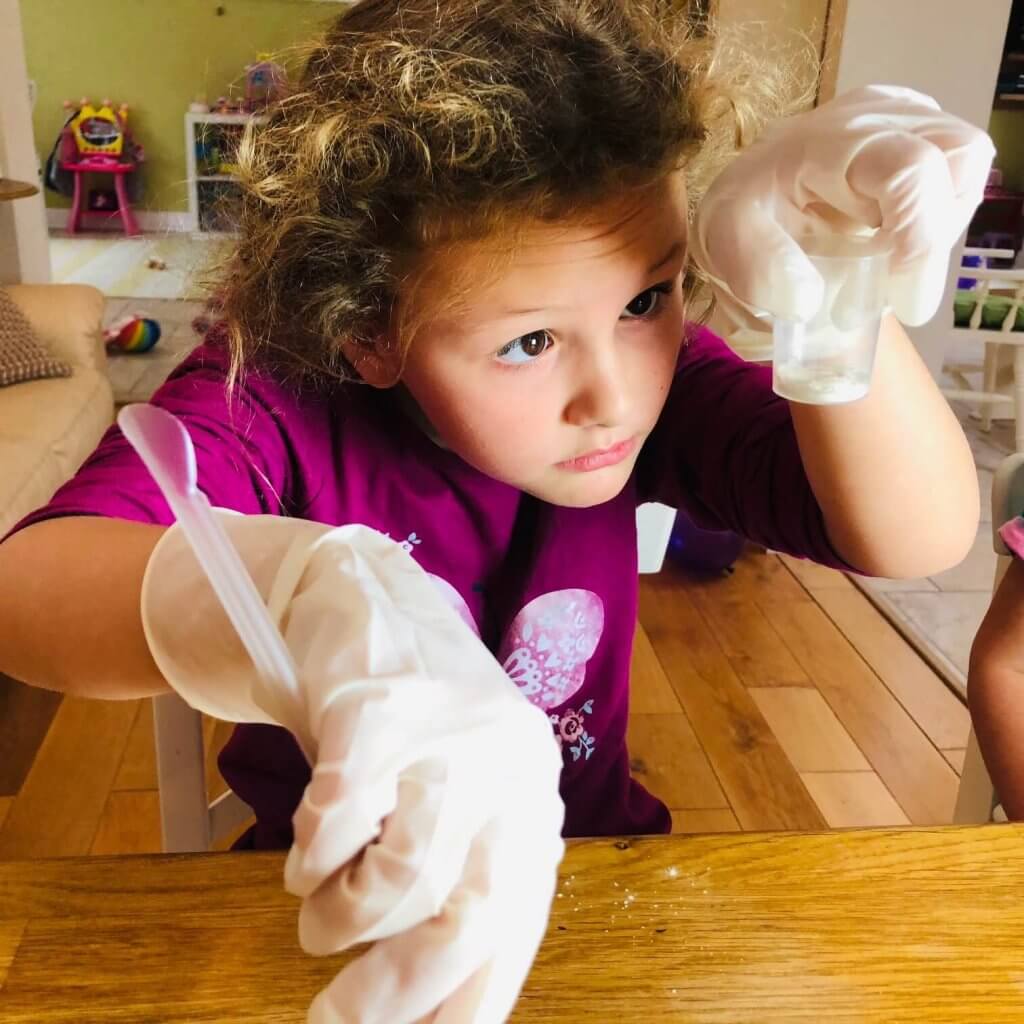 This set is great because it actually works – and there is a 36 page booklet to guide you through each of the 17 experiments too!
The weird and wacky experiments range from creating jumping balls to glow in the dark fish. Although marketed at 8 years +, both my 5 and 7 year olds absolutely loved this set.
Science 4 You Perfume Factory
The Science 4 You Perfume Factory (RRP: £17.99) makes a great present for the child who is always mixing up potions from flowers in the garden or pretending to make perfume in the bath. The kit comes with 13 experiments which include blending real perfumes and making bath bombs. This was fun for all the family – who doesn't love a bath bomb!
My girls particularly loved the protective glasses and gloves which made them feel like real scientists. Just be aware that they need testers for their creations so you'll get squirted with all sorts of things!
Other products in the Science 4 You range include the Sweet Factory Kit, Explosive Science Kit, Water Science Kit and The Criminal Investigation Finger Print Kit.
GALT Rainbow Lab
The GALT Rainbow Lab (RRP: £12.99) is aimed at children from 5 years old. I loved science lessons at school with test tubes and pipettes and this kit has it all.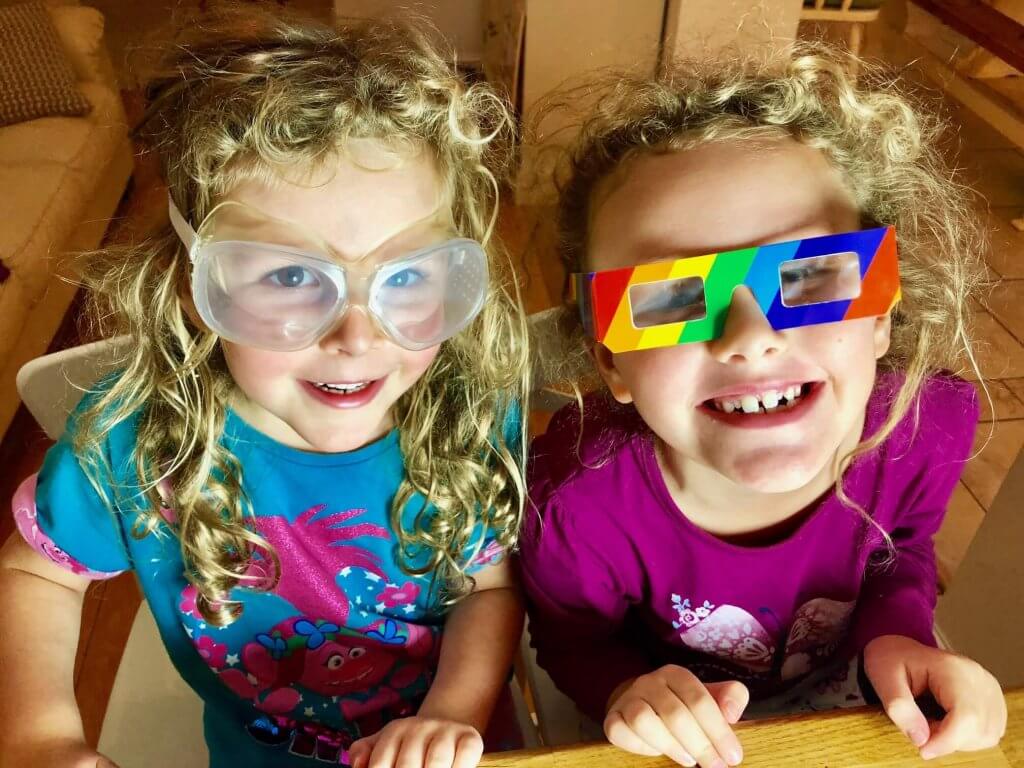 It contains a 24-page full colour lab book with 12 fun experiments, 3 test tubes, test tube rack, goggles, colour mixing tray, pipette, polyacrylamide crystals, 3 food colourings, rainbow glasses, 3 plastic cups, mirror, stickers, and notepad.
You need a few extras to complete the experiments but they are things which you have around the house anyway like milk and paper towels.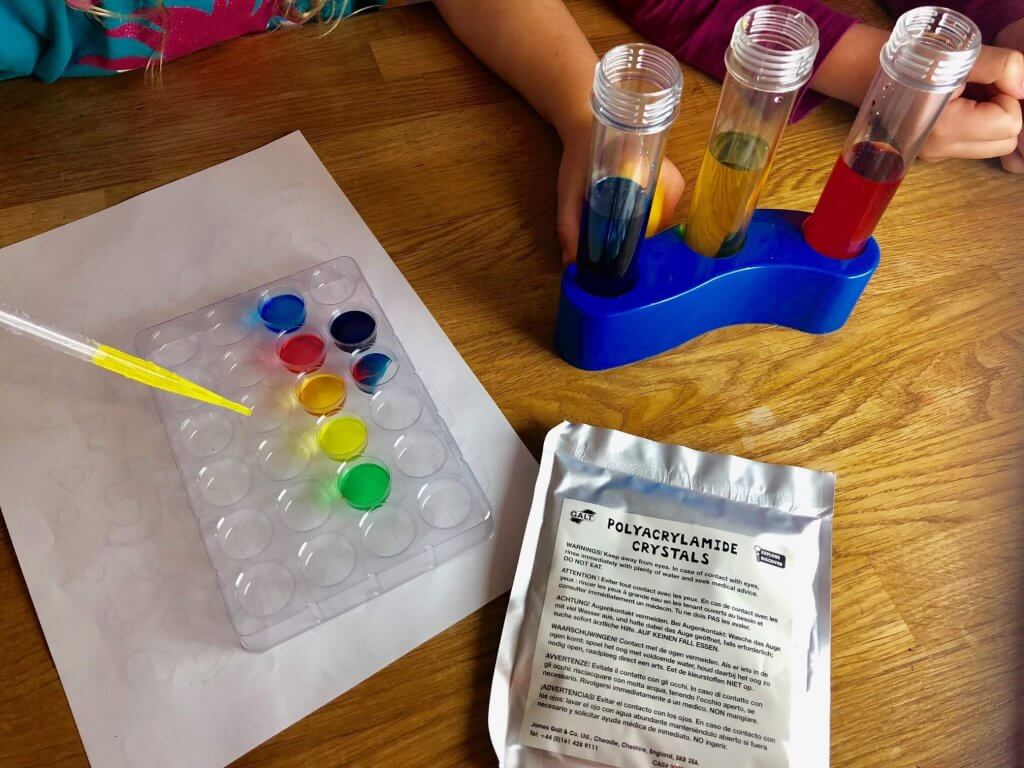 They absolutely loved making colourful crystals. They actually loved mixing up the rainbow colours with the pipette as much as anything! Simple pleasures!
We all loved the experiment with the white flower with a split stem put in to different coloured waters which then absorbed the colours to make petals of a different colour.
A great introduction to science for little ones with fun and easy to do experiments. They will need adult supervision though – dye can stain!
Little Tikes Builder Bot
For younger kiddies aged 3 to 5 years, the Little Tikes Builder Bot (RRP: £24.99) is a fab little STEM toy. Part of the Little Tikes STEM Jr. range, there are 12 mix and match parts which you can add to the body to make a robot which does different things.
The experiment cards (obviously younger children will need an adult to read these with them) inspire the child to create different types of robot eg a robot that walks need the feet attached to its bottom.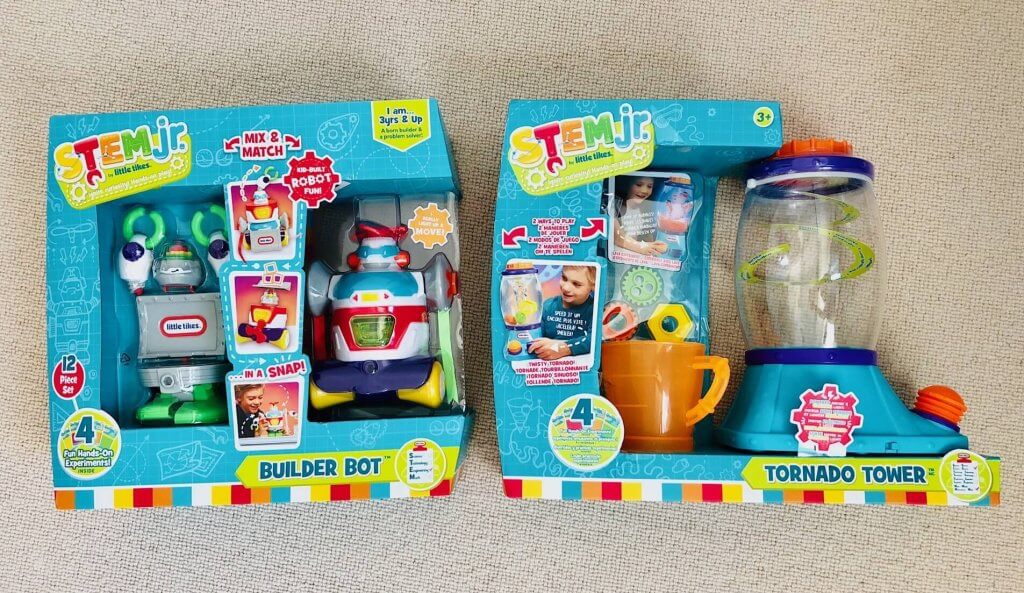 Little Tikes Tornado Tower
Aimed at 3 to 5 years + also, the Little Tikes Tornado Tower (RRP: £29.99) appealed to my 5 year old messy monster straight away.
It's simple to use – you fill the canister with water and using the joy stick on the control panel to create a tornado. Whilst the tornado was cool, the bit which mine really loved was creating a lava lamp.
Top Quarkz
Top Quarkz by the Remarkablz (RRP: £7.99) is a game designed to encourage girls in STEM. A 2018 take on Top Trumps, showcasing some of the best female (and male) STEM role models to inspire children and young adults to explore exciting disciplines and aspire to their own superpowers regardless of gender, ethnicity or disability.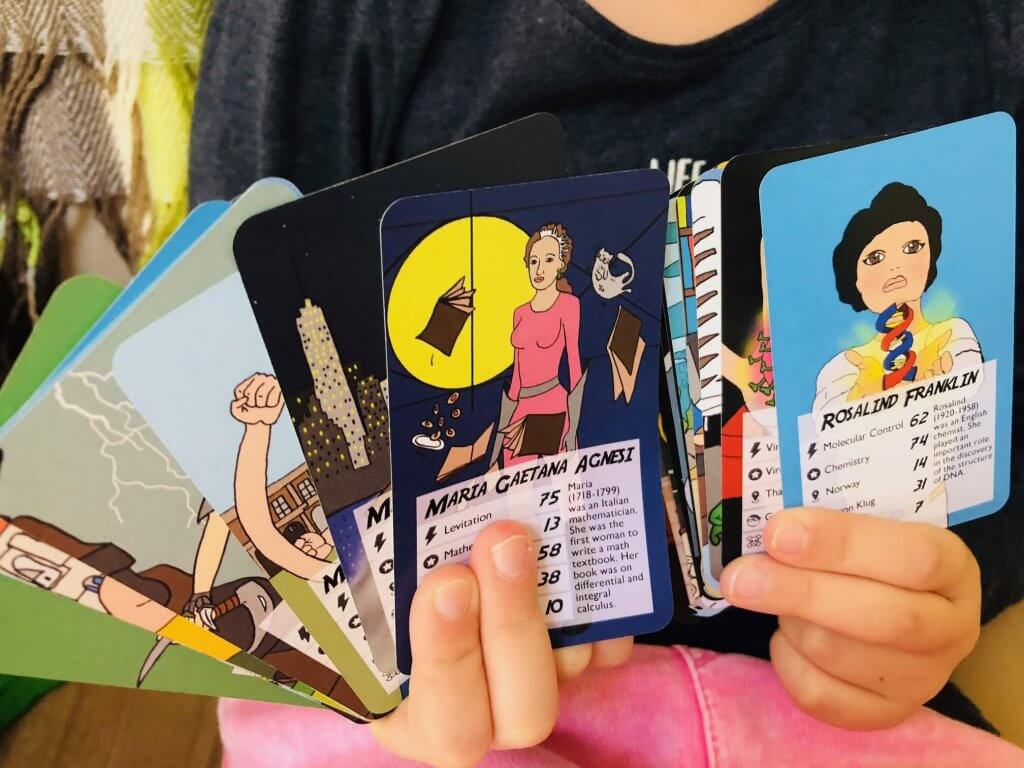 There are some great free resources on their website here too – with colouring sheets which contain ideas for easy to do at home experiments. Go check it out!
---
Disclaimer: I was gifted some of the items above for review in exchange for inclusion in this gift guide. Others are products which we have and love.