This post may contain affiliate links which means that if you click through to a product or service and then buy it, I receive a small commission. There is no additional charge to you.
Black Friday is an American import and it's getting bigger and bigger in popularity each year.
Typically the Friday following Thanksgiving in the USA, it marks the start of the Christmas shopping bonanza. With great deals and discounts to be had, retailers encourage their customers to spend, spend, spend with price drops and special promotions.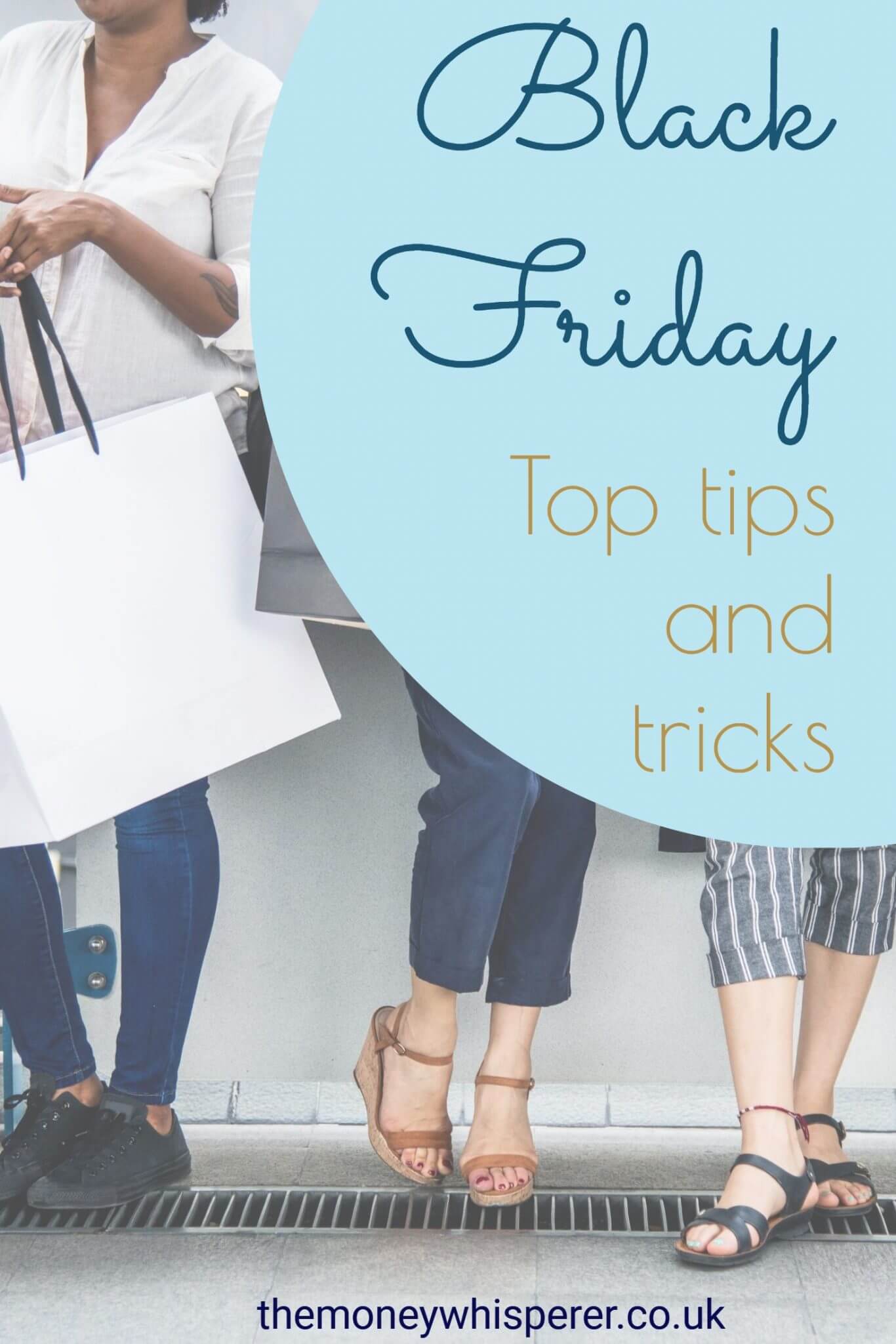 What you do need to know though is that whilst it is the time of year to get savvy and potentially grab some great bargains, you do need to shop smart to avoid getting sucked in by the hype. Here's how:
Write your Christmas gift buying list
Having a list written of the presents you need to buy as gifts for Christmas makes you focus on these for your Black Friday shopping. It's easy to get distracted by all the discounts and you can end up buying things you really don't need just because it seems to be a fantastic deal.
Have a list of other items 
Black Friday is popular with Christmas shoppers buying gifts and presents, but some of the best discounts are to be had on regular items like TVs and big ticket goods.
We are after a new fridge freezer this year and as it's not an emergency purchase, it's been put on our Black Friday sales list to look out for. I have this on a separate list as it's still not a 'must buy now' item so if I see a deal, I'll get it. If not, I won't.
January sales do tend to have deeper discounts but you risk stock issues if you wait until then – just something to consider for non-Christmas purchases.
Amazon Prime benefits 
Black Friday actually started here in the UK a few years ago with Amazon bringing its best bargains over. I do a lot of Amazon shopping – I love the ease of shopping from my sofa.
If you don't already have Amazon Prime, sign up here for a 30 day free trial and enjoy all the perks such as unlimited one day delivery (same-day delivery in select postcodes) during present buying season.
As a Prime customer, you'll also receive early access to Amazon's lightning deals during the Black Friday and Cyber week period which is great as lots of these items tend to fly off the shelves.
Do your research beforehand
Be aware that retailers can be guilty of hiking the price of goods ahead of sales in order to fool consumers in to thinking they are getting a bargain. You can't know if something is a good deal if you don't have a benchmark for its usual price. Do your research beforehand – you'll be wise to whether a 25% discount to the full RRP is better than the most recent (lower) selling price.
Compare prices between retailers
The best way of checking if you have genuinely found the best price across all retailers for a particular item is to check on Idealo. You type in the product you are after and it will bring up all the retailers you can buy from and their relative prices.
Pre-fill online shopping baskets
It is not uncommon for websites to become overloaded and crash on Black Friday for popular items. If you put the items you are looking to buy in to your basket ahead of time, it saves one step in the checkout process and could be the difference between you getting the bargain and missing out. You don't have to checkout if the discount you want doesn't appear!
Update payment details 
In the same vein, make sure your credit/debit card details are up to date in your online shopping profiles – when websites are crashing and you just want to check out and secure the deal, you'll thank me.
Cashback sites
Always make online purchases by going first through a cashback website such as Quidco or TopCashback.
Cashback is free money!
There are some enhanced cashback rates available at the moment as well so you'd be silly not to! I have accounts with both these sites as there are sometimes higher rates of cashback available on one but not the other. Always worth checking.
https://www.instagram.com/p/BY8QrsmBD3X/?taken-by=moneywhisperer_
Voucher codes 
Once you have found a deal, remember to check if all relevant discounts have been applied before checking out, or if any other voucher codes are valid.
I have written about Pouch which is the easiest tool to use as it pops up any voucher codes which are relevant to website you are in. It means you'll never miss out on an applicable voucher code again, and because it's all current, you'll never have the upset of an expired deal either.
If you're old school, there is always vouchercodes.co.uk.
---
The deals are already flooding in to my inbox. I am being good and ignoring those which are for shops I really don't need anything from – tempting as the appeal of the discounts is! Happy deal hunting!