This post may contain affiliate links which means that if you click through to a product or service and then buy it, I receive a small commission. There is no additional charge to you.
Important information: The information in this article is not a personal recommendation. If you are unsure about the suitability of an investment based on your individual circumstances, you should speak to an authorised financial adviser. Please also be aware that the value of investments can go down as well as up, and you may get back less than you invest; your capital is at risk. 
This is a paid post in collaboration with PensionBee.
The year has certainly been a year to remember. As 2020 draws towards its close, we will breathe a collective sigh of relief as we look ahead to a brighter future in the new year. That said, I personally feel incredibly fortunate that I can look back on this strange time as one which has changed me for the better. 
We've enjoyed family time in a way that wouldn't normally be possible and for that I will always be thankful. I've had the opportunity to read so many books I have lost count; reading is my guilty pleasure so this has been heaven. On the business front, I opened my membership community The Money Lounge so I can help more people get better with their finances. I am so glad I did now as I've loved seeing everyone's transformation, and there is a definite need for this ongoing support. The impact of the pandemic on our finances will last long after we've been vaccinated. 
On a personal note, we have managed to save more money than normal during the lockdowns and restrictions and due to two cancelled holidays. I've been able to put more into my longer term savings and retirement savings as a result which makes me feel great. 
During the last few months, I have also made a huge decision around these financial investments which I know will have a long lasting, positive impact. I am so excited that PensionBee has finally announced the launch of their Fossil Fuel Free plan this week and I can share why I have decided to move my pension savings here. 


Last January I took part in Veganuary. Whilst it wasn't for me – I missed eggs too much of all things – the increasing popularity of veganism is a testament to the demand for change around our food supply chain. Taking a vegan stance is a great example of personal behavioural change with the aim of having a positive impact on a situation which sits in opposition to your own values. 
We've seen a lot of social unrest this year where things have happened which have provoked people to act in support of their own values. Over this year, and against this backdrop of much unrest in lots of areas of society, I thought a lot about the question 'What if collectively we used the power of our savings to actively vote for change within society'? 
The more I thought about it, the more I saw the answer to this question popping up all around me. 
The Turning Point For Me
During one of our many family nights snuggled up on the sofa during lockdown, we watched David Attenborough's 'A Life On Our Planet'. If you haven't watched it, you really should. It tells the story of the destruction of the planet at our hands, and looks to how we can reverse the damage and 'rewild the wild'. 
My girls had so many questions at the end. They couldn't understand why, when the impact is so stark, humans continue to make poor choices? I agreed with them, and in that moment vowed to myself that I wanted to do better. For them and the world that they will live in as much as anything. We owe it to future generations to make the changes which are needed. 
This was the turning point for me as someone who had never previously been particularly environmentally conscious. (If I am honest, I've never even been 100% good at putting the right things into recycling!)
So I decided that a meaningful way I could make a difference would be to move my money away from those companies which are doing harm. I would vote with my feet (and my savings). 
Over the course of the last few months, I have moved ISA investments to socially responsible funds and in support of businesses which are engaged in things that are important to me. I also registered to move my pension savings to the PensionBee Fossil Fuel Free Plan, which has launched this week. 


The Birth of the New PensionBee Fossil Fuel Free Plan
In early 2020, PensionBee surveyed customers in its Future World Plan, which invests in companies that pledge to move to an environmentally-friendly economy. It found that over a third (34%) asked to completely exclude oil from their pensions, even if that meant a potential reduction in the profitability of their pension. Many of those surveyed were convinced that oil production is a dying and long-term unprofitable business. 
Whilst I am not a Future World Plan customer, I am in agreement here. 
The launch this week of the Fossil Fuel Free Plan is the result of almost a year of campaigning by PensionBee following the results of that survey, and follows a pledge of support from existing customers, including me, who committed to switch to the new Fossil Fuel Free Plan as soon as it became available.
What Makes The PensionBee Fossil Fuel Free Plan Different?
The PensionBee Fossil Fuel Free Plan, created in partnership with Legal & General Investment Management (LGIM), is one of the first mainstream funds of its kind to completely exclude:
fossil fuel producers, 

tobacco companies, 

manufacturers of controversial weapons and 

persistent violators of the

UN Global Compact

. 
Would I want my money to be used by companies who engage in these industries? No thank you – that's a pretty good list to exclude in my book! 
So if you exclude certain industries, what then does the Plan choose to invest in? It is designed to invest more of savers' money in companies that are aligned with the Paris Agreement (which is focussed on tackling climate change and its negative impacts). 
It does this by tracking a completely new index created especially for the fund, called the FTSE All-World TPI Transition ex Fossil Fuel ex Tobacco ex Controversies Index. The fund is part of a new Paris-aligned index series designed in collaboration with the Transition Pathway Initiative, FTSE Russell and the Church of England. 
On Track To Reach Target
As a PensionBee customer, I was asked a few months back if I wanted to move to the new fund. It didn't take me long to decide, especially as I had already made the commitment to myself to make my money do more good in the world. 
My current PensionBee plan costs me 0.70% annually and, whilst the Fossil Fuel Free Plan will cost me a slightly higher all-in fee of 0.75%, I am content with the small sacrifice here in return for the impact that my money is having in this new Plan. My personal belief is that responsible investments have the potential to outperform over the long term anyway, although this, as with anything around investing, is unknown. 
So I jumped at the chance and committed to the move. 
PensionBee needed to secure a commitment of £100 million from its customers in order to launch the plan at the desired fee of 0.75% (with a reduced fee of 0.38% on any savings over £100,000). In less than a week, PensionBee had reached a third of its target, securing £31 million in commitments, and was well on its way to reaching the target. Whilst my pension pot is a drop in this ocean, collectively we are voting for change here which is fabulous to be a part of!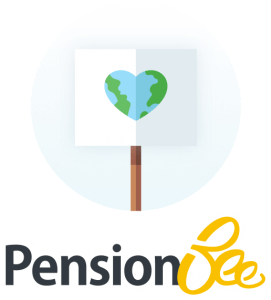 My financial future
As we look ahead to 2021, I think we all do so with a different lens. This year has taught us to value the things which are precious to us, and be grateful for everything that we have. 
I am heading into the new year in the knowledge that I'm aligning what I do with my money with my personal values, and I can't tell you how good that feels. 
There's also been a great learning opportunity for my girls. They made it very clear after watching A Life On This Planet that they don't support the destruction of the world in which they live. They know that I invest money for their future so it has been a great opportunity to ask them which types of companies they think are doing good things for our planet and they should have their money invested in. They are smart little cookies! Knowing that these small people are already aware of how they can have an impact on their future world gives me a smile from ear to ear. 
I'd love to ask you if you know what your pension is invested in? How would you feel if you knew it was invested in companies that support environmentally unfriendly practices, or who trade in arms? If you want to make a difference, you have a really great opportunity by examining where your hard-earned money is invested. Spend some time finding out and vote with your feet if you don't like what you find. 

If you are interested in finding more information about the new PensionBee Fossil Fuel Free Plan, you can head here. It's also worth noting that the new Fossil Fuel Free Plan isn't PensionBee's only responsible option; of nine plans currently on offer to consumers, it offers three responsible options. This new plan joins the Future World Plan, which invests money into companies that pledge to move to an environmentally-friendly economy, utilising an 'engagement with consequences' approach, and the Shariah Plan which only invests in Shariah-compliant companies.