This post may contain affiliate links which means that if you click through to a product or service and then buy it, I receive a small commission. There is no additional charge to you.
Since I have started blogging at The Money Whisperer I have been introduced to some really inspirational bloggers in the money and personal finance space. Each has a different background and route they have taken to becoming a blogger, and each one focuses on a particular niche with their own style.
I can see from the successful bloggers that there is a HUGE audience out there interested in saving money and frugal living….
But I am not frugal. There, I said it. I'm a personal finance blogger but I can't put myself in the frugal camp without feeling like a fraud. I wouldn't use the word frivolous but my spending often doesn't have a lot of cost-conscious thought behind it. I like what I like and I like to do things that make me and my family happy, and often that means not choosing the cheapest options….
That said, The Money Whisperer journey is opening my eyes to some amazing products and services which I am reviewing so I can share with my readers. So in the spirit of embracing ALL things related to personal finance, I have decided that I will join the 'Five Frugal Things' linky regularly. My aim is to consciously change my personal habits so I can share my journey in to the world of being frugal! Five things can't be too life changing can it?!
John Lewis free coffee and cake
I didn't have to try too hard with my first win. It's no secret that I love a good loyalty card (now all safely stored in my Stocard app) and I get plenty of loyalty vouchers in the post and by email. I found a voucher nearing expiry date for my free monthly John Lewis reward coffee and cake at my local JL so I headed there instead of just stopping at the Costa while I was out shopping. And they do gluten free brownies too, nom nom!


If you sign up for a my John Lewis reward card, every few months you get a voucher pack with monthly specials to treat yourself after you've spent time browsing the pretties in store… My free ice-cream voucher is only valid until Monday so I must use this over the weekend. Any excuse for a trip to JL!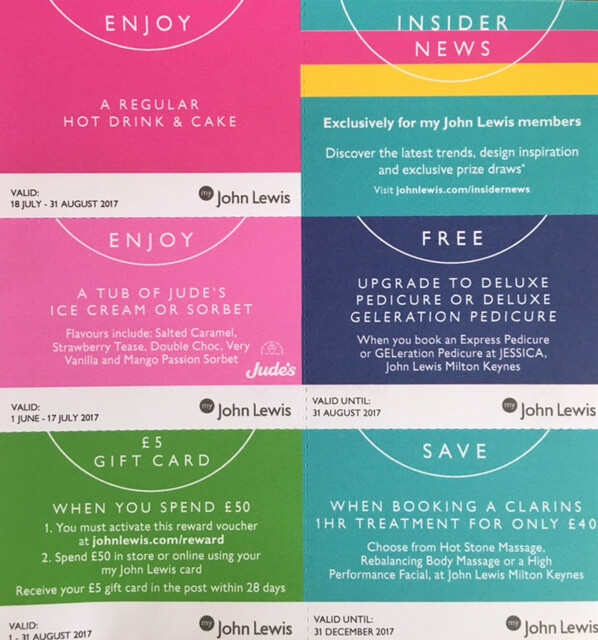 PayPal free returns
My girls have turned in to bean stalks. I went a little bit trigger happy recently though with online summer clothes shopping for holiday and needed to return some. I mostly opt for Paypal to pay online, primarily because when I am shopping on my phone, I don't need to get off the sofa and find my credit card in my wallet! Paypal have a promotion at the moment which I am signed up to where you can sign up for FREE return shipping. All you need to do is activate the service when you are logged in to PayPal and they will cover up to £15 of return shipping for up to 12 eligible PayPal purchases worldwide until 31 December 2017.
So all I had to do was post the dresses back, then request the return shipping refund in my Paypal account, with my postage receipt as proof of return. The refund should be with me within 10 days….
If you don't have a PayPal account, here's a link to join and receive a free £5 when you make your first purchase.
Amazon Prime Day

I signed up for Amazon Prime for £59 in the discounted promotion a couple of weeks ago. I love it because there is no minimum spend for delivery when you're with Prime. Now I can order a single item and not overspend just to get to the £20 threshold which you need if you don't have Prime!
Amazon's birthday was this week – 11th July – and to celebrate, each year there is an exclusive flash sale day just for Prime customers. Although a lot of the 'bargains' seemed to be random, potentially stock clearance items, I managed to bag a new pair of GHD straighteners for £69.99 so I was more than happy! 😊
End of term gifts
I am a fan of personalised gifts which you'll know if you saw my post on our homemade father's day gift. The girls have decided that they wanted to do something similar for their teachers for the end of term.

I have bought some Costa Coffee giftcards from Zeek and they are going to make a story book for their teachers about the teacher's summer holiday. I'll share a picture when they are finished – crafting masterpieces can take days in our household.
Dad's allotment
My dad is a mad keen gardener and has the most amazing allotment. I totally admire his dedication to the cause; at 67 I think you'll find me on a cruise ship sailing the world rather than digging up spuds but fair play to him.
The thing about growing your own vegetables is that once something is ready, the whole crop is ready! So we keep being given soooo much veg to eat from the allotment. I haven't had to buy any vegetables at all from the supermarket. Plus, it tastes totally different and I know it's as healthy as it could possibly be which is an added bonus.
Dad's allotment costs him £5 a YEAR to rent – if we could keep plants alive for more than a week I might even consider it myself. For now I'll just enjoy the bags of goodness he brings for us!
Five Fabulously Frugal Things – The other bloggers
Five fabulously frugal things is a weekly "linky" where other bloggers share what they have achieved each week. Check out their blogs to see what other's have done this week to be frugal.
I am linking up with Cass, Emma and Becky in this week's 'Five Fabulously Frugal things I have done this week' linky.