This post may contain affiliate links which means that if you click through to a product or service and then buy it, I receive a small commission. There is no additional charge to you.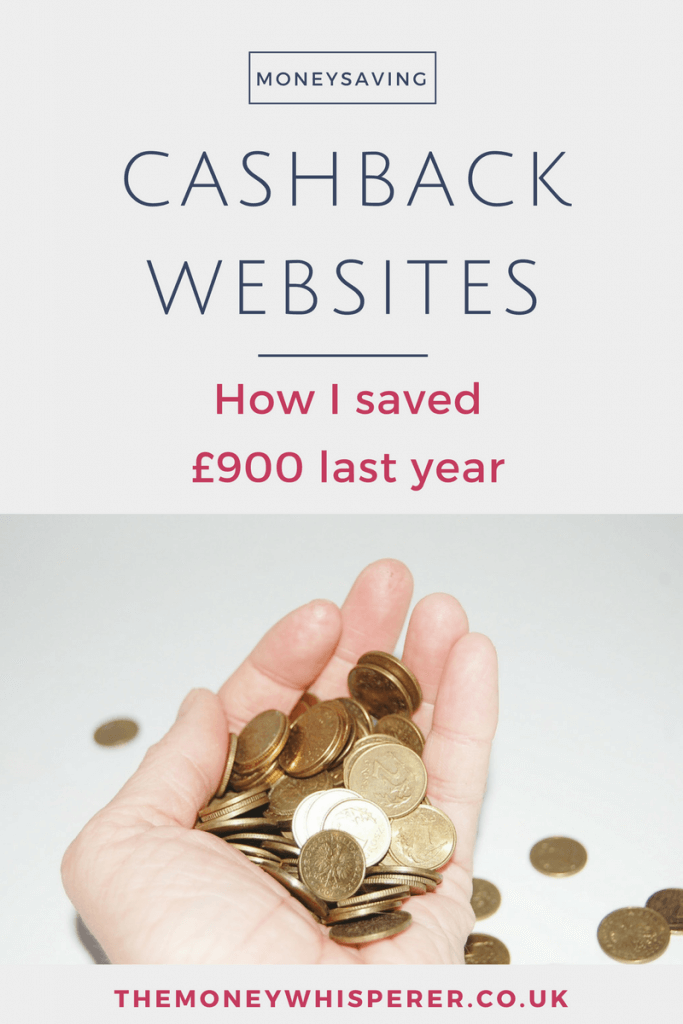 Actively saving money isn't necessarily easy for everyone, for many reasons. But everyone has to spend money and every time you buy ANYTHING, you could be saving yourself a nice little pot of cashback. To me, making every day purchases through cashback sites is a no-brainer for saving money each month, and if you are making a major purchase, even more so. Last year I saved over £900 using cashback websites. If you are going to spend the money anyway, why not get a rebate on your spending?
How does cashback work?
Basically, if you want to buy something online or sign up for insurance or a mobile phone contract etc, instead of going directly to the website of the company which you want to buy from, you click though to them via a cashback site.
Your visit is tracked from the cashback site and you receive cashback on your purchase. Cashback can range from 1-2% of the purchase price of small value items right through to more than £100 for major contracts e.g. broadband/phone packages or mobile phones.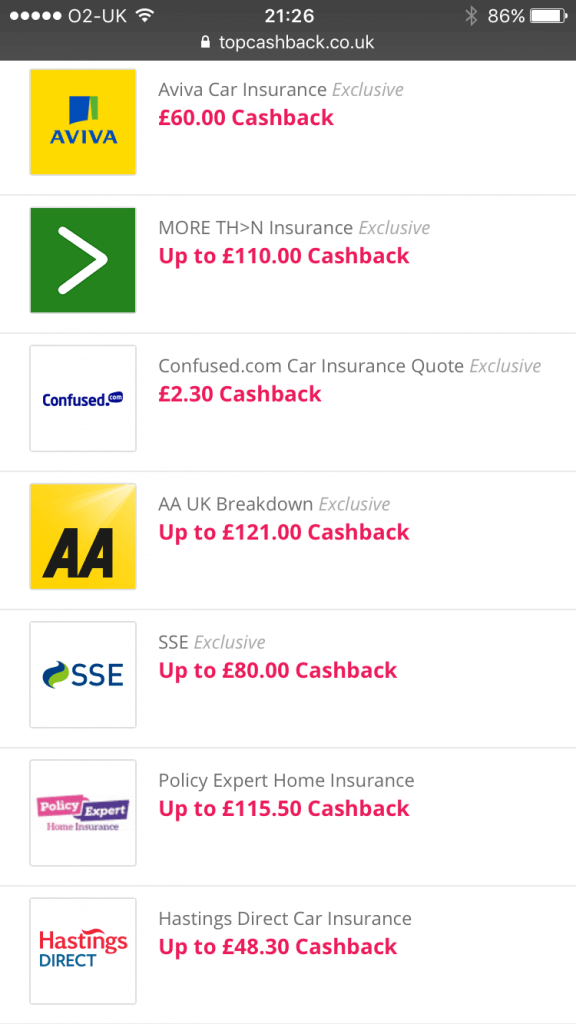 Once you have signed up for an account, you can search for the retailer you want to buy from. You will be shown what rate of cashback they offer and from there, you can click through to their own website, where you make your purchase. That 'click' from the cashback website through to the retailer's website is tracked so that when you make the purchase, the cashback is recorded.
Topcashback
There are a few main cashback websites but my favourite is Top Cashback. It is consistently rated highly for cashback rates and payment by users and reviewers. It is also free to join; you don't need to pay to join a cashback website.
There is a paid option with Top Cashback, as with most sites, where you can sign up for £5 for a 'Plus' account, which gives you access to certain benefits including an additional 5% bonus cashback on purchases. Whether this is worth it to you depends on how much you are going to use the website.
My favourite retailers for high value cashback
You will build up cashback easily once you start using cashback sites regularly. The easiest way though to see big savings like my £900+ in a year is to make your big annual purchases using a cashback site.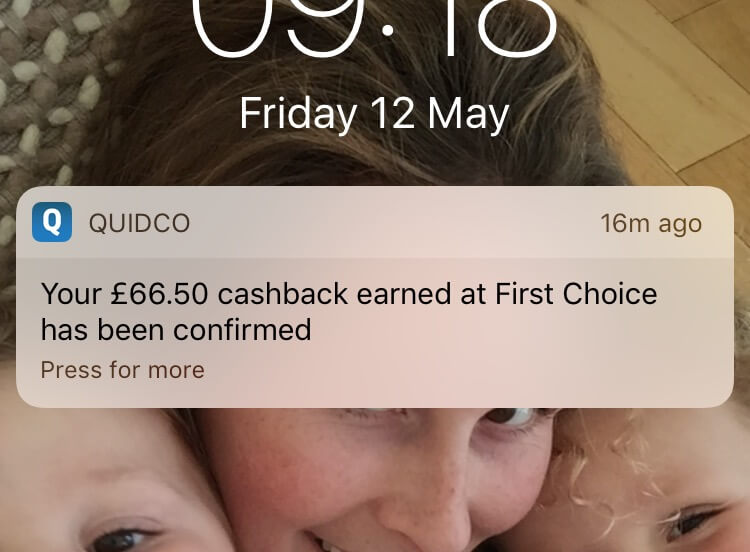 My favourite retailers for high value cashback are car insurers, holidays (we just got £66.50 on our summer holiday with First Choice which will pay for the return taxi to the airport!), broadband providers, home insurers and landline/mobile phone providers.
Things to be aware of with cashback sites
If you're doing a lot of price-comparison research on the website, make sure that you do this before you visit the cashback site to avoid the risk that your cashback won't track. Your computer uses cookies to track your movements between websites; cookies often work on a 'last click wins' basis in rewarding cashback so make sure the last click to the retailer's site is from Top Cashback.
If you want to be really sure that the tracking is going to work e.g. if you are making a high cashback transaction, you can delete the cookies in your browser first so you have a fresh slate.
Getting cashback isn't the end game, getting the cheapest overall price is. The draw of cashback can sometimes lead you in to a purchase but always check if you could get a better deal directly with a retailer who isn't on a cashback website. I will often buy from John Lewis even though they aren't on Top Cashback because of the overall deal they provide, taking account of warranties, competitor price match etc.
Never make purchase decisions based on the expected cashback, as with any cashback site, it isn't always completely guaranteed

You have always got to beware that if the tracking fails, you don't want to have opted for a deal which leaves you worse off than if you had gone direct. Think of cashback as a nice bonus.
With Top Cashback, your cashback should track within 7 days of your purchase but it will take a while to actually receive the cashback. The length of time you have to wait for the cashback to be 'released' is usually related to their returns or cooling-off policy. Once this period has passed, the retailer will pay Top Cashback and they can then pay you.
Faster paying retailers are flagged by Top Cashback; cashback from these retailers will typically be paid much quicker than others on the site within 14 days of your transaction being confirmed – so you won't have to wait long at all to spend it!

Each cashback website sets a threshold for cashback earned which you need to meet before you can withdraw the money. You may be able to lower this threshold by paying an annual membership fee to the website – I don't think this is necessary if you are regularly using these sites as none of the thresholds are very high. It makes sense to withdraw the cash as soon as you are able to as you never know if the payout policy could be amended or in the unlikely event that the cashback site stopped trading.
You can withdraw cash to your linked bank account or PayPal account. Alternatively, if you do let the cash build up, you can exchange your cashback for giftcards/reward points and take advantage of a bonus credit. With Top Cashback, you have the option to withdraw the cashback via Amazon.co.uk Gift Certificate, Love2shop card, M&S e-gift card or several store gift cards. This is something I have done in the past when it's coming up to Christmas time as I buy most of my gifts from Amazon!
Don't get too distracted by the cashback. Like anything in life, consider if you actually need something and only buy it if you do!
Getting even more out of your subscription to a cashback site
Instore cashback
Linking your credit card up to your cashback account takes less than a minute and means that when you spend on the high street, you could also be earning cashback with certain retailers. This cashback is a nice little surprise when it hits because I sometimes forget that I have spent in store in a retailer which I have linked up to my card 😊
Free cashback for nothing
You don't even need to purchase anything to get great deals with these free cashback offers. Whether it be surveys, trials, competitions or products, browse and earn top rewards.
Receipt submission
The TopCashback Snap & Save program means can now earn cashback on in-store purchases simply by submitting a photograph of your receipt. Browse the great deals and once you have purchased the item, snap a picture of your till receipt, click through and upload the image to earn your cashback reward.
The TopCashback app
The TopCashback app is a free app that allows you to use TopCashback on your smartphone or tablet device, It features all the essential bits of the website plus some mobile exclusives. Do just be aware that you can't request a payout via the app – this has to be done through the main website.
I rarely make an online purchase without using TopCashback, Quidco or another cashback website. Changing your mindset to always click through via a cashback site could save you hundreds if not thousands each year in free money.