This post may contain affiliate links which means that if you click through to a product or service and then buy it, I receive a small commission. There is no additional charge to you.
When you are raising a young family, it is important to consider your future. This is particularly true when it comes to your home. It should be the perfect place for you, and your family, to enjoy even if you are thinking about whether to sell your home in the future.
Whether you are buying, renovating, decorating, or furnishing your home, longevity is essential. Whatever you do, don't forget to make sensible choices that will benefit your family in the long term and be a great investment.  If you are looking for inspiration, here are four ways for you to future-proof your home.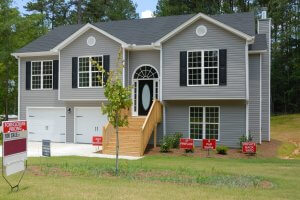 Buy in an improving area
During your property search for the perfect home, you should be on the lookout for areas that are up and coming. This will enable you to increase the value of your home without doing too much hard work. Look for an area that has a lot of exciting community projects and events coming up. You should also look out for an area that is perfect for raising children. Ideally, you want somewhere with plenty of local parks and fantastic schools. Even if you can't afford to buy in an up and coming location, there is still plenty that you can do. Why not set up a neighbourhood watch scheme that will make your area safer to live in?
Protect your investment
Make sure that your property is well protected. It is so important to invest in home insurance. Think about the kind of threats that your property might face. For instance, if you live in an area prone to flooding, your insurance policy will need to reflect this. You should also install fire alarms and smoke detectors. Not only will this help to reduce the cost of your home insurance but could potentially save your life by giving you more time to act in the case of a fire.
Decorate sensibly
When thinking about your interior design scheme, you should be investing in durable materials.  You should also invest in wall paint that you can wipe down. This is the perfect way to protect your home from sticky fingers and muddy feet. Not only this, but if you are planning to sell your home in the next few years, your design choices should reflect this. Make sure that you don't go overboard with bright colours and brash fabrics. Instead, opt for a design scheme that is likely to attract potential buyers instead of scaring them away.
Increase the number of your rooms
Increasing the number of rooms is a great way to add extra value to your home. It can also provide you with space to grow into. Moving property is an expensive undertaking, so it is a good idea to invest in a home that will stand the test of time. Even if you don't use all the rooms immediately, you could use them as a home gym or office space. Then, you can convert them if and when your family unit begins to expand.
---
This is a collaborative post.