This post may contain affiliate links which means that if you click through to a product or service and then buy it, I receive a small commission. There is no additional charge to you.
Skimming money from your current account in to your savings account is a great way to build up savings. Doing it manually means logging in to your online banking, remembering what bills you have coming up so you don't skim too much, and getting in to the habit of skimming regularly.
Chip is an innovative app designed to remove all this hassle and save in an intelligent way, based on your spending behaviour. And it is free!
How does Chip work?
When you sign up, you grant Chip read-only access to see the transactions data in your online banking. Every few days, Chip's algorithm calculates what you can afford to save based on your spending habits.
It then automatically transfers small amounts of money from your current account into your Chip savings account, every few days. Your Chip savings account is a new instant access savings account, held at Barclays, which is opened for you when you sign up. Chip is fully regulated in exactly the same way as your bank.
The chatbot interface makes it all a bit of fun too!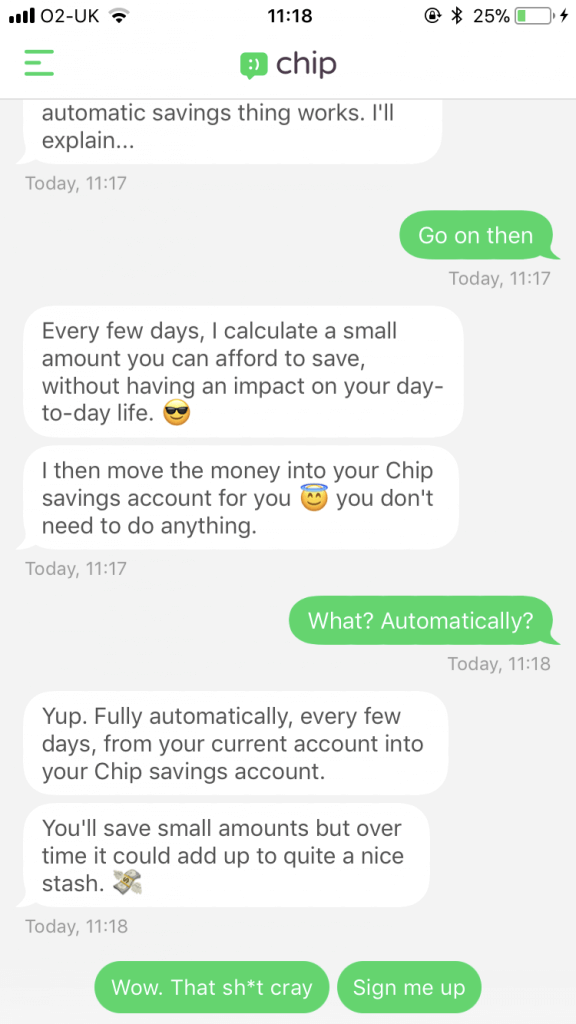 Can anyone use it?
Chip can skim for you if you have a current account with the following banks:
Barclays
HSBC
Santander
Lloyds
NatWest
Nationwide
RBS
TSB
Halifax
First Direct
Co-operative Bank
Metro Bank
Interest rate
This is one of the best things about Chip! The savings rate can be a whopping 5% which you definitely can't get on the high street. You can earn the interest on up to £10,000. You'll start on a lower rate of interest and earn 1% extra by inviting your friends to join too.
Do I still have control?
If you are concerned that you lose control here to a faceless AI chat bot, don't fear.
You can cancel any save before it goes ahead.
Automatic saving can be paused any time – just tap 'pause' to stop Chip saving for you and tap 'resume' to make it start again.
You can also ask Chip to increase or decrease the amount it saves by tapping 'save more' or 'save less'.
There is no need to wait for Chip to make savings either – you can tell it to move across up to £100 a day, up to six times a month.
Chip has full confidence in its artificial intelligence that if it makes an automatic saving that pushes you into your overdraft, it promises to replace the money immediately. It will then pay the bank charges, and pay £10 in your savings account as a gesture of goodwill.
Download here and get started today! Plus using the referral code N9MWCM will give you an extra 1% interest on your savings.
---
I'm taking part in the Monday Money linky with Lynn from Mrs Mummy Penny, Faith from Much More With Less and Emma from EmmaDrew.Info