This post may contain affiliate links which means that if you click through to a product or service and then buy it, I receive a small commission. There is no additional charge to you.
This is a collaborative post.
It's no secret that there is money to be made from property. Property investments have long been a popular choice for wealth generation, and with success stories being broadcast daily on prime time TV shows it is easy to see why. But is it a guaranteed success? And how do people do it? This article will showcase some of the ways that you can use capital to help make money from property. 
Typically there are three main ways you can use property to make money. You can buy a property for a low cost that is in need of renovation to then renovate and sell at a profit. You can build a property or invest in buy-to-let properties. What all of these options have in common is that they are not without hard work, risk or financial commitment. Whatever option you choose turning a quick profit is never a likely outcome, so be prepared to wait for your fortune.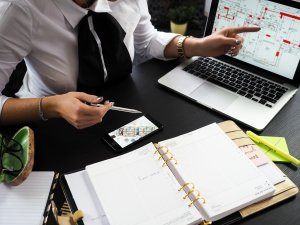 Buy to let properties 
First up is buy to rent properties. As the name suggests, you buy a property for the sole purpose of putting it on the rental market. The rent received will either cover the mortgage, if you have one, or generate a profit. It is however important to remember that rental incomes are taxable and will be added to any other income you have. You will need to research your tax liabilities carefully before investing in a buy to rent property. 
If you are buying a rental property with a mortgage you will also need to ensure you have a substantial deposit available. While your main residence mortgages are commonly granted with a 10% deposit, buy to let mortgages commonly require a 20-30% deposit.
You will also need to be sure that the property will generate sufficient rental income to cover the monthly cost of the mortgage. If it doesn't a provider will likely not grant you the mortgage. Should you find yourself without tenants at any point during the life of the mortgage you will be liable for the mortgage repayments and failure to make the payments could result in repossession of the property. You want to be confident that if there comes a time where your property is empty, you will be able to meet the monthly mortgage liability. 
Consider also the management of the property. You can, of course, hire agents to manage your property rental for you so you are not on the receiving end of a phone call from the tenant at 6am. This service will however come at a cost and you will want to be sure your rental income will cover any of these costs. Alternatively, you can manage the property yourself. While opting for this route may save you money each month, you will be dealing with your tenants directly and be their point of contact when things go wrong. If you choose the option be prepared for the work that it entails. 
Buy to renovate
As with any industry looking to flip items, be it cars, stock or property, the aim is to buy for a low cost and sell for the highest price you can get. Sounds simple enough but the reality is harder than it sounds.
Firstly you need to try and source the right property for the right price. Any property seller on the market will be after the highest possible price and at least the going rate. Properties that do command a lower price will generally be in need of more extensive renovation. Property auctions can prove to be a good source for purchasing renovation properties but buyer beware. You have to ensure you have all your finances in place before committing to a purchase from a property auction and have sufficient funds to pay the auction fees.
While a lot of skill is required in finding and purchasing the property at the right price and time it is the renovation work where you really need to pay attention to detail, or rather the budget. You need to be sure you can strike the right balance between renovating the property to a resale standard but not overspending on the renovation so as it eats into your profit – don't forget every property has a ceiling value. Investors who typically do well with this kind of property investment are savvy spenders when it comes to the renovations and particularly the labour costs, or they undertake a lot of the labour and heavy lifting themselves to keep costs to a minimum. Where you can use friends and family, maximise on mates rates and favours owed to help keep your spend down. 
Finally, any profit you make will be subject to taxation. You will need to factor in your potential tax liabilities when forecasting your budget, spend costs and potential profit.  Be sure you have a firm handle on any tax you may be liable for. 
Building a property 
Building a property is potentially the biggest financial and time committing option out of the three, but can yield the biggest financial rewards. Building a property requires a lot of work and planning. You will need to acquire the right plot, which you will have to pay Stamp Duty Land Tax on. You will also need to obtain planning permission, which can be a lengthy process. Have drawings made, submit building regulation plans for approval, source contractors, builders, and suppliers all before any building work has even begun. 
Throughout the build process, there will be a lot of regulations and requirements that need to be met and it is crucial that you understand all of your liabilities before undertaking a project such as building a property. It is also essential that you have stellar project management throughout the entire project to ensure your build time is kept to a minimum and your budget intact. 
While building a property for resale is not for the faint-hearted it can provide a very high return on your investment, as the saying goes you have to play big to win big.