This post may contain affiliate links which means that if you click through to a product or service and then buy it, I receive a small commission. There is no additional charge to you.
This is a collaborative post.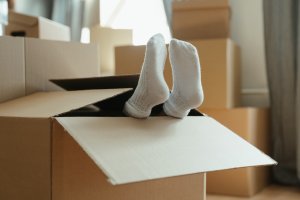 Moving home can be expensive; there are lots of outgoings which can creep into the process. If you're looking to complete the process as cheaply as possible, you'll want to check out these simple tips.
Create A Moving Budget
First things first, you've got to create a moving budget, to help you stay on top of your finances. To support you with this part of the process you might want to use free budgeting tools such as Money Dashboard. It's important to factor in all of your costs associated with moving day, from your removal insurance to your estate agency fees, storage costs, and deposits. 
There might also be a fees associated with switching your utilities providers or redirecting your mail. Whether you are buying or selling you'll want to find the best conveyancing solicitors to oversee the deal, (so don't forget solicitors' fees when drawing up your budget).
Compare Removal Firms
To save money when you're moving home you'll need to compare prices from several different removal companies. Remember to take a close look at reviews and testimonials when you are making your decision. You'll want to choose an affordable company, with plenty of experience and expertise.
Once you've got a basic quote remember to check if this company offers insurance options. You might need to cover your moving insurance separately. Some companies will include packing services, so you'll need to consider whether you mind paying extra for this service.
Save On Packing
To save money on packaging materials consider looking for free boxes around your local neighborhood. Local supermarkets will often give out free boxes (if you're willing to ask)! You might also get some packaging materials for free by asking your neighbours, friends, and family, or asking on Facebook Marketplace. Ensure that you get sturdy packaging materials to keep your items safe. Label all of your boxes by room, to make your moving process easier.
Clean Up Yourself
When you're moving out you'll likely need to clean your property before you leave. Instead of hiring a professional cleaner, consider cleaning up yourself. For a deep clean you can use DIY cleaning solutions such as white vinegar, baking soda, or lemons. If you prefer to use traditional cleaners why not check out eco-friendly cleaners? A few of the best options out there include brands like Caldrea, Eco-Me, and Puracy.
Thrifty Storage Options
If you have a gap between move- out and move-in day, you'll need a safe space to store your items. Before you look up storage companies consider asking any friends or family who have a garage, or loft space. (You might find a place to keep your stuff for free)!
The key is to get organized and start saving well in advance. Give yourself plenty of time so you can look for deals instead of rushing your decisions. When you get thrifty and improve your budgeting, there are plenty of savings to be made.