This post may contain affiliate links which means that if you click through to a product or service and then buy it, I receive a small commission. There is no additional charge to you.
Did you know that more than 4 million people returned an unwanted Christmas gift last year? According to research just released by GoCompare Money, an estimated £143m worth of unwanted Christmas presents will be returned this year.  However, only around two thirds of people will be successful in returning items.
After reading this, I wanted to make sure you are aware of your consumer rights on returns. After all, in the event that you find yourself needing to return a present, you want to make sure you can! Also, if you are still buying gifts which might potentially be returned (clothes being a major category), hopefully this article will make you think a little about helping out the recipient of your present.
After all, when we give someone a present, we want them to be able to get pleasure from it!
Why do people return gifts?
It sounds awfully ungrateful to be returning gifts which have been bought for you. The reality is though that over half of people who return gifts do so because they are simply the wrong size, colour or version.
When my children receive clothes from relatives we haven't seen for a while, I find that they do tend to buy them the standard sizing for children's clothes for their age. Unfortunately, this means that I occasionally need to return to the store and swap to the next size up. The return is founded in practicality – I just want them to have a size that fits so that they can wear them!
It is often tricky when we are buying for adults who might own a lot of nice things already! Around 1 in 5 of those surveyed said that they returned items they were gifted as they already owned something similar. I'm not one of those people; I tend to re-gift items like this but that's a topic for another post on what to do with unwanted gifts.
Interestingly, the research found that 8% simply needed and 5% wanted the cash value of the present so they returned for a cash exchange. Ouch!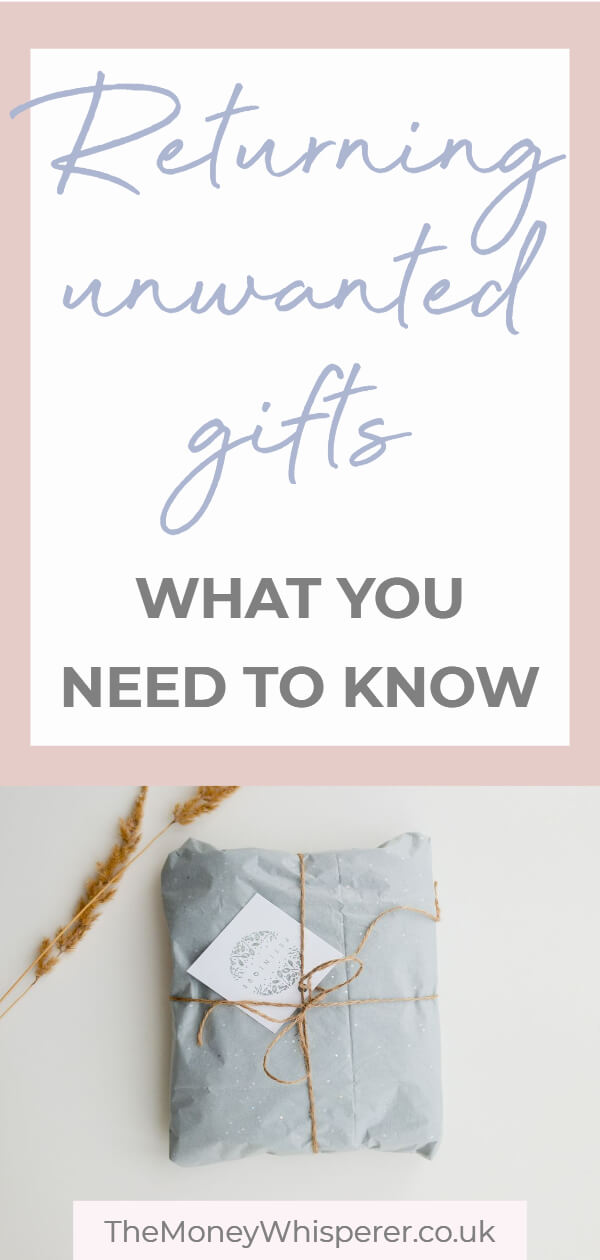 Success in returning gifts
When asked about their experience of returning items, only 69% of people said they had no problems taking back an unwanted gift.
At this time of year, as a gesture of goodwill, most high-street stores operate a returns policy which allows unwanted items to be exchanged or refunded which makes life a lot easier. Some offer credit notes or gift vouchers to the value of the item but at least this is better than being stuck with a gift you can't use or don't want.
However, others experienced unhappy returns:
13% had been told by the retailer they couldn't get a refund or exchange without a receipt
8% were told that the retailer didn't accept returns
7% had been advised by the retailer that they were beyond the time limit for returns
When I asked around to see if anyone I know had experienced problems with returns, Or from SavvyLondoner.co.uk reported that a couple of years ago, he bought a gift for friends at Mothercare. He knew they were probably going to get lots of similar gifts, so asked the store clerk for a gift receipt. She informed him that he would only be able to get it by email. So, he would need to wait until he got an e-receipt from them, and then print a gift receipt from within the e-mail. Alternatively, he was told to write to customer services and ask them for assistance. However… the e-mail from them had no gift receipts in sight. So he e-mailed customer services, but they had no idea what he was talking about, and told me to contact the local store again. So the whole thing turned into an endless loop…
Sounds painful….
Your rights when it comes to returning items
Details of individual retailers' returns policies are usually printed on their till receipts, in-store signs or are available on their website.
Check these as your first port of call for guidance on the time frame you have and whether they accept returns with no proof of purchase i.e. without a receipt or gift receipt. Each store's returns policy will show the time limit within which the item has to be returned (typically between 14 to 21 days) however, many retailers extend this period to allow for Christmas.
First up, I think that it goes without saying but feel I need to point out that it is fairly standard for returns policies to require items to be in unused, perfect condition and sealed in their original packaging, with labels and tags intact.
Retailers are under no legal obligation to refund an unwanted gift unless it is faulty, not as described or doesn't work as it's supposed to.
Helen from The Complaining Cow explains that if the item is faulty, you still have rights under the Consumer Rights Act 2015 and so long as you have proof of purchase you are entitled to refund/repair or replacement depending on when the item was bought.
Retailers are not obliged to accept items returned by someone other than the buyer either which makes the whole returning a gift thing slightly tricky
Click To Tweet
Refunds for unwanted gifts bought using a credit or debit card will normally have to go back on the same card.  So, if you want to exchange a present for cash, you'll probably have to get the person who bought it for you to come in to the retailer with you. Thankfully, many retailers relax their returns policy around Christmas, making it easier to return items you have been given and didn't purchase yourself.
If you don't have proof of purchase, some retailers will exchange items or offer a credit voucher without one. Under these circumstances, you will most likely receive a refund at the price that the item is at that time. Beware if the retailer has put the item in its end of year sale then the credit note will be for the discounted price not the price originally paid.
Kara from Your Best Friend's Guide To Cash says:
I find Next is excellent for gift returns. A number of times I have had to bring something back that was the wrong size yet I didn't want to ask for a receipt from the giver. The staff at Next can scan the item, see when it was bought and at what price it sold for. They are then happy to give you a credit note for the original price – rather than the January sale price. It's a brilliant system.
There is an easy way to make life a whole lot easier; say yes to a gift receipt!
Returning goods bought online
I do a huge amount of my Christmas shopping online which is actually great news when it comes to refunds as the rights to return unwanted goods bought online are better than for those purchased on the high street.
Under the Consumer Contracts Regulations, an unwanted item bought online can be returned within 14 days of the buyer receiving it.  Just be aware that the person returning the item is usually liable for the return postage.
---
I hope that all your gifts under the tree are just perfect. However, if you do need to return any, I hope reading this makes it a little easier for you. And remember to keep front of mind, it's the thought that counts!