This post may contain affiliate links which means that if you click through to a product or service and then buy it, I receive a small commission. There is no additional charge to you.
Schools out for the summer and overnight, holiday prices have sky rocketed. It doesn't matter where you look to visit, the price of taking a break shoots up. Some families dodge the extortionate prices by taking the children out of school in term time to get better deals on holidays abroad. Others swap overseas breaks for the so called UK 'staycation'.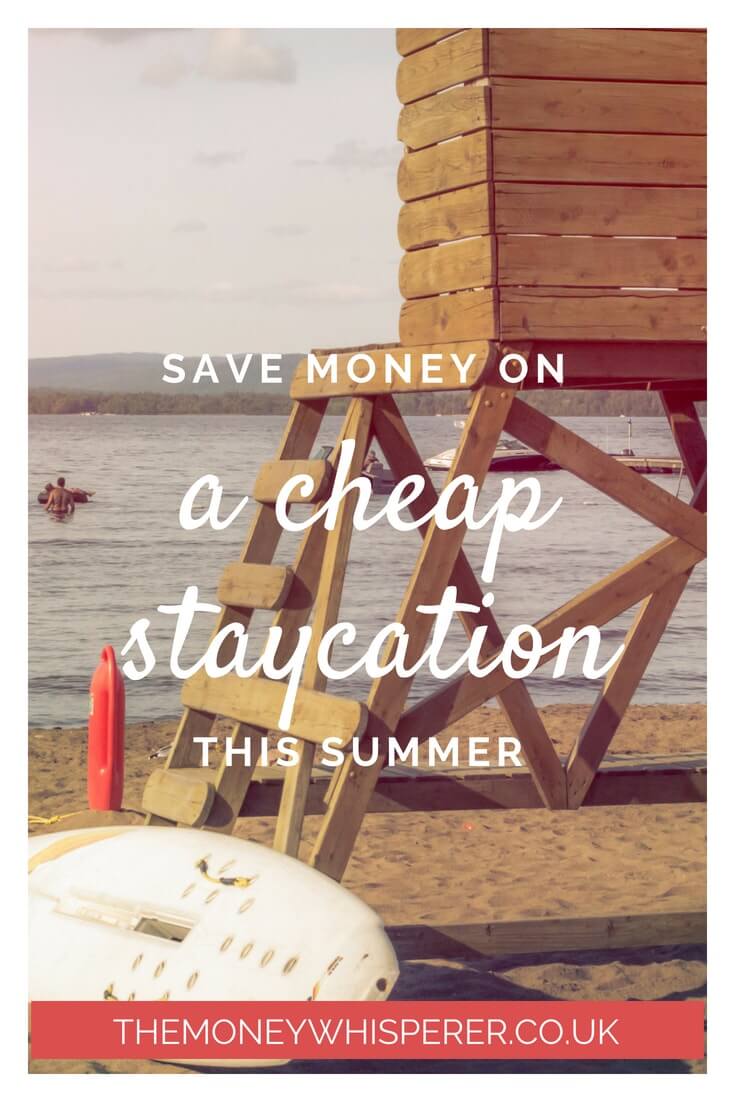 With weather as hot as many of the European countries this summer, staying in the UK for your summer holiday could prove a great choice. Cheaper holidaying with the same sun tan, and no need to worry about exchange rates!
Holidaying in the UK doesn't need to break the bank in the same way as a holiday overseas can. There are easy ways to save money and have a cheap staycation over the summer.
A free place to stay
Accommodation costs account for a large chunk of a UK holiday budget. But there are ways to escape spending anything at all on the roof over your head.
Having friends and family in different parts of the country means you can combine a visit and a holiday. In return for a nice bottle of wine as a thank you, you can save a fortune on accommodation costs by staying with someone you know.
A great alternative to actually staying with friends is to do a house swap. You get all the creature comforts of home, the kids have new toys to play with and everyone gets a free holiday. Set some ground rules – maybe you both leave a fridge full of food – and a guide to your local attractions, and away you go!
Don't have anyone to house swap with? Consider joining a house-sitting website such as Trusted Housesitters. You look after someone's home while they are away, and potentially also care for their pets, for free in exchange for accommodation. A win-win solution to a common problem.
More affordable accommodation
Ask around if any of your friends have a holiday home that they rent out; you may get it at mate's rates. We've had a couple of great weekends with good friends in a converted barn owned by one of their family where we have only had to pay for the cleaning costs.
Sharing a cottage or holiday home with another family is an easy way to slash the cost of your stay by splitting the cost. Although you will need a larger property, these very rarely cost double the price of a holiday home suitable for only one family.
Alternatively, make a two-week booking and take a week each; often longer bookings are relatively cheaper than short breaks.
Staying in a hotel? If you are booking quite far in advance, spend time shopping around as prices can vary hugely. Comparison sites such as Hotels.com are great to give you an idea of price but always check the hotel's own website first before you book. The larger chains such as Premier Inn or Travel Lodge often save the best deals for direct bookings. If you're leaving booking to the last minute, you may get the best deals by calling directly.
When travelling with small children, call the hotel direct and ask if you are able to put a camp bed in a standard room rather than paying for a larger family room. Some may let you bring your own, others may charge but this still works out cheaper. This works particularly well if you are staying at B&Bs or boutique hotels where the owners have total discretion.
Consider alternatives to hotels. From as little as £10 for a pitch per night, camping is the ultimate affordable staycation option. Children love it and you'll often have lots of extra facilities on site such as swimming pools, tennis courts and children's entertainment. Superior camp sites will have a huge variety of accommodation options so if camping in a tent isn't for you, don't discount the other options such as holiday homes and cabins.
Related post: An Amazing Alternative To Center Parcs – Kelling Heath Holiday Park
Cheap eats
The easiest way to keep food costs affordable on staycation is to book somewhere with self-catering facilities. Even if you aren't planning on being fully self-catered, having breakfast at home each day and packing up picnics for lunch rather than eating out for every meal can really add up.
Remember to order a food delivery for shortly after you arrive, then you won't need to call for a takeaway on your first evening in! If you're like me and don't enjoy doing lots of cooking the same old family favourites on holiday (us mums need a break too!), you can always order some recipe boxes to be delivered – different meals, no waste and still cheaper than eating out.
Going on staycation has one huge benefit compared to jetting overseas; you can load up the car with things from home. Remember these essentials for easy food savings:
Cool box for picnics
Refillable water bottles
Containers for snacks for days out and picnic boxes
Store cupboard staples so you don't need to buy full packets of items you might only need a small amount of while you are away e.g. stock cubes, tea bags, coffee, sugar, bin bags, herbs, clingfilm etc.


When we eat out, we never pay full price for a meal. Beforehand, always check if there are any money off deals through:
Your credit card – usually loaded via the app
Your break down cover – good for discounts at service station restaurants
The restaurant's own app – often for signing up to a newsletter you'll receive instant money off vouchers
---
This glorious British weather is like the gift that keeps on giving this year so we're making the most of it and enjoying holidaying here rather than heading abroad this summer. Follow me on Instagram to see what we get up to.