This post may contain affiliate links which means that if you click through to a product or service and then buy it, I receive a small commission. There is no additional charge to you.
My best times growing up were spent camping. We had a trailer tent when we were really little and then a caravan. I remember being the envy of my school mates when I'd get picked up early on a Friday afternoon to head off somewhere exciting for the weekend. So many happy memories of simple living; being in charge of outdoor washing up duties, the smell of bacon across the campsite, swingball and endless BBQs.
When our girls were little we visited a few different Haven sites and had some amazing holidays across the country. Now we are really lucky to have a base at Kelling Heath and try to get their as often as possible.
In spite of not being in a tent ('proper camping' as I would call it) and actually having a lot of the creature comforts of home, we spend most of our time outside. Today I am sorting out my packing for our summer holidays down there and thought I'd share my list of things to take for a great, stress free camping trip, whether you are in a tent or a static van.
Plus I have a great giveaway to win a Coleman LED Lantern.
Eating and drinking
Disposable BBQs are a cheap and easy way to cook on a campsite. Everyone loves a BBQ and they are great for a fry up in the morning too. But what if I told you there is a fab portable alternative?
The Party Grill 400 offers campers the choice of 5 different cooking surfaces – choose between pan cooking, barbecuing on the cooking grid, a reversible grill and griddle plate and the lid even doubles up as a wok for making tasty noodle dishes. Sometimes it is nice to have something different to grilled meat – stir fry anyone?!
The Party Grill is ultra-portable thanks to its lockable lid and it also comes with a handy carry bag so we take this down to Blakeney Quay when we are in Norfolk and have a sausage sizzle while the kids paddle. Perfect not just at the campsite but weekends away or picnics too.
While we're talking eating and drinking, don't forget plastic glasses as no-one wants any broken glass around the campsite. Wine is the most important fuel for a camping trip – make sure you've got sturdy vessels so you don't spill it when you put your glass down on the grass.
Lights
You need to be able to see.
If you don't want to be tripping over tent ropes in the middle of the night, you need a good torch or lantern. I'm giving away a fabulous LED lantern in the giveaway at the bottom of this post – head over and enter to win.
Lights don't come in one variety either:
Head torches mean that you can have your hands free to deal with small children in the dark too!
Solar lights – put them around the tent to help find your way back after midnight trips to the toilet. It makes it obvious where the tent…and tent pegs are!
Marking out your territory
The trusty windbreak is great for creating a little privacy and weather protection around the front of your camping area. If you are camping with a group, you can make yourselves a little enclosure with a set of windbreaks and a strategically placed car or two.
Citronella candles on sticks or solar lights on sticks are another great way of marking out your area, with an added bonus!
First aid
Outdoor life can mean more scrapped knees and grazes than normal. Plus you're living alongside the local wildlife, and critters.
Pack a first aid kit, and plenty of bug spray.
Having a bug zapper on your table can mean the difference between a night of scratching at bites and not. I totally recommend one whether you are camping close to water or not.
Keeping tidy and organised
When you're living in a small space, you do need to keep relatively tidy. And clean.
Pack nappy sacks for wet clothing, rubbish and leftover food so you don't find yourself inundated with ants.
Large plastic boxes are great to store food in and stop it being invaded by insects! Stackable boxes are easily packed in the car to get there and stored once you've set up camp.
Camping when it rains isn't hugely fun! Who wants to make middle of the night trips to the toilets if it's raining? Not me – bring a potty and avoid that dash to the toilet block if you have little ones.
Dirty shoes and wellies will get everything muddy. We have welly bags at the door and a washable plastic shoe tray to encourage everyone to take their shoes off before entering!
Fun and games
We've had a run of sunny weather but the good old English weather can't be guaranteed. Pack some games for the kids – Lego, Guess Who and any Orchard Toys games do the trick nicely. Plus colouring bits and bobs.
We always have a swingball and it comes out before anything else usually – it tends to be an easy way to make friends too who want to come and play! Plus it packs away nicely to come to the beach for a day out.
Toilet roll
There is not much to say on this one. An essential item! Alongside wipes which are pretty invaluable for cleaning up small people, spillages and cleaning.
WIN this Coleman LED Lantern
If you're planning a camping trip this summer and want to be in with a chance to win one of these fabulous Coleman LED Lanterns, enter the giveaway below.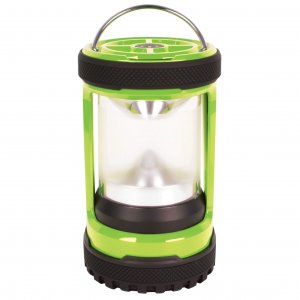 An eye catching, compact and weather resistant lantern ideal for weekend breaks. It has three light modes, a powerful lumen output and durable construction making the PUSH+ 200 the perfect camping companion.
Good luck!
WIN Coleman LED camping lantern

Thanks to the following bloggers who contributed their ideas for camping essentials: This Day I Love, Mummy Est 2014, Inspire Gratitude & Manifest, Boo Roo and Tigger Too, Big Family, Little Adventures, Crafts on sea, Devon Mama, North East Family Fun.
This is not a sponsored post but we were gifted a Party Grill 400. All views are my own.