This post may contain affiliate links which means that if you click through to a product or service and then buy it, I receive a small commission. There is no additional charge to you.
This is a collaborative post.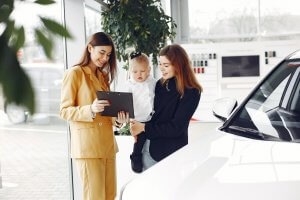 Purchasing a car can be a big investment, but you don't need to spend over the odds. Instead of getting carried away and ending up blowing your budget, take the time to research your potential vehicle and take a savvy approach to buying a car. 
For inspiration, take a look at these top tips and save money on your next vehicle purchase:
Don't Buy in a Hurry
If you can't wait to get behind the wheel or you're existing vehicle isn't roadworthy, you might be tempted to rush into buying a new car. Unfortunately, this can often lead to buyer's remorse. Try instead to give yourself enough time to take a strategic approach to the purchase process. By doing so, you can ensure that the make and model you choose really does meet your needs and that you get a great deal. 
Buy from a Dealer
When you're purchasing a used or nearly new vehicle, buying from a dealer can offer more benefits than purchasing a car from a private seller. After all, car dealers will typically check and/or upgrade every vehicle before they sell it. Furthermore, you're likely to benefit from a warranty from a dealer, which you wouldn't do if you buy from a private seller. What's more – you can check the reputation of a car dealer to ensure you're buying from a reliable and reputable business. 
Get Insurance Quotes
Before you decide to buy a vehicle, be sure to get a range of insurance quotes first. Car insurance is compulsory, so this isn't a cost you're going to be able to eliminate. For some drivers, the cost of insurance can be as much as the sale price of the vehicle, so it's always something that should be taken into account. By getting personalised, tailored quotes in advance, you can calculate the total cost of owning a particular vehicle and make sure that it falls within your budget. 
Trade-in Your Vehicle
If you want to get rid of your existing vehicle once you've bought a new one, a trade-in or part-exchange could be a viable option. This can be another advantage of buying from a car dealer, as they're much more likely to consider reducing the cost of your new car if you trade-in your existing vehicle. 
Negotiate the Price
When you're buying a vehicle, don't be tempted to pay the advertised price without negotiating first. Most sellers expect a buyer to haggle, so it's highly likely they'll be willing to knock something off the price. By doing your research, you'll know what a fair price is, depending on the make, model, age and condition of the vehicle, which will give you a good starting point to begin your negotiations. 
Buying a Used Car
There are many pitfalls to avoid when it comes to buying a used car but the more research you do and the more patient you are, the more likely you are to have a successful outcome. With perseverance and dedication, buying a used car could be a smart investment decision.