This post may contain affiliate links which means that if you click through to a product or service and then buy it, I receive a small commission. There is no additional charge to you.
With investing, your money is at risk. The value of your portfolio can go down as well as up and you could get back less than you put in. The tax treatment of your investment will depend on your individual circumstances and may change in the future. You should seek financial advice if you are unsure about investing.

If you don't understand fully how the stock market works, don't know your shares from your bonds (or which ones are 'any good'), or you get confused by what a fund is, using a robo-advisor to get started with investing could be a game changer. I've teamed up with Wealthify to write this article on robo-advice and how it can help you get into investing, even if you are a complete beginner. 
I wish robo-advisors had been around when I first started investing; I certainly wouldn't have made so many of the mistakes which I made investing in individual shares! 

What is robo-advice?
Traditionally, if you wanted to invest your money, you had a couple of options. You could discuss your needs and goals with a financial advisor, and then hand your money to them to invest and manage on your behalf. Alternatively, you could learn about how the stock market all works, sign up to a do-it-yourself platform, select your own investments and monitor them yourself. 
But what if you can't afford to work with a financial advisor, and you haven't got the time or the inclination to learn about the stock market and manage your own investments? 
This is where a robo-advisor can help. 
Robo-advice is a low-cost way to help people invest, with the help of technology. You don't need to know the ins and outs of how the stock market works or what to invest in to start investing using a robo-advisor. 
Whilst a robo-advisor is not regulated to give you tailored advice on whether investing is right for you like a human financial advisor would, they will build an investment plan which works for you. They do this using a combination of clever computer algorithms, and industry experience to pick the best funds available for you. (Yes, there are humans behind the scenes too). 
Your actual money is then looked after over time by a team of qualified investment managers, who monitor your investments on an ongoing basis to make sure they're on track.
Your 'Investment Style'
The robo-advice approach to investing is relatively simple and straightforward.
To get started, you just need to ask yourself the question 'how much risk am I comfortable taking when it comes to my money?'
With Wealthify, there are five 'investment styles' which correlate broadly to the answer to the question around how much risk you are prepared to take with your money. 
With the
Cautious
style, minimising loss is the priority. Small movements up and down in the value of your investments are acceptable, with the aim of beating inflation.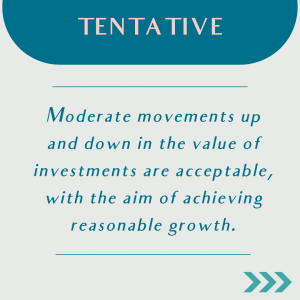 With the
Tentative
style, limiting loss is important. Moderate movements up and down in the value of your investments are acceptable, with the aim of achieving reasonable growth.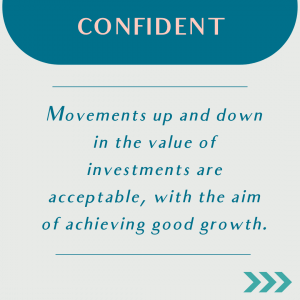 With the
Confident
style, minimising losses is as important as making gains. Movements up and down in the value of your investments are acceptable, with the aim of achieving good growth.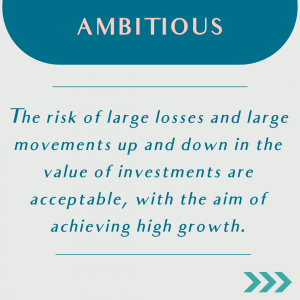 With the
Ambitious
style, making gains is the priority. The risk of large losses and large movements up and down in the value of your investments are acceptable, with the aim of achieving high growth.
With the
Adventurous
style, maximising returns is the priority. The risk of substantial losses and substantial movements up and down in the value of your investments are acceptable, with the aim of achieving the highest growth possible.
The Wealthify dashboard (shown below for illustrative purposes) shows you the projected value of your investment after a number of years under some different scenarios, based on the investment style you choose and the amount you put in upfront and ongoing. You can play around with the number of years you stay invested to see what this does to your returns. Remember, investing is a long-term game, and you should be looking at a minimum 5 year horizon – but preferably much longer. You can also look at the impact of changing your monthly investment or initial deposit.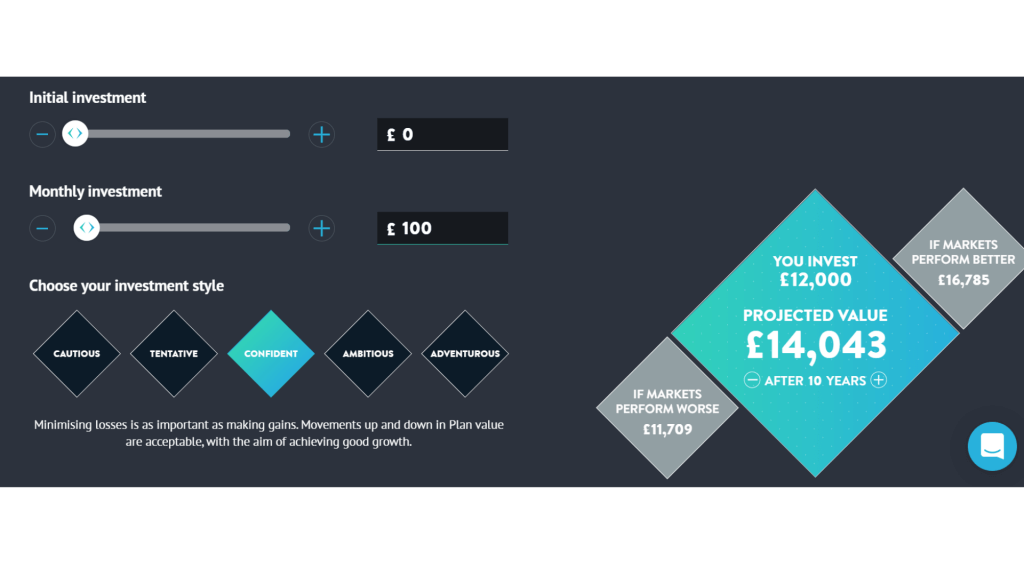 Studying the grey diamonds – which show the performance of your investment depending on market conditions – is a really good way of getting a feel for whether the investment style is right for you. Are you comfortable with the potential returns, especially the negative returns, at the risk level you've chosen? If not, you can drop down a level and see how that makes you feel instead. 
I love this simple approach to getting started with investing which Wealthify embodies – you just need to choose how Cautious or Adventurous you want to be with your money, and they then put it to work for you.
You don't need to pick any stocks or choose what to invest in. The Wealthify Investment Team, helped with algorithms, will do all of that for you.
Suitability test
As an FCA regulated investment provider, Wealthify are required to ask all new customers to undertake a suitability test when they open their account. The suitability test involves being asked a handful of simple questions, including around your monthly outgoings, your time horizon for achieving your financial goals, and whether you have any prior experience of investing.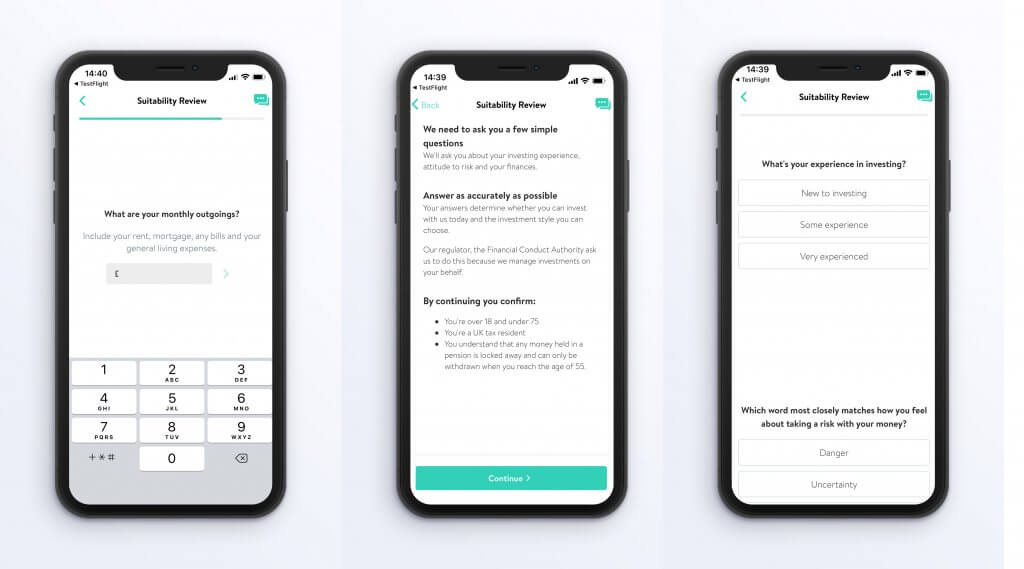 This short series of questions is designed to check that your attitude to risk matches with the Investment Style you have selected, and that your financial situation is suitable to begin investing. Clever, eh?
So what *does* Wealthify invest in on your behalf?
So, you've decided how much you want to invest and at what risk level, or investment style, and the suitability test says you're good to get started. Then you fund your account and Wealthify will then take care of the rest for you. 
You are now an investor! How easy is that?!
Whilst you might not want to learn all the ins and outs of the stock market and understand the details, it's a good idea to understand broadly what your money is invested in. Financial adulting is all about taking an interest in your finances after all, and paying more attention to your money. 
Most novice investors assume that investing involves picking stocks and shares of individual companies which you think are going to perform well. But this doesn't have to be the case. 
There are lots of different assets you can invest in, and different ways in which you can get exposure to them too.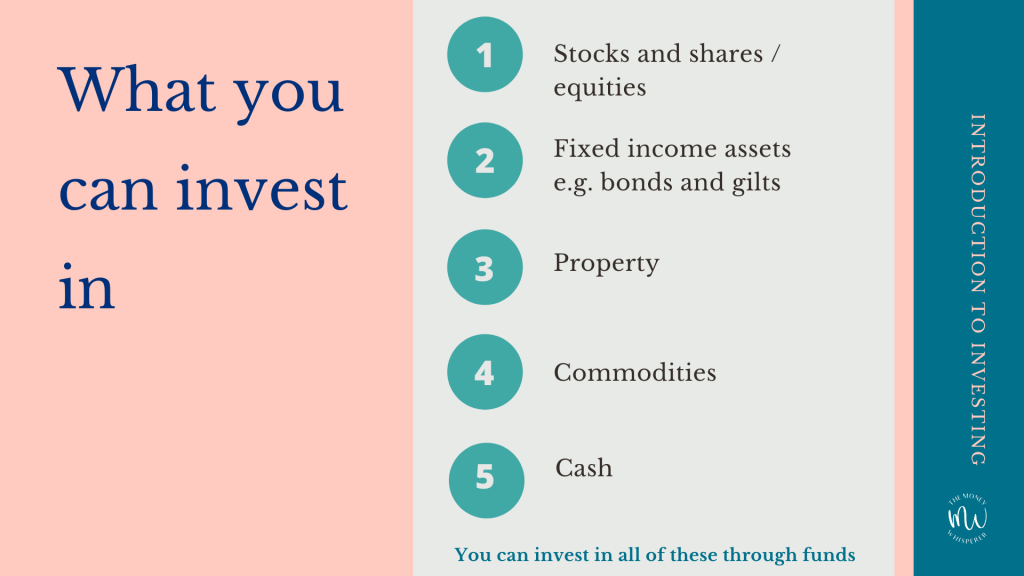 When you invest with Wealthify, your money is invested using a number of funds. Funds contain a collection of investments and are often a convenient and cost-effective way to invest. 
Some funds contain just shares, but they may also contain other assets, like bonds, property and commodities (such as precious metals, energy and agriculture). Funds can also be made up of assets within a particular industry or geography or which share an ethical or sustainable stance.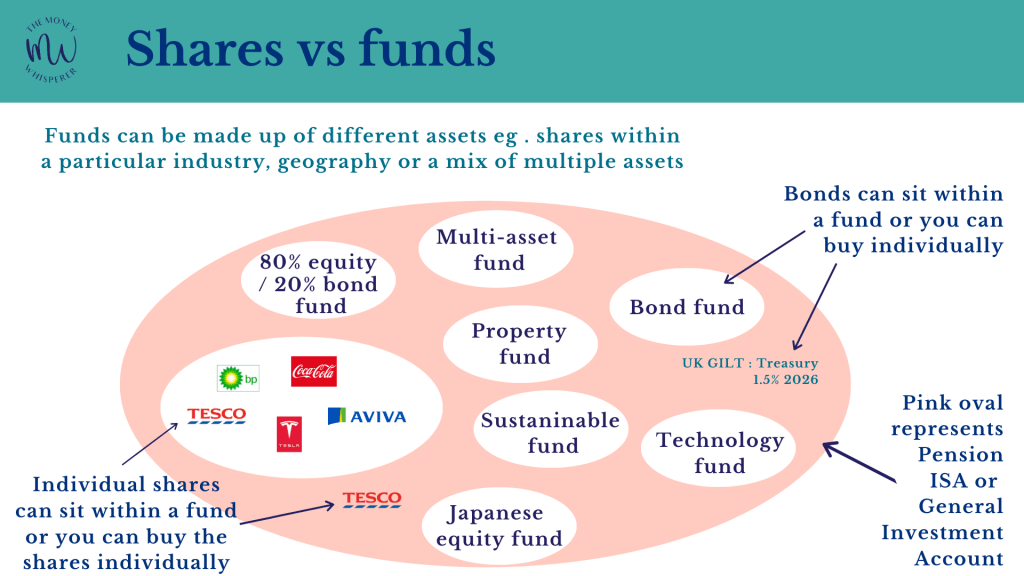 Wealthify uses mostly low-cost passive investments, such as exchange traded funds (ETFs) and mutual funds. These let your money track a market index like the FTSE 100 in the UK, and many others around the world. 
Diversifying your risk
Why does Wealthify invest your money using funds which have exposure to lots of assets, rather than picking individual companies or bonds to invest in? 
Investing in lots of assets is known as diversification, which is a way to spread out and reduce your risk. 
If you invested in just one company and its share price dropped 50%, the value of your investment would have halved. However, if that one company was part of a fund of say 100 companies and the same drop occurred in just that one company, the impact of that decline on the value of the overall fund is heavily diluted. So, you can see how diversifying what we are invested in i.e. having lots of different assets in a fund and/or investing in different funds, reduces risk. 
If you've ever heard anyone say that investing should be boring, this is what they are talking about! Investing in funds is not about trying to pick the next great company which you believe is going to shoot up in price, but instead investing in a basket of solid companies or assets that is well diversified. 
The thing I really love about Wealthify, and why I wish robo-advice had been around when I first started investing, is that no matter how much money you start with, you still get a Plan containing lots of investments from markets all around the globe.
So, you aren't reliant on just a few investments to perform well (which is what I did when I started – buying individual shares concentrated mainly in one industry in the country I was living only!)
Wealthify customers investing small amounts of below £750 get a Plan containing around 15 funds, made up of approximately 6500 investments in total. Plans of more than £750 will contain up to 20 funds, including some more expensive funds known as Exchange-traded Funds (ETFs). These Plans will contain around 8000 investments in total.  
Investing through Wealthify allows you to have exposure to so many investments. 
Is there a minimum amount needed to invest? 
Wealthify aims to make it as affordable as possible to open an account with them. You can start your ISA, general investment account (GIA) or Junior ISA account for as little as £1. You can then choose if you want to make additional one-off or regular monthly payments. 
Remember that the deadline for contributions to ISAs and Junior ISAs for this tax year is 5th April, which is coming up soon. You can contribute a maximum of £20,000 during this tax year. If you don't use it, you lose it as the start of the new tax year resets your annual allowance.