This post may contain affiliate links which means that if you click through to a product or service and then buy it, I receive a small commission. There is no additional charge to you.
The leaves are falling and the ground is covered in conkers. We've had our heating on for a few weeks now and whilst my husband is moaning it's like a sauna, I am nice and toasty!
Though there are many places in the home where heat can escape and cold air can enter, windows are one of the biggest culprits. We have a small issue with a couple of our windows which were re-fitted last year. The alignment isn't quite right and there is a gap which causes a draught. Today I have finally got round to ringing our local window fitter to ask him to come and re-align them so my hot air doesn't escape! We should be fully toasty by this time next week.
Autumn is the perfect time to have a thorough check of your home to make sure it's all in good working order and avert any potential issues before the winter arrives. There are some simple things to do which can save you money in the long run and ensure you don't end up with any nasty surprises. Here's my winter checklist.
Boiler
It is essential that you have your boiler serviced once a year and it's a good time to have it done before the winter starts. There is nothing worse than no hot water for a shower on a cold morning!
If you haven't had a service recently, check the pressure on your boiler by having a look at the gauge. If the pressure is too low, you'll need to 'top up'. You can do this using the lever or tap on your boiler, known as the filling loop.
Bleed air from hot water radiators. Turn on your heating system and once your radiators are hot, feel each one individually from top to bottom to check to see if all parts of the radiator are warming up. Cool spots, particularly toward the top of the radiator, mean that there could be air or gas trapped. This trapped air causes the cold spots, reducing their efficiency and increasing your heating bills. If you don't have a radiator bleeding key, they are inexpensive.
Check your hot water tank is properly insulated. You can reduce energy waste by as much as 90% by fitting the hot water tank with a lagging jacket.
If you don't already have a carbon monoxide alarm in the room which your boiler is in, please get one. They save lives.
Water pipes
Check the lagging on your external water pipes. Even water pipes inside near to external walls can freeze if they are not properly lagged (as the cold transmitted thought the wall could freeze the pipe) so check these too.
Disconnect hoses from outside taps and turn off the water if you have a separate water supply to outside.
Avoid frozen outdoor taps by fitting a thermal insulating tap jacket.
Do check that you know where your stop cock is in case you do ever have a burst pipe – if you can switch off the water supply as quickly as possible, you will be able to limit the damage, and the associated repair bill.
Windows
Ensure that all windows are sealed tightly to avoid draughts.
Shut your trickle vents and ensure instead that you open the windows once a day to ventilate the room and change the air.
Caulk or apply weatherstripping around problem draught areas.
Exterior walls
You will notice that different sides of your home are affected by the weather in different ways.
North facing walls are prone to damp and mould because of their lack of sun exposure. Mould can be removed with a good fungicide wash.
Conversely, south facing walls which are exposed to the most sunlight suffer from peeling and cracking. If any paintwork needs touching up, autumn weather provides the perfect conditions.
Guttering
Gutters full of damp and decaying leaves can cause your gutters to sag, bend, or break. In addition, certain leaves and pine needles release acidic chemicals when they rot, eating through the metal of your gutters if you don't have plastic ones.
If you can't get up on a ladder or reach the gutter safely from a window, to dislodge the blockages with a gutter scraper, you can buy a special gutter cleaning attachment for your garden hose, which will create a powerful spray you can aim at the blockage.
Draught excluders
As a rough guide, fitting draught proofing can reduce your heating bill by £8-10/year per window or door. In addition to saving money on your energy bills, these letterbox draught excluders are also recommended by the police as an excellent anti theft device as it helps to prevent important keys being stolen via the 'hook and grab' method.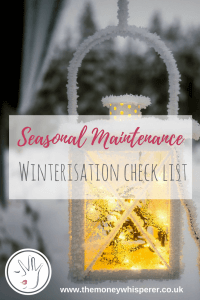 I hope this has given you a bit of motivation to winterise your homes with my checklist and hopefully you enjoy a stress free winter.