This post may contain affiliate links which means that if you click through to a product or service and then buy it, I receive a small commission. There is no additional charge to you.
Many of us spend our entire lives planning ahead and saving for retirement. After all, the last thing we want to worry about is our financial situation when we reach our golden years.
However, there's a lot more to retirement than just money. What about support? How will you get help when you need it? And are you going to have enough company to continue being social?
There are lots of small considerations to think about during retirement, and many of these concerns can be solved with a retirement village.
So in this article, we're going to talk about retirement villages, what they are and why you might want to consider moving to one.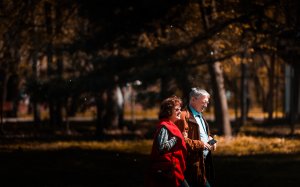 What is a retirement village?
A retirement village is often described as a small community or housing complex that is designed for seniors who are in retirement. This may sound like a care home to some degree, but a retirement village is mainly targeted at seniors that are still able to care for themselves and would like to continue living independently.
Despite this, there are still plenty of amenities and services that are aimed around improving the lives of seniors in retirement and giving them the support they need to continue their lifestyle.
Retirement villages tend to limit entries based on criteria. For example, one retirement community might be age-restricted while others require candidates to be partially or fully retired. Some of these retirement villages may even allow family members to stay with the seniors.
These communities usually host events for residents to encourage healthy living, and they are usually situated near beautiful locations which is great for taking walks and exploring nature.
While this might already sound enticing, let's dive into a couple of benefits that come with retirement villages.
Retirement villages are an affordable option
Retirement villages can be surprisingly affordable as a housing option. Since retirement villages are restricted to people of a certain age, you also get access to things like medical care, therapy and even cleaning. Some retirement villages even offer cheaper transportation options, meaning you can make huge savings as a member of a retirement village.
Retirement villages offer a sense of community
We previously mentioned that retirement villages typically host events for residents. This helps residents engage with each other and also allows you to make new friends. Since most people that live in retirement villages are around the same age, it makes it easy to communicate with others and talk about subjects that are relevant to your age group.
Many people that live in retirement villages do so because it provides a constant connection to others. It allows them to meet new people and be surrounded by like-minded individuals to make life more enjoyable and exciting. Events often encourage groups of retirees to engage in physical exercise and fun games, meaning every day can be a unique experience with your community. Many retirees tend to live far away from their friends and family members, so having a local community to engage with can really enhance your life.
Retirement villages offer a lot of flexibility
One of the most helpful things about retirement villages is that they allow you to pick flexible living options.
You only pay for the services you need and you can avoid paying for things that you don't need. For instance, we've already mentioned that retirement villages can offer a sense of community, but some seniors prefer to stick to themselves and go out to visit friends and family members that live near the retirement village.
Similarly, some people prefer to get involved with their community at a retirement village to contribute and help others settle in.
Whatever you decide to do, retirement villages can fit around your lifestyle. It's important to look at reputable options such as Enterprise Retirement Living to find the most flexible options as it's not always available.
In terms of paying for services that you need, not every retirement village allows you to customize your package. But if you're looking for a comfortable way to spend your retirement years, look for a retirement village that offers flexibility that adapts to your chosen way of life.
Retirement village housing is low-maintenance
Retirement villages can vary in terms of how much space you get, but in most cases, you'll be sharing lots of community areas with other seniors.
These areas are managed by staff members and other community members, meaning you don't need to maintain a large area on your own. In fact, even your bedroom and personal bathroom can be cleaned by staff members if you prefer.
You don't need to mow the lawn, you don't need to worry about maintaining plants and you don't have to worry about vacuuming the house.
Since a retirement village offers you lots of convenient maintenance options, it's generally the preferred option for retirees that want to focus on their way of life instead of spending lots of time housekeeping.
You can simply pack up your bags, lock the door and go travel without fear of your home being broken into when you return. It also means that you can leave your home and visit friends and family members without worrying about your home being a mess when you come back.
As you can see, there are plenty of advantages to moving to a retirement village. It's not for everyone, but for the majority of the senior population, retirement villages are the perfect way to spend your golden years.