This post may contain affiliate links which means that if you click through to a product or service and then buy it, I receive a small commission. There is no additional charge to you.
With investments, capital is at risk and the value of investments and the income from them can go down as well as up and investors may not get back the amount originally invested.
---
Make your money work harder for you with these 5 hacks to boost your retirement savings.
If you've been following my mini-series on retirement planning, you'll hopefully be conscious of what you already have saved in your pension, how much you should be saving and what you are aiming for.
Today I have some simple hacks which can help boost your pension pot in the long-term, and make your retirement money work harder for you. Remember, the more you can put in during your younger years, the longer the power of compound interest has to work its magic.
1. Increase contributions in proportion with a pay rise
Pay rises are great! More money in your pocket. But before you head off and spend the new increase, consider putting a portion of it aside to increase your pension contributions. You could ignore it all together and stick the whole lot in! After all, you didn't have it before… Would you really miss it now?
2. Allocate a percentage of any 'bonus' money
If you receive a bonus from work as a lump sum, putting away some or all of it as a one-off contribution to your pension is a simple way to give it a boost.
Similarly, if you come in to a lump sum of money, from an inheritance or redundancy payment for example, think about whether you are in a position to allocate some of it to your retirement savings.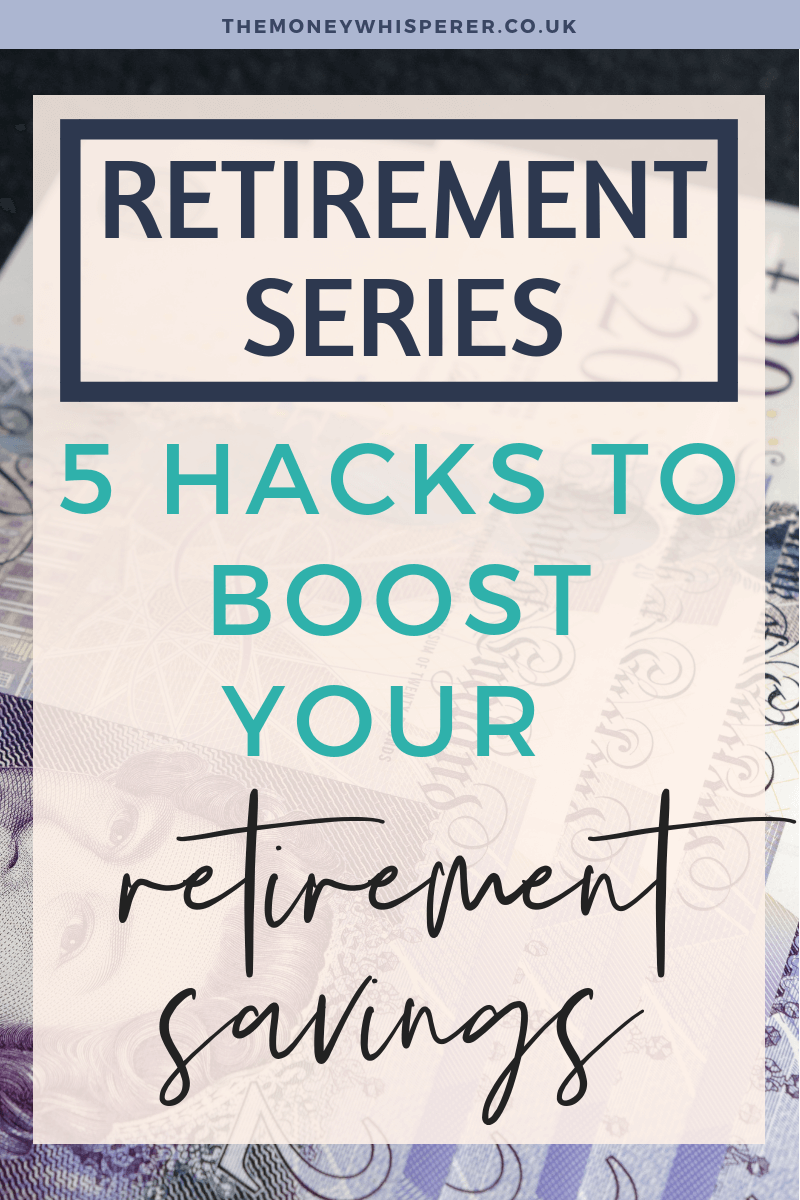 3. Increase your pension contributions by inflation each year
Whatever you are investing in to your pension, aim to actively increase this as you get older, otherwise the effects of inflation mean that in real terms you'll be investing less and less over time.
Check with your pension provider (or employer if you are in a workplace scheme) if you can automate this decision so it happens without you having to remember to authorise this increase.
4. Redirect money for reduced expenses
I regularly feature ways to decrease your household expenditure, whether it is paying off consumer debt, reducing your energy bills by switching to a cheaper provider, reduce car payments with Pip car rates or finding cheaper alternatives for grocery shopping, insurance and holidays. When you make savings on something, consider re-directing that money in to your pension.
It's not just about finding savings either. As you get older, your living expenses do tend to decline, for example when children leave home or your mortgages is paid off. When a regular expense finishes, this is a great opportunity to consider re-directing it for the benefit of your future self.
5. Maximise your employer contributions
It goes without saying that if you are enrolled in your workplace pension scheme, you should try to maximise your employer contributions. Make sure you know what your employer's maximum contribution is, and aim for your contributions to be at a level that you are getting the maximum from your employer. Even if you can't start there, aim to get there.
This is totally free money to you, and coupled with tax relief, can be worth a significant amount in to your pension savings.
---
Remember that The Money Whisperer does not provide financial advice. If you need financial advice based on your personal circumstances, please consult a financial adviser. You can find one local to you at Unbiased.