This post may contain affiliate links which means that if you click through to a product or service and then buy it, I receive a small commission. There is no additional charge to you.
This is a collaborative post.
Running a blog can be turned into a very successful business. If done well you can bring in a second income, or if it becomes bigger, a full-time income where you can work for yourself. Don't be fooled though, running a blog is time intensive and requires a lot of dedication, but if you enjoy what you are writing about, it can be a great money-earning hobby.
When starting a blog, it is important to think about what you will enjoy writing about, that way it doesn't fizzle out. If you are a lawyer by trade you may enjoy writing about legal news. Alternatively, as a sports fan you might like a sports blog. The possibilities are endless. Below are four tips to bring money in as a blogger.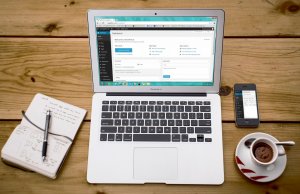 Affiliate Links 
If you are new to blogging, this one can be applied straight away. If you currently have a blog and aren't doing any affiliate marketing, then you should consider adding it to your strategy. When writing your blog posts, you can include a link about what you are talking about. By making it an affiliate link, you will be able to track how many sales have been made from people clicking it and can make a percentage of the sales yourself. Some affiliate links pay as high as 25% others lower. It depends on the brand. You can sign up to companies like AWIN and see what percentages they are offering. 
Sponsored Competitions 
The more readers you have, as measured by page views, the more likely bigger brands will want to work with you and ultimately the more likely they are to pay to be on your site. By having a good viewership, brands that have a similar interest to your niche may want to run a competition to promote their product to your readers. This is where you can make some money from your blog by charging them to run the competition. The more readers and reach that your blog receives the more you can charge them to be on your site. 
Sponsored Posts
As your authority grows as a blogger, you will start to attract brands within your niche who want to use your platform to advertise their businesses. This can be very lucrative depending on the niche you write in. Developing great brand relationships, and securing long term collaborations for sponsored content can be great for recurring revenue.
Banner Advertising 
Another one that will bring some revenue in instantly is by running banner ads on your site. Google has a system called Google Adsense and there are others like Mediavine too. By signing up you can run their ads on your site. Every click one of your readers make will earn you a certain amount. The money you make can vary but the more viewers and clicks you get the higher your earning potential is. The code is normally easy to install on your site and you can control what ads are seen so nothing inappropriate pops up on your site. 
Guests Posts 
Using your blog as a way to promote your writing ability is also a way to monetise your blog. Once you have established yourself as an experienced blogger or someone who produces good content, you could look to publish guest posts on other people's sites or corporate websites. By doing so the outlet that you are publishing may pay to feature your work on the site. It could be that they want regular content as they know their blog will grow due to your influence. If you wanted to you could then use this as a way to promote yourself as a freelance writer.