This post may contain affiliate links which means that if you click through to a product or service and then buy it, I receive a small commission. There is no additional charge to you.
I'm studying for a new money coaching qualification which will see me certified in September so I will be a little quieter on the blog over the next month or so. It's timed well with the summer holidays as things slow down a lot with people on holiday and generally enjoying themselves.
I LOVE what I am learning – it's all based around a model that determines that everyone views the opportunities and options they are faced with through the lens of their money personality. There are 8 archetypes and our money personality is influenced primarily by our dominant archetype, and then supported by the two next most influential archetypes.
I am totally amazed by what I have learnt about myself and it's helping me to make better, and new, choices. Looking forward to sharing more with you all when the time comes…
Studying and doing anything productive though is tough in this weather. Are you a lover of the heat, or a hater?
I am solar powered – it is no secret – so I love this time of year. I moved to Australia in 2006 for the sunshine, loved it and a 2 year secondment turned in to an almost 7 year stay. I came home with a husband, a baby and an Aussie passport! During the dark winter months, I often wonder why we moved back! So I love this time of year with the long evenings and sunny days. Give me a heatwave over rainy dark days any day of the week.
We've just spent the first week of the holidays in Norfolk – our happy place. So many great memories made and very little cost; crabbing off the quay, mud sliding, making sandcastles and endless hours of cycling. Heaven! I'd love to hear your best money-saving tips for staycations – let me know in the comments.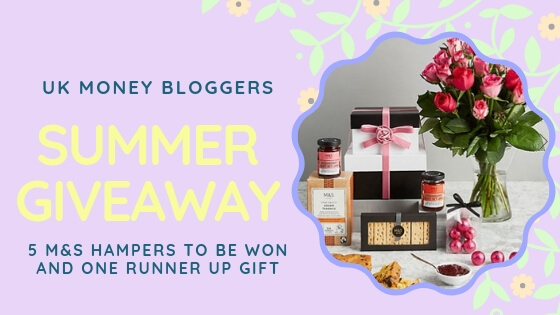 After the success of the Easter hamper giveaway, this summer, some of the UK Money Bloggers have come together to offer you the chance to win one of six M&S hampers. We have five hampers worth £50 each plus one £20 hamper to give away. Keep reading to find out how you can enter.
Who are the bloggers behind this giveaway?
The UK Money Bloggers are a group of bloggers, podcasters, and influencers in the UK who are passionate about helping you to improve your finances. Whether you want to make more money, spend less, understand investing or pay off debts, we all contribute something unique to the community. Here's who we are:
EmmaDrew.Info | Much More With Less | Thrifty Londoner | Your Money Sorted | MamaFurFur | Shoestring Cottage | Budgeting is a Challenge
This Money Works | My Money Cottage | The Money Saving Mum | Earning By The Sea | Joleisa | Thrifty Husband | Katie Saves | Bee Money Savvy |  Daily Deals UK
Thrifty Lesley | The Money Whisperer | Pounds and Sense | Inspiring Life Design | Mrs MummyPenny | Bronni | Money Blog Scotland | I Beat Debt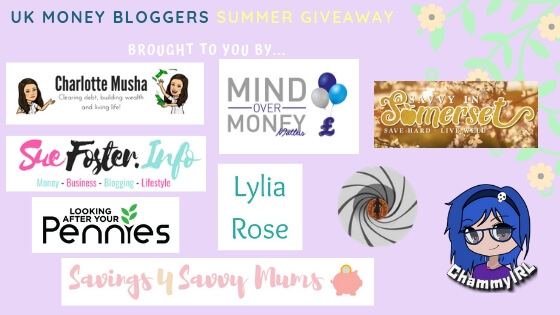 Charlotte Musha | Mind Over Money Matters | Savvy in Somerset | SueFoster.Info | Looking After Your Pennies | Lylia Rose | Miss Manypennies | Savings 4 Savvy Mums | ChammyIRL
Monethalia | SavvyMumUK | Mum on a Budget | The Female Money Doctor | Debt Free Family | Smarter Cash | At Home and Online | Bargain Bunny
Thrifty Mum | Super Lucky | Emma and the Girls | Mummy Saver Money Maker | Mrs Pinch | Reinventing Neesha | Matt's Cafe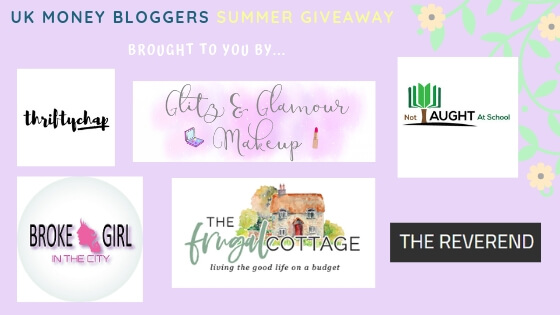 Thrifty Chap | Glitz & Glamour Makeup | Not Taught at School | Broke Girl in the City | The Frugal Cottage | The Reverend
The prizes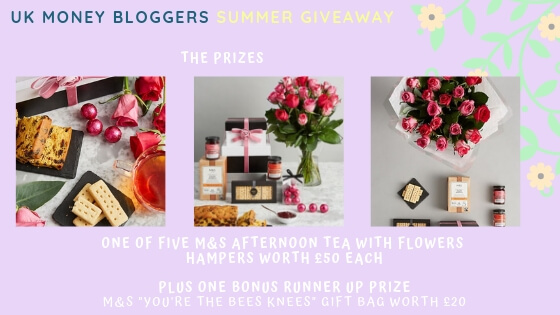 We are giving away six prizes in total.
You can win one of five M&S Afternoon Tea hampers worth £50 each, or the runner up prize of a £20 M&S 'You're the bees knees' hamper.
The rules
The giveaway is open until midnight on 31st August 2019, when the winners will be chosen.
The giveaway is open to UK residents only.
Winners will be contacted by email from [email protected]
How to enter
You can enter by completing as many of the Rafflecopter widget entry options below as you would like. You can also enter daily by tweeting from the Rafflecopter widget.
Good luck!