This post may contain affiliate links which means that if you click through to a product or service and then buy it, I receive a small commission. There is no additional charge to you.
This is a paid post in collaboration with Superscript. 


The Money Whisperer is 4 years old this month.
If you'd have told me 4 years ago that I'd be on billboards across the country, including the largest digital screen in Europe at Waterloo station, and a national TV campaign, I think I would have laughed. And yet, I am now a 40 year old billboard model!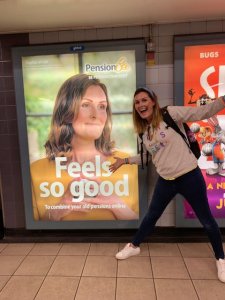 I am really proud of my journey over the last 4 years. The number of people I have helped to improve their financial literacy and take action to improve their financial situation, both through my blog and via the financial coaching and education side of my business continues to amazes me.
Writing for the Financial Times is still one of the major highlights!
View this post on Instagram
But what many readers might not know is that I didn't start out with grand plans to become a self-employed personal finance commentator, teacher or coach! 
Building and then writing my blog was simply a creative outlet, initially alongside paid employment.
I understood money and personal finance, so it was a topic that was easy for me to create content on and share my knowledge. Yet as more doors have opened with each year my business has grown, it has made me realise the power of finding that one thing that really lights you up in life and running with it.
When I quit my job and moved to full self-employment, it was really liberating.
Like many who do the same, the control I had over my schedule, especially whilst my girls were young, was the primary motivator. Doing something I loved whilst having the freedom to decide when and where I worked was fantastic.
The leap into being my own boss turned out to be a great one, and I thrived building a business around something I am hugely passionate about. 
And then just as my business was really starting to rocket in growth, the pandemic hit.
The first lockdown put the brakes on my business growth in those initial couple of months. Understandably nervous brands cut marketing budgets as stock markets dived around the world. Corporate presentations and speaking engagements, due to be in person, were cancelled. And because I hadn't been fully self-employed during the previous three years, when it came to the Self Employed Income Support Scheme (SEISS), I wasn't eligible. 
It's not surprising to me that recent research* by flexible SME business insurance provider Superscript shows a significant financial impact among the sole trader, freelancer and micro-businesses community during the past year.
In a sample of over 2000 small business owners, average income decreased by over 15% as a result of the pandemic; with women disproportionately affected (20%) compared to men (11%).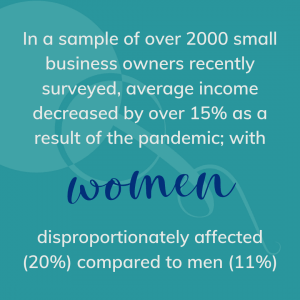 These findings come after academics said that the female self-employed have been 'overlooked' by government support schemes, with female take-up of the SEISS grant lower than male take-up. I wonder how many women had a part-time job alongside a freelance income, or hadn't been fully self-employed for the previous 3 years, which could have precluded them from accessing the SEISS. 
As a result of the drop in income, women have also suffered a greater mental toll than men. Over half (53%) of women surveyed say that their mental wellbeing has been negatively impacted by the pandemic, compared to 38% of men. 
In the face of business decline and decreasing mental health, the easiest route would be to head back to the relative comfort of paid employment. However, if there is one thing that self-employment teaches you, it is resilience. Over 75% of those surveyed took on a second job during the pandemic alongside their primary work in order to manage financially. 
Business is very personal and we all do what is right for our unique circumstances.
I couldn't go back and work for somebody else now so I took on the challenge of growing my business in the face of what was going on around me. 
I took a good look at the skills that I had, the relationships I had built already and how I could help the millions of people who were going to need support around their finances during this turbulent time. I adapted my offerings to include a low cost membership, built new partnerships and worked with more organisations who could see the value of online financial wellbeing sessions to help their employees through a difficult period. As a result, this past year has been the best year yet financially, by a long way. 
Over a year on from the start of the pandemic and with the path out the other side clearer, The Money Whisperer brand is going from strength to strength. I am looking ahead to the future with excitement. Certainly the Superscript research echoes my sentiment about the future, showing that 'optimism' is the prevailing state of mind for the self-employed (29%).
Female respondents were slightly more optimistic (30%) than their male counterparts (29%), despite being more heavily impacted. 
With the theme of positivity and optimism at the forefront of our minds, in celebration of our four year birthday, I wanted to provide some helpful tips to all the new businesses out there. For all of those people who are finding their feet in their first year or two as a sole trader, or who have ventured into a new side hustle that may or may not lead into something exciting like the Money Whisperer blog did for me, here are my top essential business tools that I wish I had had as a handy checklist at the start of my self-employed journey. 
Business banking
If you're a sole trader, it's not essential that you have a business bank account. However, if you don't separate your personal transactions from your business transactions, it makes life a whole lot more tricky when you do come to do your accounts at the end of the year! If you are a limited company, you will need a separate business account. 
I have always used Starling Bank – first a sole trader account and then a limited company account when I incorporated. The functionality and the ease of use has always impressed me. And it's free, which is more than can be said for many business banking offerings out there. 
Flexible Business Insurance
Set yourself up with the best protection framework right from the beginning to give you peace of mind that you won't face any unexpected legal challenges from your business endeavours. When it comes to insurance protection, you may need:
Professional indemnity insurance, which protects businesses from a range of exposures, such as mistakes in services they provide, compensation claims, contract disputes and IP disputes.

Public liability insurance is designed to protect you and your business against legal and compensation costs for any accidents that your business is liable for, injuring or causing damage to the property of clients, suppliers, or members of the public.

Employers liability insurance, which  is a legal requirement for UK companies, even if you only hire contractors, temporary or part-time staff.

Business contents insurance for your equipment, stock and electronic devices, whether you're at the office, your co-working space, or working remotely.
If you are growing a business, or adapting to a changing world, choosing protection that evolves with you, supports your journey and can adapt to meet your risks as they arise is crucial. 
Superscript provides flexible, small business cover on a monthly subscription basis, enabling businesses to adapt their cover as and when it's needed. This ensures you only ever pay for what you need, when you need it.
Accounting Software
Having a good accounting system that enables you to know exactly how much money you've got coming in and going out is incredibly valuable. This is especially important if you are not a numbers person!
I started off tracking everything with spreadsheets, but very quickly realised the value of having an all-in software from which I could send my invoices, track who still owed me money and see my cash flow. I've always used Quickbooks because I've used it previously in my corporate worklife. But there were a number of great options out there including Xero and Freeagent.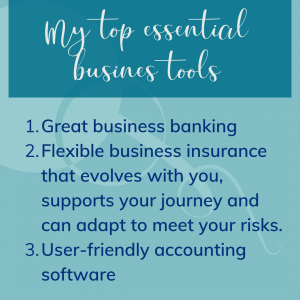 Does being your own boss appeal to you? Take Superscript's 'Business is personal' quiz to see how you'd fare.
*  The research was conducted by CensusWide, with 2015 Micro-business owners (1-10 employees) , sole-traders/self-employed and freelancers (with even quotas) between 03.06.2021 – 16.06.2021.