This post may contain affiliate links which means that if you click through to a product or service and then buy it, I receive a small commission. There is no additional charge to you.
On Saturday, The Money Whisperer won Best Investing Blog 2019 and Best Family Money Blog 2019 (for the second year running). To say I was shocked was an understatement, but totally elated at the same time! It's fantastic to be a finalist but when you win, it's such a huge pat on the back and gives me an incredible drive to continue on my path as I know what I am doing is having an impact.
An award win wouldn't be an award win without a little acceptance speech would it? So this is it! 
I am honestly so thankful to all of my readers for giving me the feedback to help me generate content that they want. Some people read and run, we're all busy. But a lot of people take the time to let me know when something they have read has resonated and that totally makes my day! I love to hear from you – write me an email, send me a message or a recommendation on my Facebook Page. Even a comment on a Facebook post to say you've read it makes me smile every time.
Thank you to the judges for seeing my passion. The judging panel includes industry experts – thank you to Habito and Vanguard for sponsoring and judging the categories I won – and financial journalists and fellow money writers. I write for people who don't necessarily know as much about financial matters as me and who are looking to better themselves; these guys DO know their stuff so I'm pleased I withstood the scrutiny!
Finally, thank you to all at the amazing UK Money Bloggers community for being the most incredible, collaborative, sharing and supportive community out there, and especially Andy Webb from Be Clever With Your Cash who started the group and organises the conference and awards! I look forward to this conference and awards night so much; who wouldn't love hanging out with a bunch of money nerds?! 
My readers are just like me so it's super easy to write content that resonates with people just like me! Content for people with families comes easily, and if you have a family, it's a natural one to engage with. If you are a parent reader, thank you for coming on the journey with me as we navigate through buying a home, upgrading our homes, thinking about our children's futures and generally managing our family finances across food, holidays, clothes and more. If you aren't in my Facebook group Financially Fit Collective, I'd love to have you there as we talk about a lot of this in there.
After last year's wins, I set myself a goal to focus on two topics; future planning for your finances and getting women talking about, and starting with, investing. 
I did a Retirement Series which kicked off in February in which I wrote about everything ranging from how much should you be putting in to your pension through to whether signing up for a Lifetime ISA before you reach 40 is a good idea. 
I've been pushing the investing message the whole year, not just on The Money Whisperer, but in the wider media too. 
I featured in

The Guardian in a great article

which inspired women to reconsider keeping their savings in the bank as inflation was eating away at it. 

I've also worked with Steps to Investing who produce an amazing Youtube channel which explains everything you need to understand and gives you the tools, information and help you need to get started on your investment journey. You can see

my interview here

.

I took part in the Exo Investing Embrace Investing campaign aimed at helping more women get talking about investing. 
I love investing as a topic and am hugely passionate about its power to grow wealth. But investing as a topic to get others excited about is tricky, especially if they are beginners.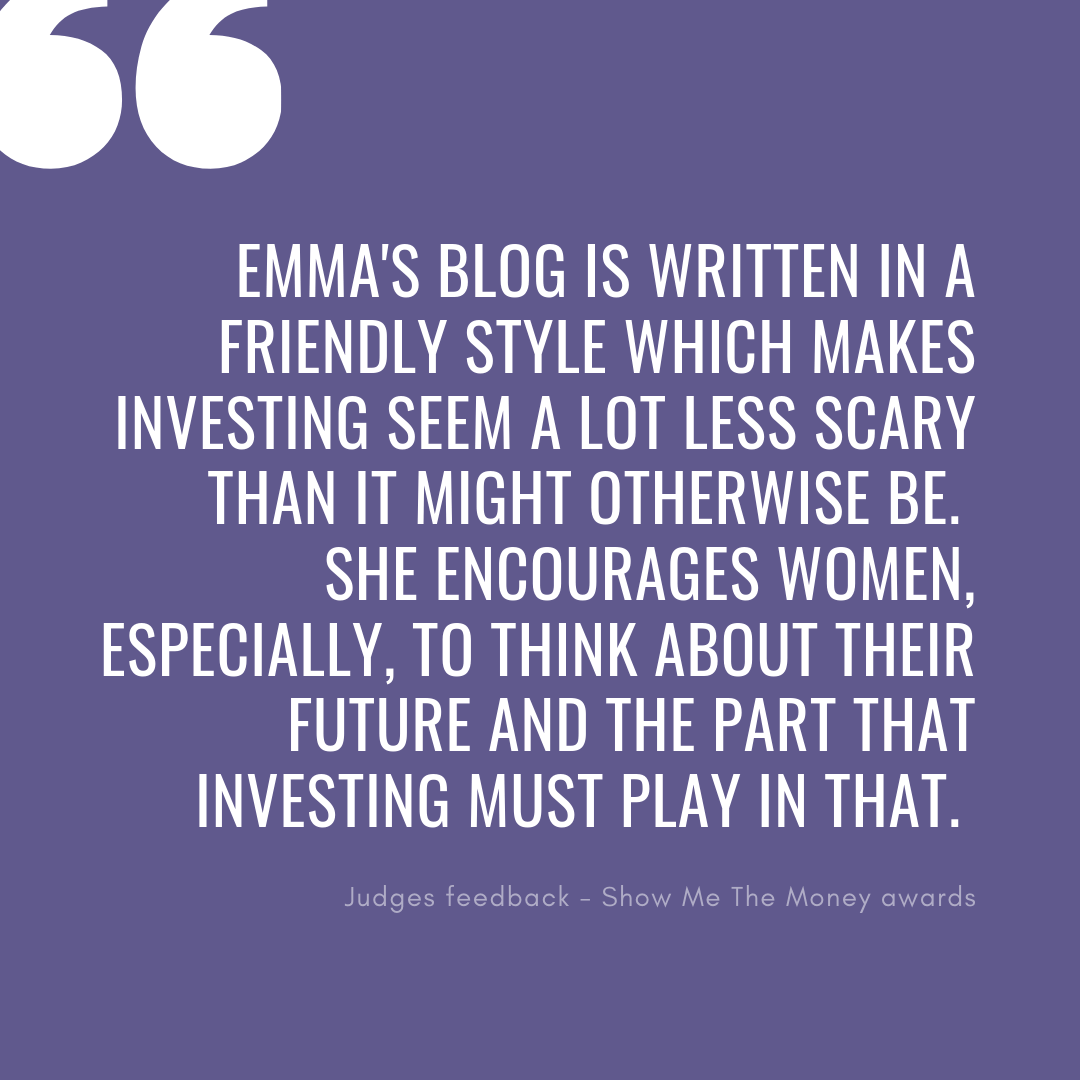 The numbers speak for themselves – my target demographic aren't natural investors. I attract mostly women readers and the evidence shows that women don't have the same eagerness to jump in to the stock market as our male counterparts. 
Which makes this win all the more special for me.
The blogs I was up against are predominantly what I would call 'true' investing blogs. They are blogs that investors go to to reassure themselves of their decisions. They are the blogs which people who already have confidence when talking about the stock market check in with for technical chit chat and analysis.
You won't find that on my site. I am different, and intentionally so.
I'm focused on getting people to take that first step with investing by empowering them with the confidence to do so. I actually don't have a huge amount of investing content on my website compared to the websites which are devoted to investing but what I do have is aimed at beginners. It's all jargon-free investing for beginners type stuff. 
This is why I am so proud that my message aimed at beginner investors, and especially women, has been recognised through this award.
We all have to start somewhere!
What's next?
Achievements always make me stop and self-reflect on how far I have come and where I am going. 
After winning two awards last year, I decided that as well as talking to the masses through my blog, I wanted to make a more personal impact. I have been coaching with one to one clients since the start of the year and I absolutely love it; the joy of seeing someone get clarity on what's stopping them and learn how to move forward is so rewarding.
My big news is that I have just finished my certification as a money coach using a personality framework which is quite frankly amazing! If you've ever taken a Myers-Briggs profile at work or similar, you'll know how valuable it is to understand about the different aspects of your personality. Knowledge brings the ability to capitalise on your strengths and challenge yourself around your weaker areas.
This is just like that but for your money personality. 
And let's face it, how you approach money is how you approach most things in life so this knowledge is so powerful. 
The self-insights I have gleamed from this training personally has pushed me hugely. So much so that….
I have started my training to become a Neuro-Linguistic Programming Practitioner. NLP is a psycho-therapeutic approach that facilitates the process of making positive changes and achieving goals in an effective and lasting way; it's going to be invaluable for me in helping people make and stick to the changes in their behaviour and mindset around money. 
So what is coming up for me? Well I'll be doing more work both in coaching and on the website around money mindset and how to eliminate any issues or subconscious blocks you have regarding money. It's an area I absolutely LOVE and which anyone can benefit from. I want to do a lot more speaking in this area as getting to grips with this can have a powerful impact on everyone so I want to take it out there in a big way!
And I'm open to offers – let me know where you think you want to see me head next!
Thanks for coming on the journey with me.