This post may contain affiliate links which means that if you click through to a product or service and then buy it, I receive a small commission. There is no additional charge to you.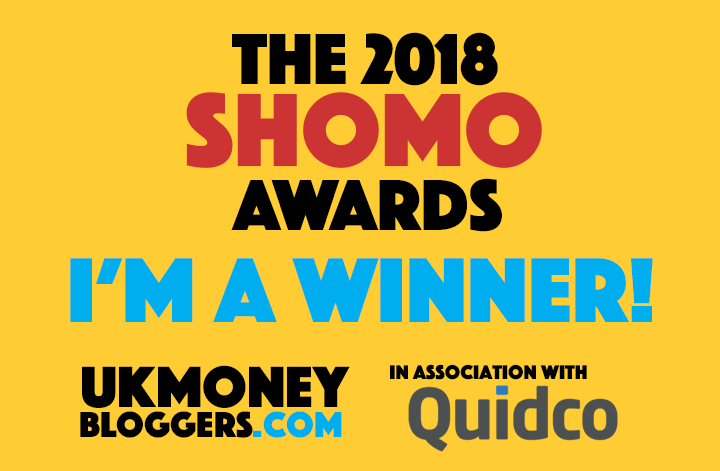 Multi-award winning personal finance blogger. That's my new title. Whaaaaaat?
At the UK Money Blogger's Annual Awards in London last weekend, I won two awards; Best Personal Finance blog and Best Family & Money blog. To say I was shocked is an understatement!
Being shortlisted in the final 6 was an achievement in itself and to walk away with two wins is absolutely fabulous. I am over the moon.
As you can see here!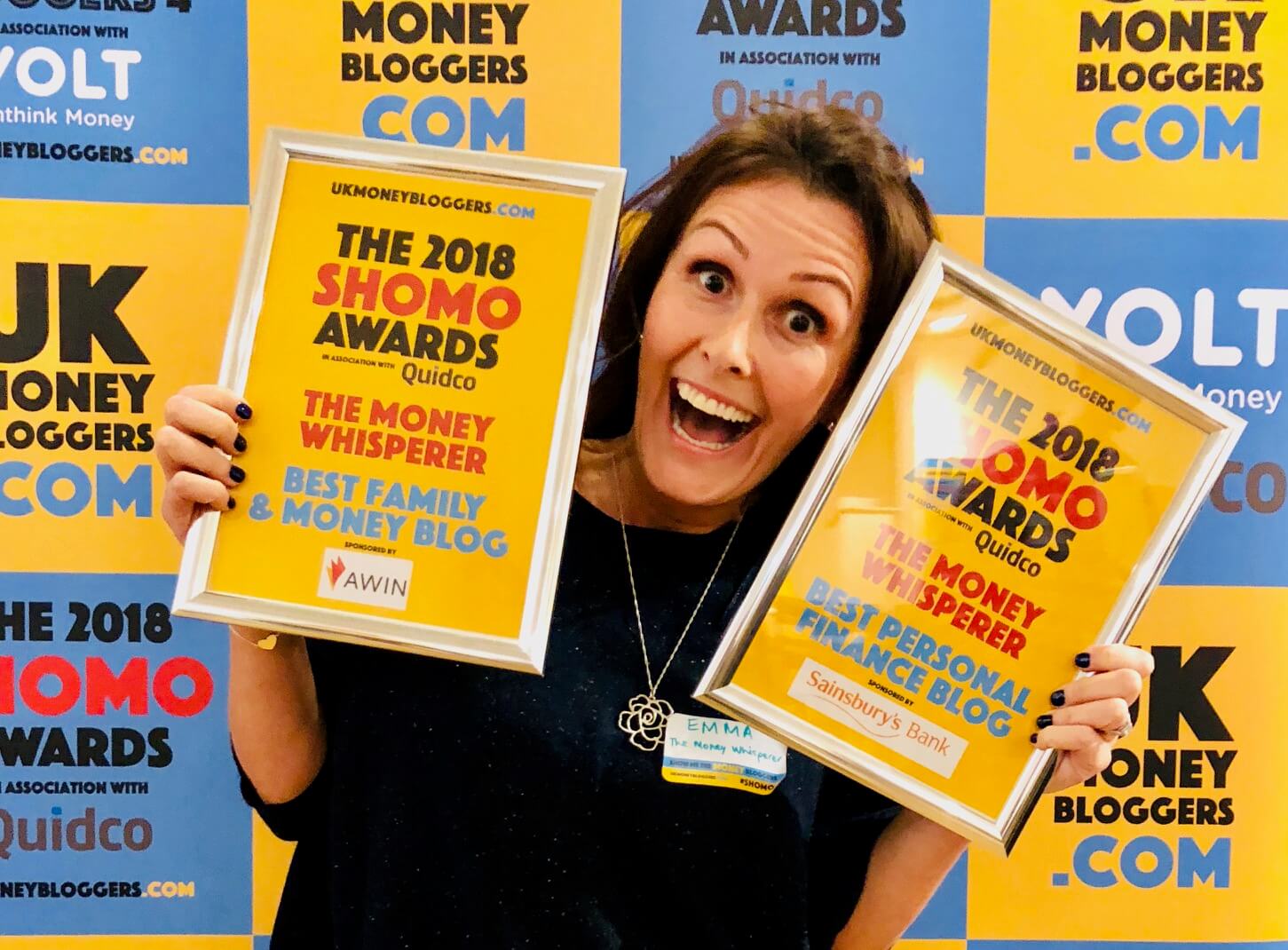 After recently featuring in the national press in a campaign around child benefit and state pensions, I was thrilled when my first award – Best Family & Money blog – was announced.
'As a parent myself – I'm a mummy to two little girls – I want to help other parents to talk about what they don't know about money and be empowered to make good decisions. Of all the things I write about, the content that is most meaningful for me is that which enables other families to make valuable money-related choices.'
I believe everyone needs a good grounding in basic money matters. Once you have dependants, a level of personal finance knowledge is crucial. This is really the reason that I started writing the blog in the first place; to provide somewhere to discuss money topics and to get people like my mum friends interested in making better financial choices for themselves and their children.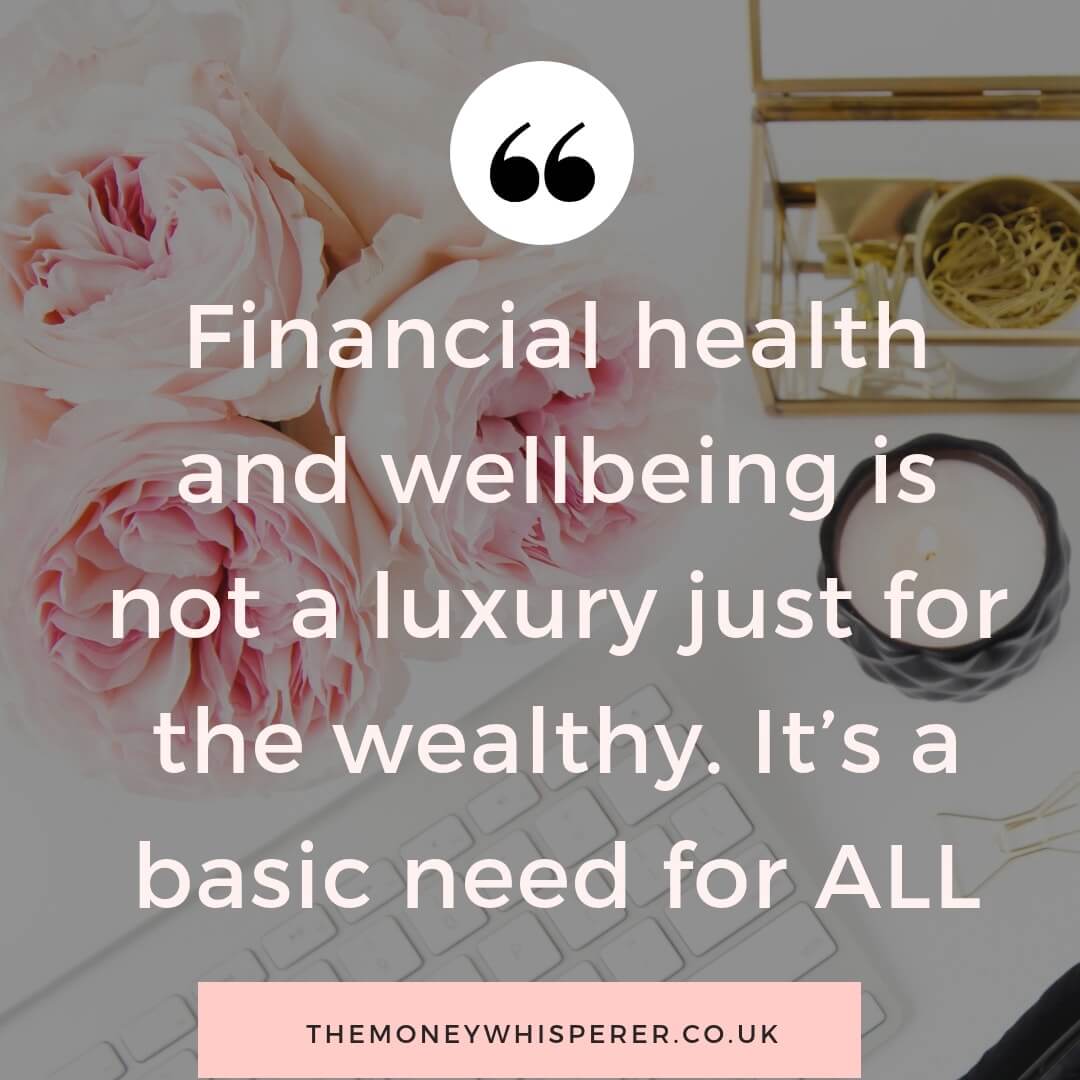 When I started The Money Whisperer and engaged with my new readers, I was shocked by how many of them had no will and no life insurance. It's not that people don't know they need them; they just don't know where to go or how to get started, or even the questions they need to ask of the service providers. A fear of appearing 'stupid' and not knowing something they feel they should know often keeps people in a state of inaction.
Not with me around!
My content on these topics drives so many emails from thankful parents who have ticked a task off their 'too hard basket' list because of my guidance. This makes my heart smile.
Ultimately, I started The Money Whisperer because I believe that financial health and well being is not a luxury just for the wealthy, it's a basic need for all of us.
I want everyone to feel in control of their situation whether they have a lot of money in the bank or very little. Becoming 'good with money' is something anyone can do. Its like riding a bike; first you need someone to show you what to do and run alongside you for a while supporting you. Then, the more training you have and the more practice, the better you become and soon you can ride long distances by yourself without falling off.
In the 18 months I have been writing at The Money Whisperer, I have covered broad personal finance and family lifestyle topics including childcare costs, insurance, pensions, writing a will, saving and investing.
I love hearing from readers about what they want me to write about; this article on co-habitation agreements was inspired by an old school friend who contacted me asking me if I could write about what to do with your finances when you aren't married but living with a partner.
Where to for this award-winning personal finance blogger in 2019?
2019 is going to bring further focus to my writing and direction.
I want to help change the way that women in particular engage with money.
The media at large plays a huge role in how each sex identifies with money, with women more generally targeted as the money savers rather than the money makers. I am going to shake this up by inspiring women to get talking about money more, get interested in investing and saving for the future.
Why should men have all the fun?
Building on the success of the 'Investing : a woman's perspective' series, 2019 will see a lot more content on investing, pensions, future planning and wealth generation.
Alongside offering money coaching to private clients, where I can help you learn the tools to be able to manage your finances and feel in control of your money, I am going to be offering courses and group coaching in popular areas.
Some thank yous
It's been a fabulous learning journey so far and I realised at the SHOMOS conference at the weekend just how far I have come when I was surrounded by others who are just at the beginning of their money blogging journey.
Thank you to the UK Money Bloggers community at large for the friendships (some online and others which have developed in to genuine friendships offline), and particularly Andy from Be Clever With Your Cash who organises the community and the awards and Lynn from Mrs Mummypenny who has supported me hugely this last year. We all learn so much from each other and I absolutely love the collaboration within the group.
Big thanks have to go to my husband and kids who have encouraged me to pursue my passion. Hearing the girls talk about mummy the money blogger makes me laugh out loud a lot of the time.
My biggest thank you is saved for my Dad; he is a huge inspiration to me and has taught me the greatest foundations on which my own personal finances are based. Our parents' money story is often the story which we carry forward with ourselves through our lives – it makes sense as its what we grow up seeing around ourselves and interacting with. I am thankful that I saw such positive messages growing up, particularly around working hard for the things I wanted, aiming high and avoiding bad debt. He's also taken some clever risks during his career and this has given me the inspiration to turn my back on my corporate finance career which ultimately I worked really hard for, to do something which I am passionate about and help educate others on personal finance. Thanks Dad (and Mum who is his rock in the background!) x
Finally, to all my readers – it wouldn't be worth it if I didn't have you. Thanks for reading, contacting me with your stories and sharing my articles. Thank you, thank you, thank you.
If you love what you read here on the blog, come and support me over on all of my social media channels; please share and help me reach more people who could benefit from learning how to better manage their money: Facebook page, Moneywise Mum Facebook group, Twitter and Instagram
---
Do go and check out the runners up in the Best Family & Money blog – Laura at Savings 4 Savvy Mums and in the Best Personal Finance blog – Ken at The Humble Penny.