This post may contain affiliate links which means that if you click through to a product or service and then buy it, I receive a small commission. There is no additional charge to you.
Do you struggle with what to buy your loved ones as gifts? I've used a Christmas planner for the last few years which helps me remember what I bought people in previous years so I don't duplicate. I still struggle with inspiration sometimes though.
As I get older and wiser, I'm a big believer that experiences are far more valuable than 'things'.
We've always bought annual passes for the children – over time we've had passes for our local Safari Park, Gullivers Theme Parks and local farms. These are the gift that keep on giving as they last a whole year. They are such good value for the fun that you get out of them.
When it comes to the adults I buy gifts for, they are mostly all married and have nice homes full of things already. What to give someone who has everything they need?
I like the idea of buying them something to do and enjoy. 
Buyagift is the UK's leading provider of experience days and gift experiences.
With over 4,500 gifts and experiences to choose from, Buyagift has pretty much something for everyone! For the adults who like pampering there are spa days and afternoon tea in all sorts of glamorous locations. For those who enjoy a more exhilarating experience, there are racing days, clay pigeon shooting and stadium tours.
My daughter and I recently tried the iFLY Indoor Skydiving Experience for Two.
iFly Indoor Sky Diving Review
Bizarrely, out of the blue my only just seven-year old said that she wanted to skydive. As skydiving again is on my 40 things to do before I turn 40, I was more than happy for us to do it together. She's always been the more anxious of my two daughters so her enthusiasm was a surprise!
We have an iFly indoor sky diving centre just 5 minutes down the road from us so it made sense to try it out there for ease. There are three around the country in Milton Keynes, Manchester and Basingstoke.
Booking with your Buyagift voucher is straightforward; log in to the redemption page and log in using the reference number and pin code found on the voucher. Do be aware that the vouchers have an expiry date and you do need to have taken part in the experience by this date, not just booked it.
I picked a 10.30am slot as even though we are close, you do need to be there an hour before you flight time to complete waiver forms, get the gear on and watch the safety videos.
We'd been told in advance with our booking confirmation that we needed lace up shoes; no Velcro or slip ons. Those without them could hire at the desk.
Once we had emptied our pockets, donned our jumpsuits and collected a helmet, earplugs and goggles, we headed in for a safety briefing. There were five hand signals to learn which the instructors use to communicate with you as it is impossible to hear in the wind tunnel. One for keeping your chin up, one for straightening your legs, one for bending your legs (its all about the body position!) and one for 'just relax'! Oh, and the 'I'm a celebrity, get me out of here' downward thumbs too….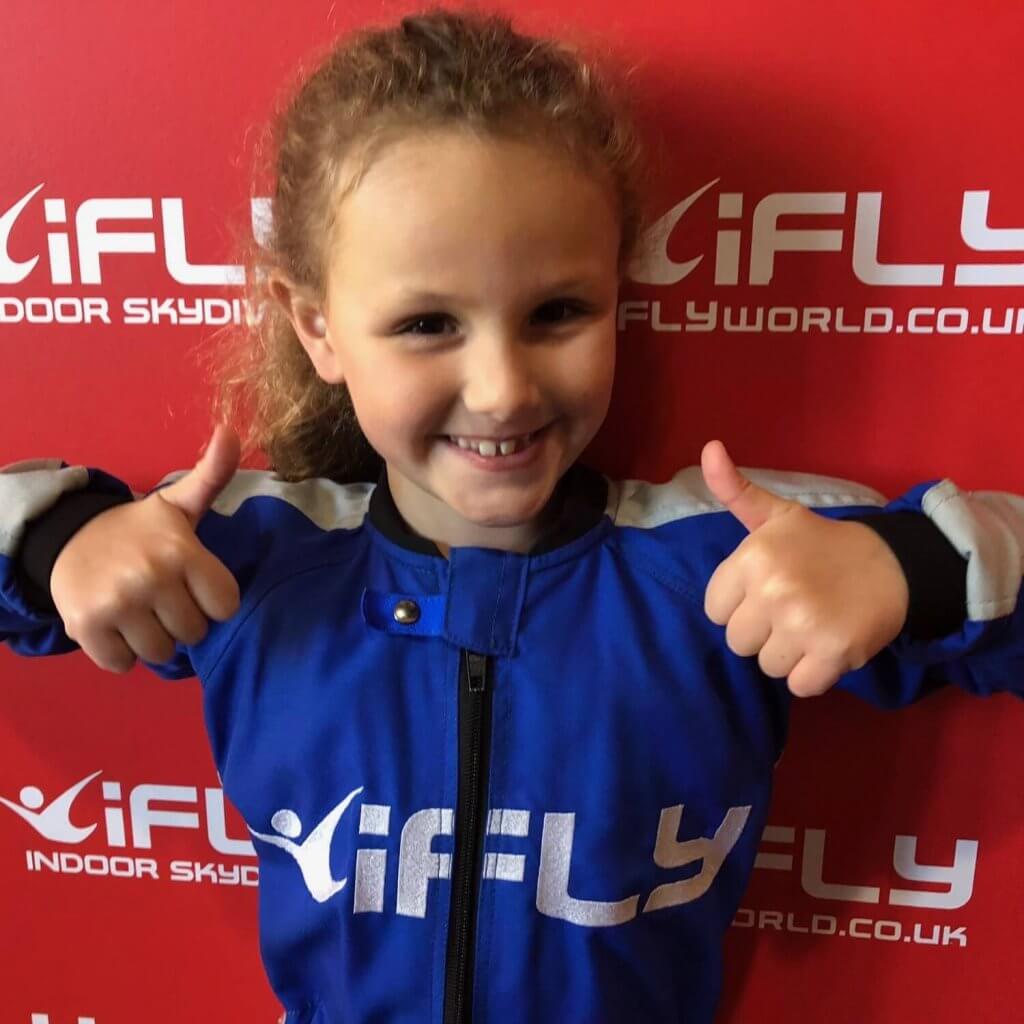 We got to watch the group before us in the wind tunnel so we knew what to expect. Some managed it perfectly, others needed some guidance from the instructor who stays in there with you the whole flight. There was a three year old in that group (iFly allows fliers from age 3 and upwards) and he was just incredible.
The wind is cleverly controlled depending on how big and heavy you are but everyone flies at roughly hip to shoulder height during the first 60 second flight.
60 seconds is longer than a typical free-fall in a proper outdoor skydive so with the indoor experience you are getting more bang for your buck. I've jumped out of a plane before during my gap year and I can safely tell you that even though I was enjoying the beautiful beach and rainforest scenery below, it was a long 45 seconds hoping that the parachute opened! This experience doesn't have that same fear factor!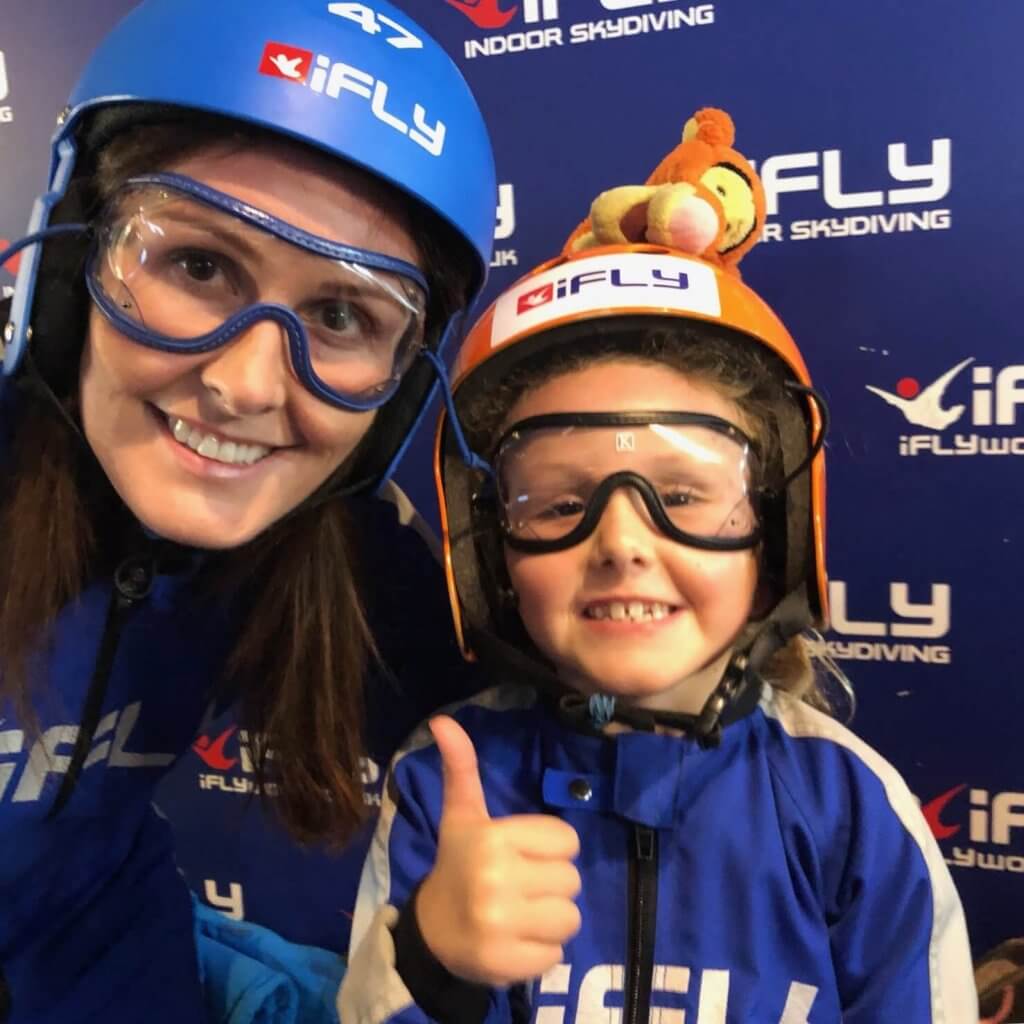 Evie was a total natural – she had listened to how to get in to the perfect shape and was flying on her own for most of the time. I was so proud; there were a lot of thumbs up through the glass viewing screen!
When it came to my go, I was surprised how fierce the wind seemed! I did find the sensation strange and had to really force myself to breathe; something which none of the others seemed to worry about so it was clearly just me!
My shape was good though and I flew well. It's totally different to free-falling outside as you can just enjoy the experience and let the instructor move you around and help you get in the best position.
With the experience, you get two flights each. With the second flight, there is an optional extra (£8 paid after the flight) to take a high flight. Here, they crank up the wind and you literally fly high up in to the tunnel.
Evie had her hand straight up for that! She was in the perfect position straight away so the instructor looped her arm round his neck, he flew next to her, the wind speed increased and they disappeared! We all moved to the window to see them at the top before they dropped quickly almost to the floor before shooting back up again. She did this three times, and came out with a huge grin on her face!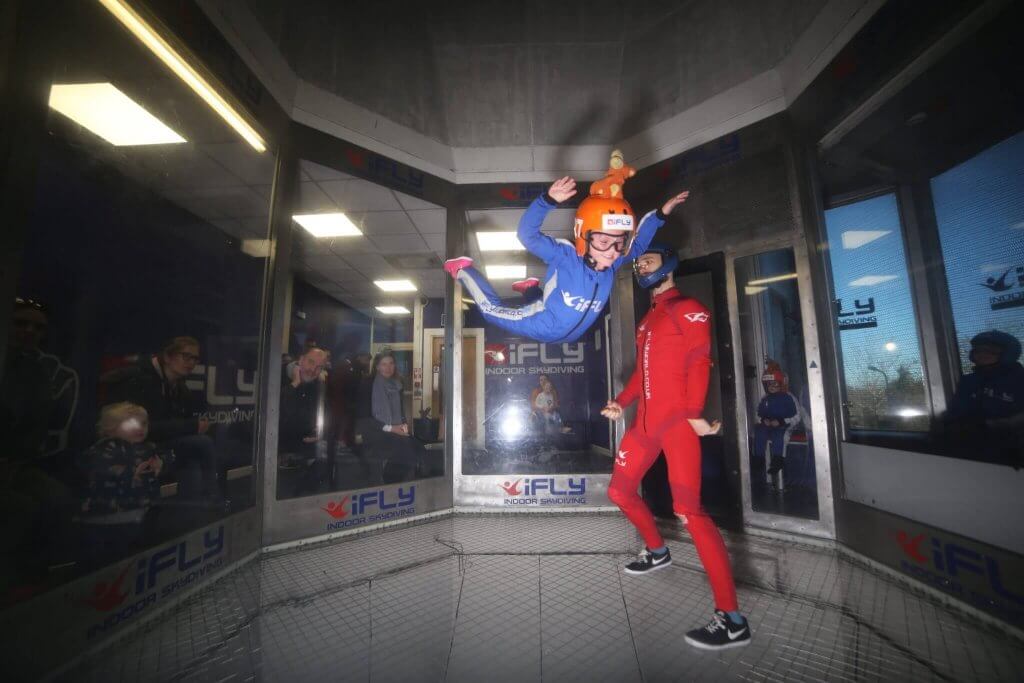 Little old me wasn't quite so brave and I just opted for another regular flight. For the second one I started on the base of the tunnel and they increased the speed gradually which helped with my breathing. Our instructor Will was so fab; he was determined that he would distract me from my seeming inability to breathe properly in the wind tunnel! Thanks Will!
Once everyone was done, Will took to the stage and wowed us all with his acrobatics. How people are brave enough to even begin to learn to do this stuff amazes me! He was upside down on the window like spiderman, then right at the top of the tunnel and then landing perfectly outside the door with total precision. A great spectacle to end the experience!
On sale afterwards are photos of your flight and also a video which includes both flights, and the instructor's flight too. We picked up Evie's as a momento for her and she has loved showing everyone the video.
I have a feeling we will be back as she wants to take her sister and her cousins….
---
This is a collaborative post. Buyagift offer super savings all year round starting from only £10 and amazing range of 2 for 1 deals.