This post may contain affiliate links which means that if you click through to a product or service and then buy it, I receive a small commission. There is no additional charge to you.
I've written before about switching your energy provider to save money. Our current tariff ends at the end of May so I will be writing about my next switch experience too shortly. Along with signing up to cashback websites, it is probably my most spouted piece of money wisdom!
If you have never switched energy provider, you are potentially missing out on hundreds of pounds a year. With the average household saving around £300 by switching, if you haven't switched for five years, that is £1,500. That's a holiday!
If you aren't even persuaded by this, then I have an alternative incentive. What if I said that you could switch energy provider and your school, nursery or child's club gets paid £50? And for every other parent who does the same, they will get another £50 each time.
Not only are you saving personally, but think of the fundraising pot. New play equipment, a minibus, extra outings, ICT equipment….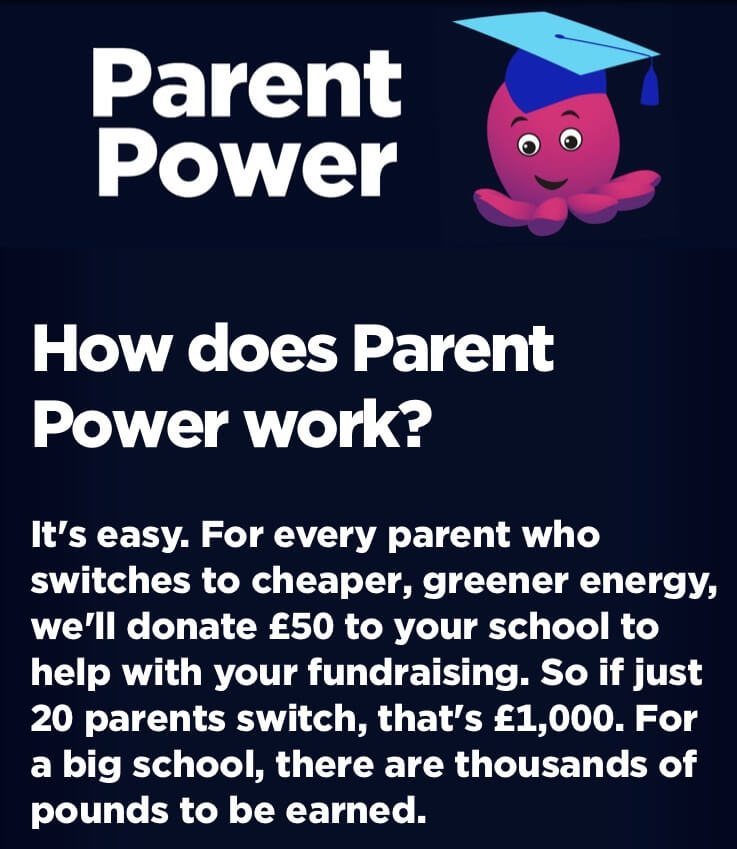 I recently participated in a customer service comparison project. It compared the customer service of Octopus Energy with the Big 6 energy providers. I am currently with Npower and although they didn't do too badly compared to other providers, the quality of customer service from Octopus Energy ranked highly.
I know from talking with others that Octopus Energy consistently come up as one of the cheapest providers. I will be interested to see whether they are flagged up as a valid alternative for me based on cost when I do my energy compare at the end of my current tariff period. Hopefully!
Parent Power – get involved
To get your school, club or organisation involved in Parent Power:
Let your PTA or fundraising committee know about this great fundraising opportunity. Tell friends with children at other schools. Let your Brownie and Beavers groups, your sports and dance clubs know too – it's open to all.
They can then register to be a part of the scheme by providing some basic details. Fill in this form with key contact details and I can get you registered.
The key contact will then be provided with a unique website address and some fab marketing flyers which they can use to tell their parents about the scheme.
Parents then go online to see what savings they could make by switching to Octopus Energy. If they make the switch, then you benefit!
Parents will need to use the organisation's unique link directly when switching for the school/organisation to receive the bonus payment. So, get it in the school newsletter, pop in on the school's Facebook page, and Tweet it from the school account. And smash that fundraising target!
If you are even a little bit wary of the smaller players in the energy market, a fabulous blogger friend Mrs Mummypenny has written about her experience with Octopus Energy – check it out here. Also, they are the only energy company recommended by Which. 
Disclaimer: This is a collaborative project with Octopus Energy and I will receive a commission if your organisation signs up to the scheme. This does not affect the £50 bonus payment received by the organisation itself; they will receive the full £50 for each parent who signs up.