This post may contain affiliate links which means that if you click through to a product or service and then buy it, I receive a small commission. There is no additional charge to you.
Important information: The information in this article is not a personal recommendation for any particular investment. If you are unsure about the suitability of an investment you should speak to an authorised financial adviser. Please also be aware that the value of investments can go down as well as up, and you may get back less than you invest. Tax treatment depends on individual circumstances and all tax rules may change in the future.
This is a paid post in collaboration with Fidelity. 
---
I have a vision board which helps me to connect with what I want to achieve. Anyone else?
I know some people love to have a physical vision board; they cut out photos and quotes from magazines and stick them on. They hang it somewhere prominent, maybe on their fridge or by their desk so they see it every day. 
Mine is on Pinterest (because my tidy husband would definitely see a real life vision board as 'clutter'!). It has photos of the things that keep me motivated to be the best I can be in life and work. My dreams and aspirations – the things I WILL achieve because I've given them thought and they have my focused attention.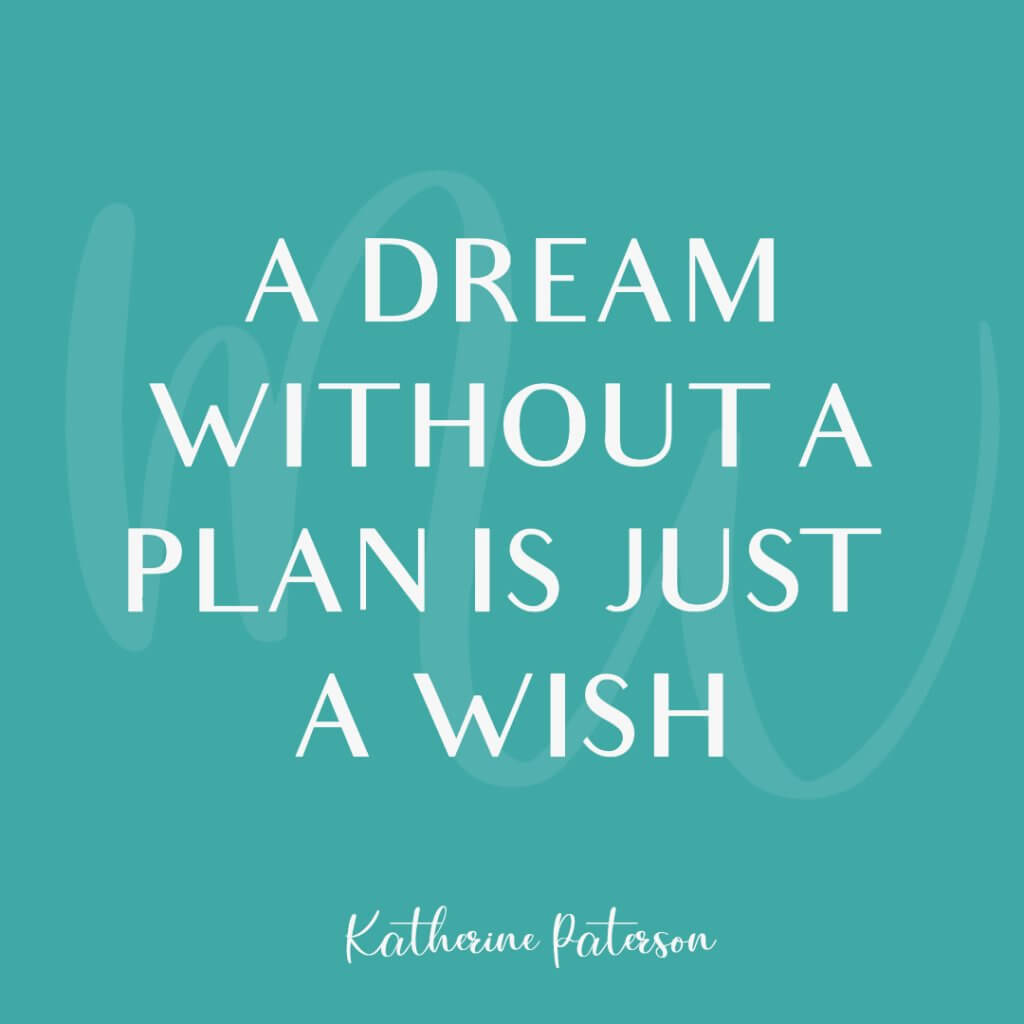 There are health goals on the board. Family holidays – DisneyWorld and Thailand for this year. Exercise inspiration. Motivational quotes. A Mulberry bag which I have my eye on for my 40th next year…
Front and centre of that vision board is a beautiful windmill in Cley-next-the-sea, Norfolk. It's a beautiful, intimate venue for small weddings or events right on the coast in our favourite part of the country. We drive past it every time we go and I smile as it is so unique. 
The property itself isn't actually in my future vision (although it went up for sale last year and I did half have the conversation with my husband!). But what it represents very much is.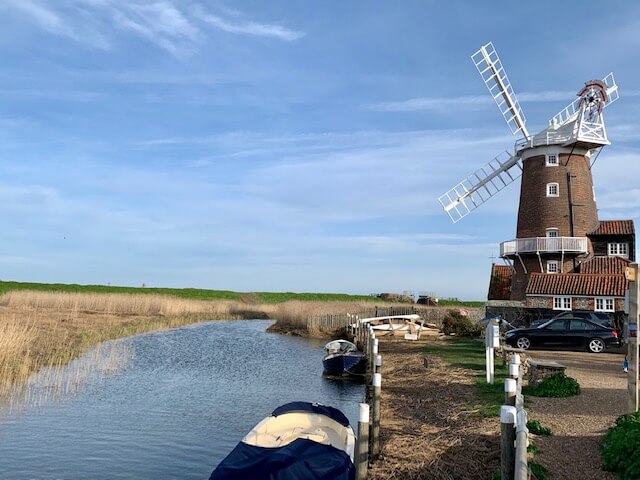 My big dream is to have a home away from home by the sea which can be used as a venue to host retreats where people come to be immersed in learning and bettering themselves. It's been at the back of my mind for a while, but since watching the 'Playing with FIRE' documentary late last year, it's been central to my vision board. 
In the documentary, it shows Mr Money Mustache (a MASSIVE personal finance blogger in the USA) hosting Camp Mustache, a yearly retreat in the States for people interested in early retirement and financial independence. 
I want my own Camp Mustache here in the UK for people to come together in a friendly and fun environment and have huge learnings about how to achieve their financial dreams. 
Money Whispering Lodge; what do you think to that as a name?
I work with a large proportion of my financial coaching clients online or over the phone, but I do really love interacting with people when I speak at events and workshops. I think there is something magical that comes from the energy of being around people and encouraging each other to take action. 
I see this magic at in person events and I'd love to be able to bring financial health and wellbeing to everyone in a relaxed and different environment. I want it to have the cult status of Camp Mustache!
It's going to happen. It really is…
My vision is there and it's what I am working towards. That photo of the windmill at Cley is my motivation. Obviously, there would be a double whammy benefit as I would get to fulfil my dreams for my business, but also it would be an amazing place to holiday with friends and family too. Plus, the businesswoman in me knows that it can also be a source of income by renting it out as a retreat venue for other business owners too. Actually, I'm mentally adding a yoga area as an essential requirement as I am writing this….
I have a picture in my mind of eating a pot of prawns in celebration of its purchase on the lawn of the retreat venue as the sun sets.
That moment I have captured in my mind's eye is so motivating. 
Back to reality though. This (as yet unknown) venue isn't going to be inexpensive! So, it's not just something I can click my fingers and make happen. But I do have a plan about how I am going to turn my dream into reality, and it involves being very intentional with my money. 
I'm realistic that this is a medium-term goal; it will take time to build a deposit for the property. As I want to leave my money to grow over time, and because I don't need it for at least five years, I've chosen to house my deposit money in a Fidelity Stocks and Shares ISA.
I'm well aware that the value of my investments doesn't just grow evenly or securely like it would in a savings account; the financial markets can and do go up and down. However, history shows that although there are short term fluctuations, the general trend marches on upwards (although historic performance cannot be an indicator of future performance). 
So with my goal in mind to grow that money, I have it invested. 
You see I want to make my money work harder than it would if I just left it in our current account. After inflation, the measly rate of interest being paid would leave me with less money than I started. I'm investing that money instead and putting it to work so I can get to the goal of owning my retreat venue faster.
If you are a regular reader you will know that I am a big fan of having an effective savings and spending plan in place. This enables you to be intentional about where your money is going each month. 
Automation is key; we have monthly direct debits set up to pay into our ISAs which means we don't ever forget to pay towards this goal. Small, continuous steps towards the big money goal.
I know though that now I am aiming for something pretty big, I need to ramp up how much money I am able to put away each month towards this goal. So my savings rate needs to go up. 
In essence, there are two ways to be able to increase how much money you have available to save or invest:
Have more money coming in

Reduce the money going out
It's really that simple. 
With number 1, I'm offering more services this year than ever before, so I have increased my income. This additional income is going to go towards 'the Plan'. 
If you are reading this and thinking 'well I work for someone else, I can't increase how much I earn', is that really true? Could you:
Initiate a salary review at work. When was the last time that you had a raise? Are others being paid more than you? Ask! 
If you feel you are undervalued in your current role, spend some time exploring options elsewhere. Even if you don't want to leave, exploring what comparative roles pay or even getting an offer to work elsewhere can provide you with the ammunition to get a pay rise where you are working at the moment. 
Start a side hustle which brings in some additional money. Can you sell things you make? Can you teach something to others who want to learn? Can you

sell things for other people and make commission

?

The sharing economy is booming. Can you rent a room, rent your whole home when you are on holiday, rent out your driveway? There are lots of ways to bring in additional money from things you already own. 
Think outside the box. How can you bring extra income in which could go towards whatever it is that matters to you?
When it comes to reducing outgoings, I'm always looking for ways to reduce how much we spend, with the aim of being able to put aside whatever I've saved. 
As a lifetime Tesco shopper, in the past year I've managed to save a lot each week by switching our weekly shop to Lidl now that we have one close by. It really does make a difference. Although there are fewer choices, the quality of their food is really good so it's a win win on both fronts. 
As food is our single largest household expense, this has been a great place to focus as the savings are magnified.
I really encourage you to focus on the expense category on which you spend the most and see how you can make small changes to decrease how much you spend. 
If it's food, are you consistent with meal planning to reduce waste? Maybe you could try online shopping rather than going to the shops and getting caught up in the deals everywhere? 

If it's your home, have you checked to see if you could get a better deal on your mortgage recently? You don't necessarily need to go through a broker anymore when there are online mortgage brokers which you can use from the comfort of your own home on your phone or computer. 

If it's utilities, do make sure you regularly do price comparisons to make sure you are on the cheapest tariffs.

Finally, often I find with coaching clients that when we start exploring their finances, there are lots of things they are spending money on which are not giving them the value that they really need for the amount they are paying. Things like Netflix if they already have Sky, gym membership when they are only going 4 times a month etc. Go through your direct debits and check all your subscriptions; if you have any which you could swap to get a better deal, swap. 
If you're reading this and don't know which category you spend the most on, delve a little deeper into your online banking app. Most now will work this all out for you and show you pretty graphs of your expenditure. 
What little luxuries could you cut out to save for your big goals? Which dials can you turn to increase your savings rate?
The biggest myth about investing
Then comes the question of where to put your money while you are working towards that goal. 
I certainly find when I am speaking with my clients and to people at events, that there is a common misconception that you need to have a large amount of spare money to make the most of your ISA allowance each year. 
In reality, it can be done by making small cutbacks to your daily spending habits. Or by finding a way to bring in some extra income. Combine the two and you could potentially have a nice amount to play with each month.
Very few of us can use all of their allowance each year (currently £20,000) but using some of it is a great way to save tax-free.
With Fidelity, you can invest as little as £50 per month – although you don't need to invest every month. You could save £50 twice a year for example or once a quarter. 
Could you consistently find £50 to achieve that moment that matters to you?
I have used the example in the past of ditching that daily shop-bought cup of coffee and the impact that can have on your finances. Well in a study by Fidelity they highlight what they call their 'ISA Cappuccino Plan'. The thinking is that if you avoid spending £2.50 on a coffee over five days a week, you could have that £50 each month to invest. That could grow to more than £7,000 over 10 years and almost £18,000 after 20 years*. 
They are some impressive numbers to motivate you aren't they?
The window to invest in an ISA this year ends on 5th April. With this in mind, Fidelity is on a mission to help people get more from their money and 'invest for the moments that matter'. You can find out more about the Fidelity Stocks and Shares ISA here. 
I'd love to hear what is your 'moment that matters'? Drop me an email or leave me a comment below. 
---
* Source; Fidelity International, February 2019 – based on a hypothetical illustration assuming a rate of growth of 5% a year, no initial charge, a platform service fee of 0.35% and an annual management charge at 0.75%.